​7月份Cellar To Table将携手Château La Mascaronne酒庄呈现酿酒师午餐飨宴Edition Ⅱ。7月4日和7月18日,为您带来充满夏日幻想的"马斯卡罗尼桃红葡萄酒",以优雅的白桃、山楂花和柑橘香气迎接夏日。本次午宴提供的2020年份马斯卡罗尼桃红,柔和、浓郁、优雅,回味悠长、细腻、清新,配以主厨Francisco的限定菜单,一场舌尖上的寻味之旅再度展开。
This July, Cellar To Table partners with Château La Mascaronne to present a winemaker's lunch on 4 July and 18 July, offering the essence of the terroir of the estate, Château La Mascaronne Rosé, a summer fantasy that welcomes you with elegant aromas of white peach, hawthorn flower and citrus. The 2020 vintage, which will be starring on the day, typically features mild, rich and elegant notes and is like an after taste of the lingering, complex combination of delicacy and refreshment that it delivers. Accompanied by a limited-edition menu crafted by Chef Francisco, the event once again takes you on an explorational journey of flavours.
酿酒师午餐飨宴 La Mascaronne Rosé
THE WINEMAKER'S LUNCH – LA MASCARONNE ROSÉ
⏰
7月4日&7月18日 周日 中午12点至下午3点
July 4th & July 18th, Sunday, from 12:00 noon to 3:00 p.m.
每位580元
580/per guest
席位有限,敬请垂询预订!
Seats limited available, book now!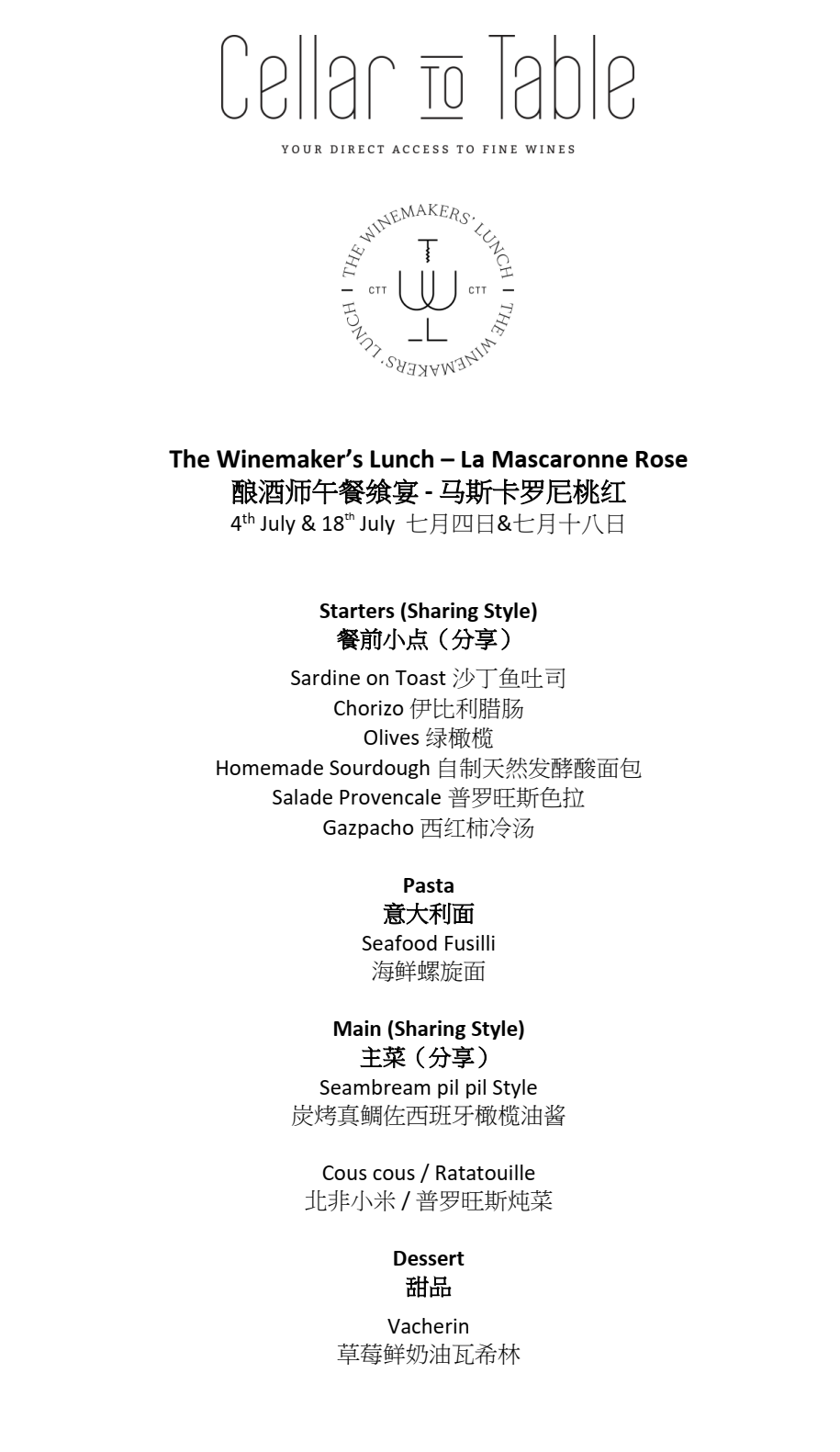 左 Left: 主厨 Chef Francisco Javier Araya
中 Middle: 主理人 Founder Philippe Huser
右 Right: 主理人 Founder Karen Ma
关于Château La Mascaronne酒庄
CHÂTEAU LA MASCARONNE
@lamascaronne
马斯卡罗尼庄园位于普罗旺斯,2016年获得农业Biologique认证,其总占地面积达到100公顷,其中60公顷的葡萄园由橡树和橄榄树环绕并用作有机种植,且其葡萄种植在独特的石墙梯田。
Situated in Provence, La Mascaronne has been certified Agriculture Biologique since 2016. Across a total span of 100 hectares, the estate enjoys 60 hectares of vineyards planted in unique stone-walled terraces and are organically farmed with stately oak trees and olive trees planted along the plots and paths.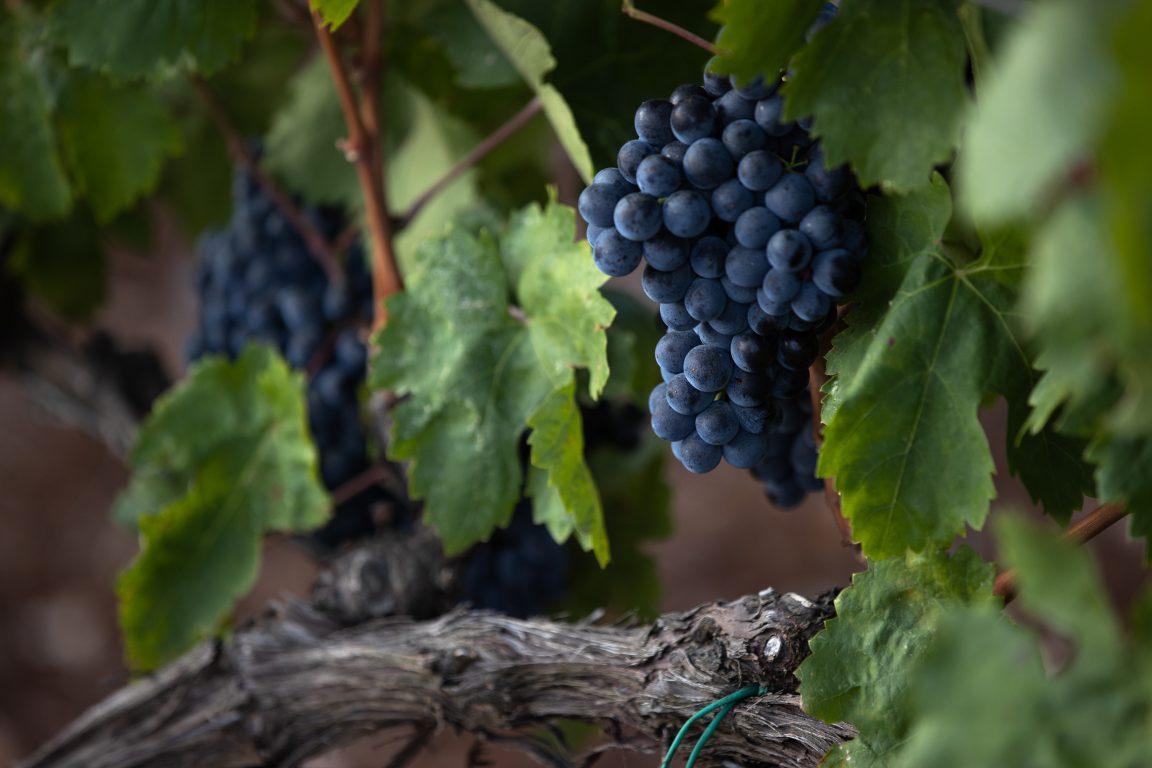 @lamascaronne
在马斯卡罗尼,尊重环境的承诺不仅仅是一种理念,还是酒庄所做一切的先决条件。庄园丰富的生物多样性,也是葡萄酒经过农业生物认证的原因之一,因此酒庄非常重视对整个环境的经营。不仅是葡萄藤和土壤,美丽的橄榄树、百年的橡树和宏伟的石墙梯田都被酒庄保护地非常细致。
At La Mascaronne, the deep respect for the environment is more than just a philosophy; it is aprerequisite to everything. Benefiting from a fertile, biodiverse surrounding, the wines are not only certified Agriculture Biologique but also demonstrate the estate's full commitment to consider ecology in its entirety. Attentive care and prudent attention have been paid to the vines and soils, as well as beautiful olive trees, centuries-old oak trees, and magnificent stone-walled terraces.
@lamascaronne
马斯卡罗尼庄园为打造非凡的桃红葡萄酒提供了理想的条件。团队精心培育葡萄园,使团队成员对每一块土地和地块的特殊性有了深刻的了解。
La Mascaronne offers ideal conditions for crafting an exceptional rosé wine. The scrupulous care with which its teams cultivate the vineyard has fostered a deep understanding of the specificities of each terroir and plot.
@lamascaronne
一年中,酒庄在酿酒过程的每一个阶段都会不遗余力地生产出具有独特表现力和平衡性的葡萄酒,这也始终是马斯卡罗尼酒庄的目标。酒庄在为成为普罗旺斯最杰出的葡萄酒庄园之一而努力,也在体现真正独特的风土、只使用庄园种植葡萄的路上不懈追求。
Throughout the year, at every phase of the winemaking process, the professionals at the estate stop at nothing to produce wines that are uniquely expressive and balanced. The goal is to make Château La Mascaronne Rosé one of Provence's most outstanding wines, and a true expression of its unique terroir, using only grapes grown on the estate.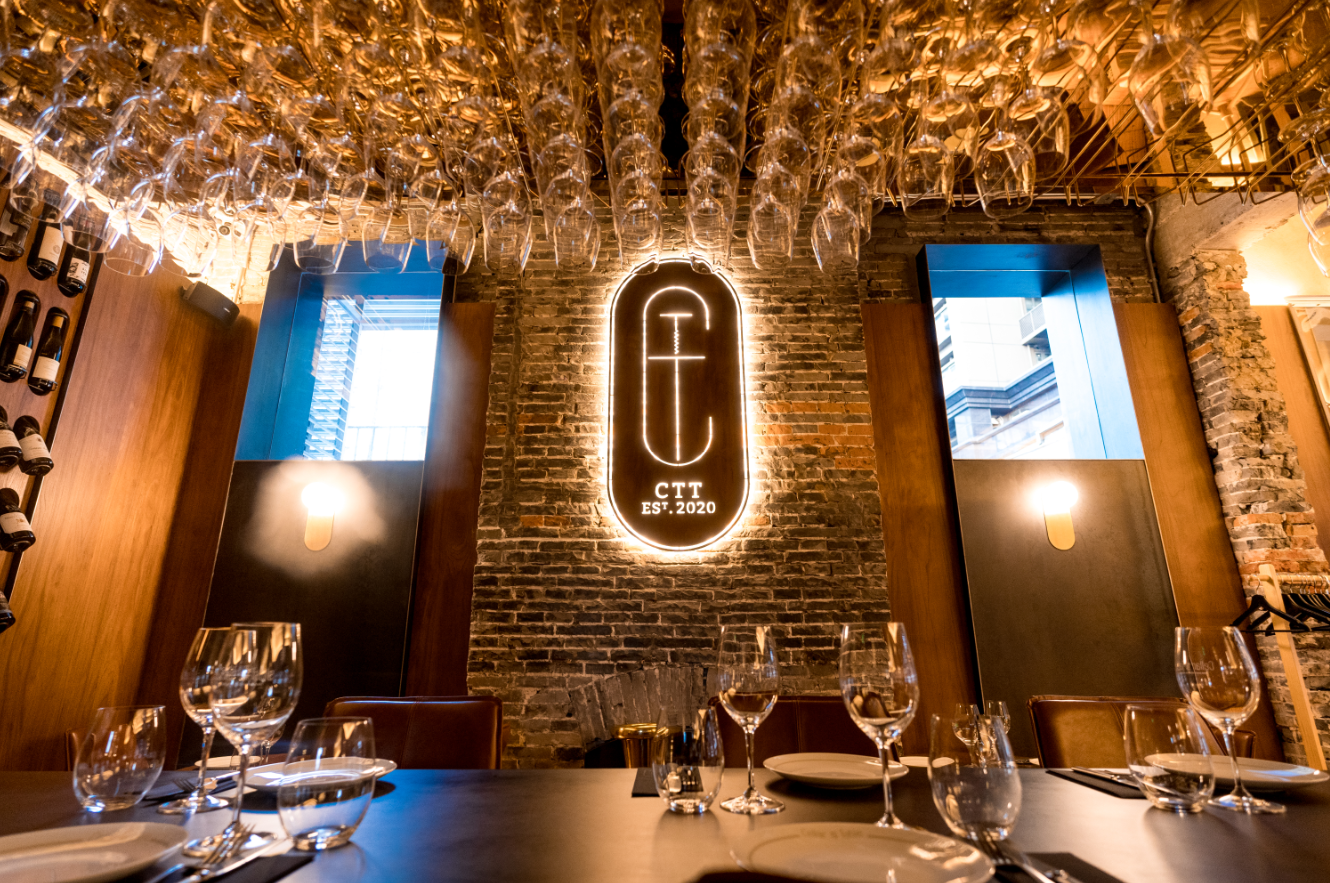 Cellar To Table
地址 Address
东湖路20号一层1A室
Room 1A, 1st Floor, No. 20 Donghu Road, Xuhui District, Shanghai
营业时间 Opening time
​周一至周日
Monday to Sunday
18:00-01:00
预订电话 Reservation TEL
021-64166676
如您遇到任何问题,欢迎随时与餐厅沟通。
If you have any problems during the reservation process, please do not hesitate to contact the restaurant.
---
如有任何公关需求
请联系上海食达文化传播有限公司:
公关副总监 Lucy Lee,
lucylee@allstarcomms.com
公关专员 Ashley Yu,
ashleyyu@allstarcomms.com