行政主厨Riccardo La Perna
时序步入初秋,伴随着飒飒秋意,上海8 1/2 Otto e Mezzo BOMBANA9月午餐菜单优雅登场。如同灿烂却不过分炙热的阳光,从前菜到主菜,多款西西里风情的海洋鲜味交织而成的午间时光,带您品鉴餐桌上的初秋丰采。
Together with the comfort breeze in early autumn, 8 1/2 Otto e Mezzo BOMBANA Shanghai launched brand new lunch menu of September. As the brilliant yet soft sunshine, the whole menu, from appetizer to the main course, presents diverse Sicilian ocean flavor, a truly feast with early autumn delicacies.
西班牙马鲛鱼配柑橘沙拉
Mackerel|from Spain, charred, citrus salad
选用肉质细嫩洁白,糯软鲜爽的鱼中极品马鲛鱼做为前菜主角。腌制20分钟后,再用炭火微烤至表面焦香后放在柠檬汁,大蒜,意大利芹,马百里香混合的香料油中。悉心将白柚金柚和红柚果粒取出,再用液氮冻炸碎,解冻后再和橙酱,日本柚子皮和橄榄油搅拌,缀于鱼肉上方。
Best selected Mackerel with delicate and white flesh, fresh yet glutinous. Marinate the Mackerel for 20 minutes, grill by charcoal and place into a mixture herb oil of lemon juice, garlic, Italian parsley and thyme. Carefully take out the pulp of white pomelo, golden pomelo and red pomelo and shatter it by liquid nitrogen. After thawing, stir the fruit with orange sauce, Japanese Yuzu peel and olive oil then put it on top of the Mackerel.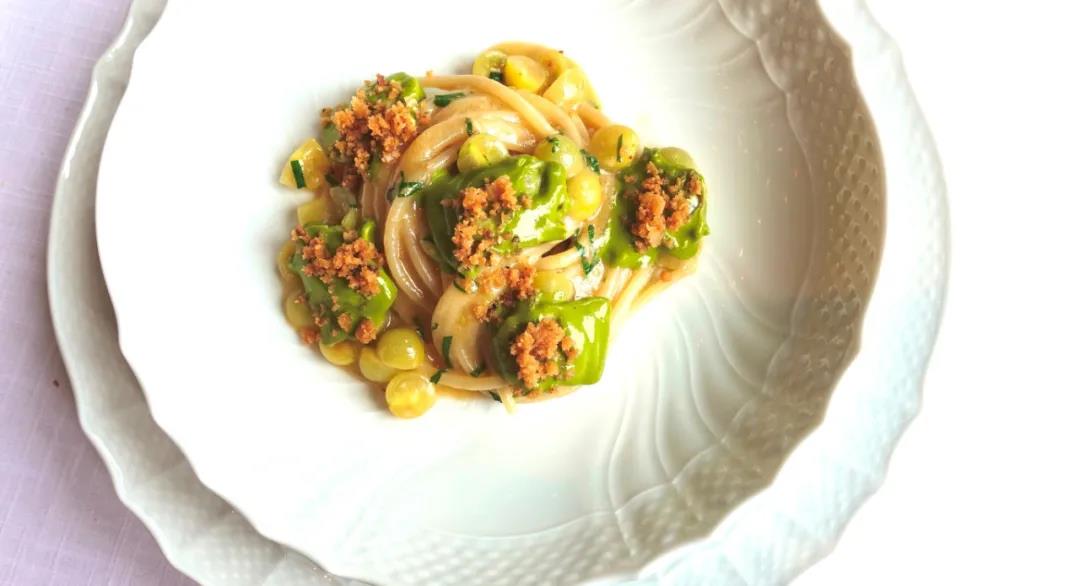 意式细干面配蛤蜊
Spaghetti|artisanal bronze cut pasta, "alle vongole"
用大蒜,蒜油,白葡萄酒,鱼汤,意大利香菜蒸蛤蜊,再用蛤蜊汁煮意面,撒上黄油和面包丁。意面选用意大利品牌VERRIGNI,全球唯一采用食用黄金切割特定意面形状,面条具有独一无二的多孔性和清新香味,口感弹牙,韧劲十足,每一根意面上都被均匀地附着了香浓的海鲜风味。
Steam clams with garlic, garlic oil, fish broth and Italian coriander, then cook the pasta with clam broth and sprinkle with butter and crouton. The premium Italian pasta brand VERRIGNI uses gold molds to cut their pasta to give it a distinctive flavor and texture, and every pasta sticks the rich seafood flavor. Spread some butter and croutons before serving.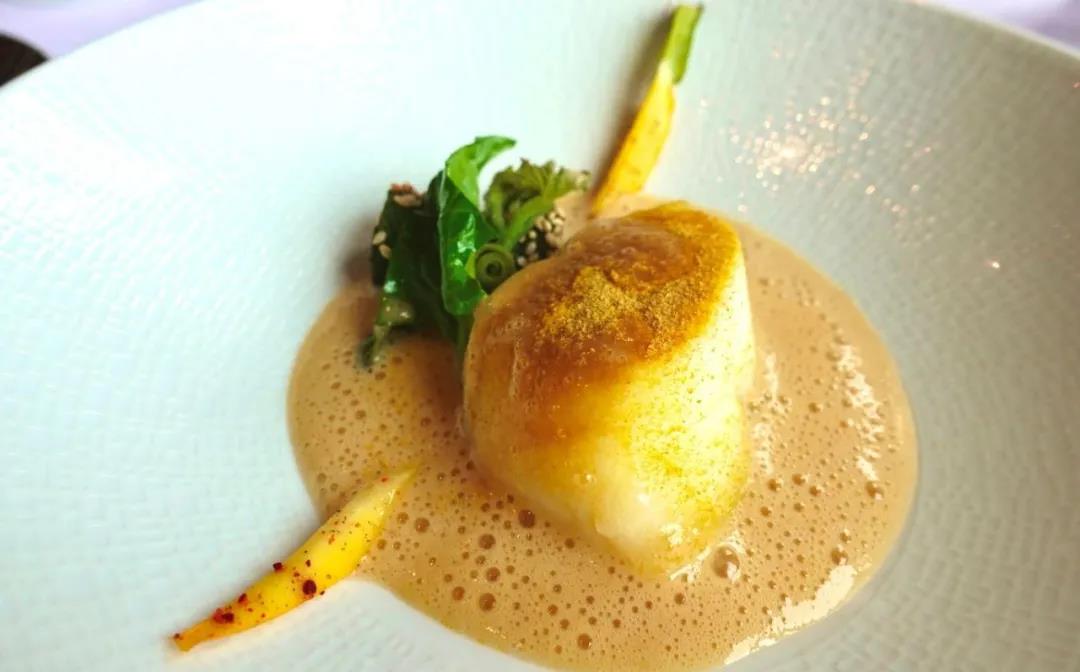 油封鳕鱼配黄节瓜,清汤,优质香草
Cod|confit in Liguria extra virgin olive oil,
yellow zucchini clear soup, fine herbs
鳕鱼以Ligurian特级橄榄油油封烹制而成,上方撒上自制黄节瓜粉末。佐以清蒸黄节瓜和南瓜叶及芝麻叶,增加清新香气,上桌时淋上节瓜和海胆制成的清汤,馥郁又有层次的海洋鲜味,仿若浪花席卷于舌尖。
Cod fish gently confit in Ligurian oil. Along with steamed zucchini, pumpkin leaves and sesame leaves to add a fresh taste. Serving with the rich and thick consomme of zucchini with sea urchin. Different layers of ocean umami.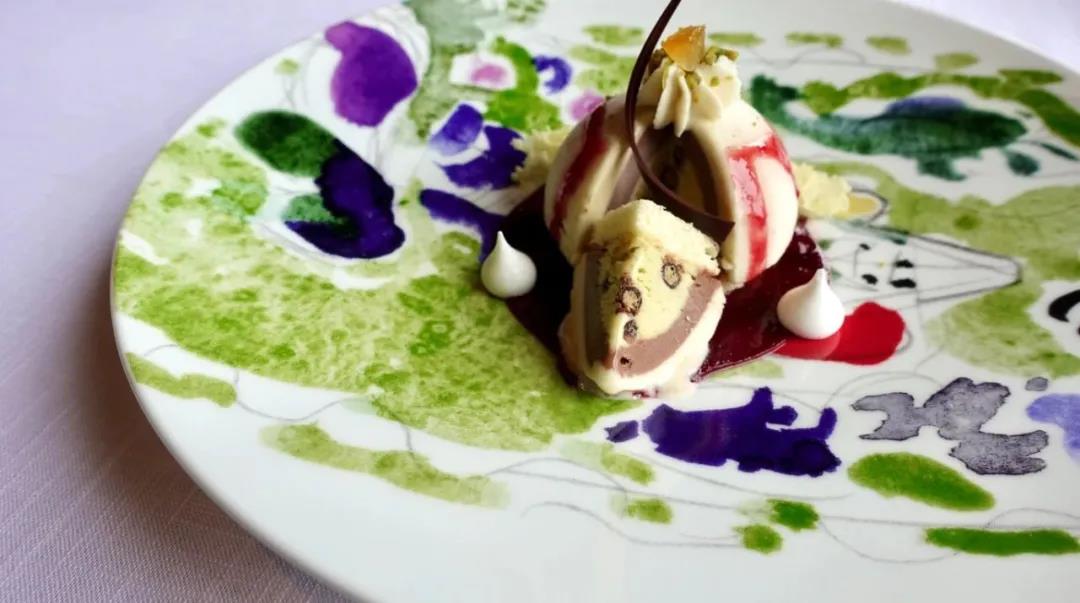 西西里风味冰激凌配温樱桃汁,蛋白饼
Cassata|traditional sicilian semifreddo-gelato,
cherries coulis, meringues
缤纷的冰淇淋共有三层夹心,分别是香草,特浓巧克力和开心果口味,最中心的夹层在开心果口味加入巧克力脆珠和糖渍柠檬皮橙皮,增添不同口感和香气,上面淋上樱桃糖水,并加上餐厅自制的里科塔奶酪和开心果碎。下方的是经极速冷冻过后略带啫喱口感的樱桃酱汁,一旁佐以松软的开心果口味海绵蛋糕,满满的意式甜蜜味道。
Triple layers ice-cream: vanilla, rich chocolate and pistachio. The surprising center layer combines the chocolate chip and candied lemon and orange peel with pistachio flavor to increase the texture and aroma. Pour cherry syrup and on top is the homemade Ricotta cheese and pistachio crumbs. Aside is fluffy pistachio flavored sponge cake. A dessert full of Italian sweetness.
如有任何合作需求,還請發信至
allenli@allstarcomms.com
lucylee@allstarcomms.com