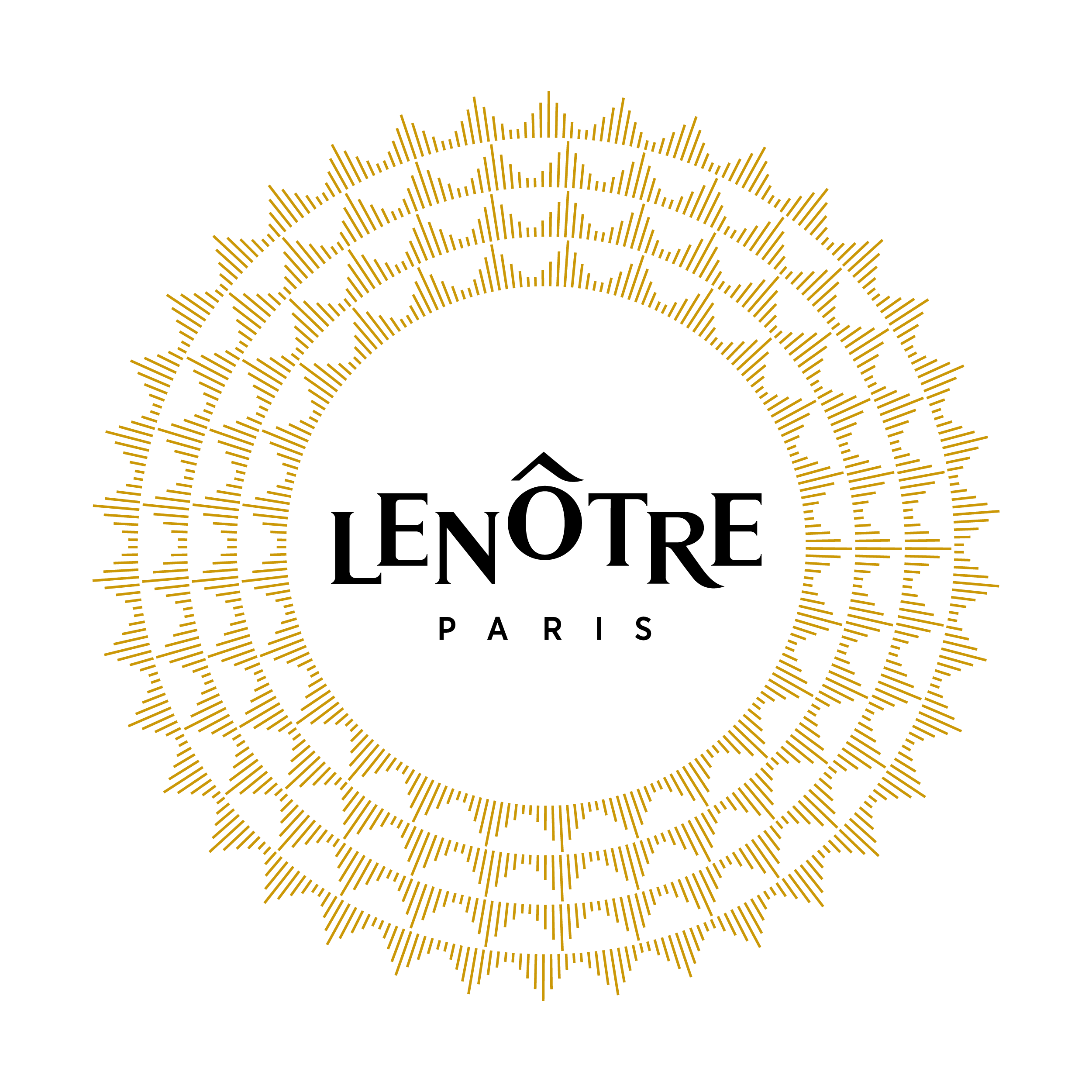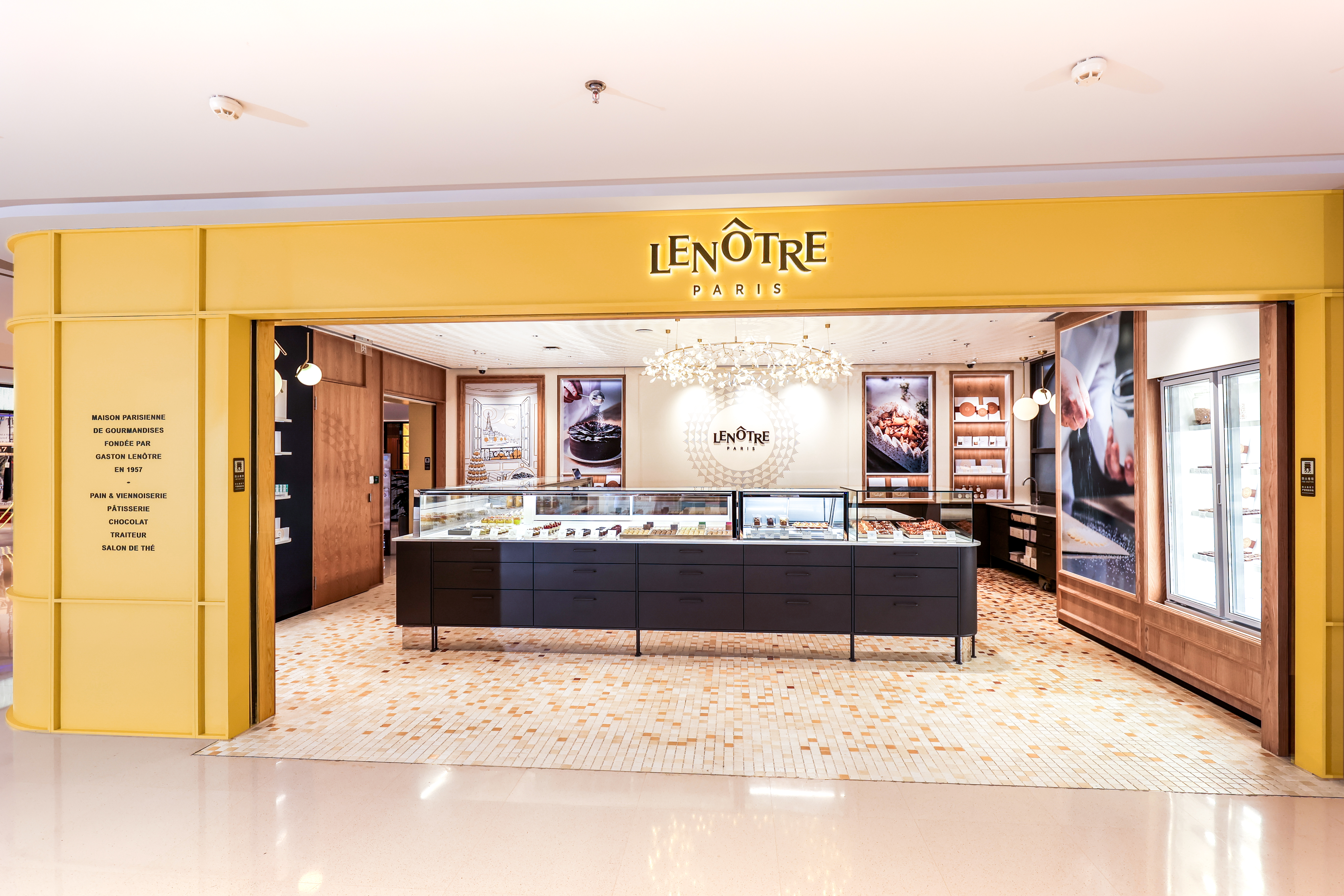 December 10th, 2020, Shanghai – LENÔTRE, the world-renowned restaurant group that originated from France, has unveiled its first flagship in China in the lively city heart of Xintiandi in Shanghai, bringing real French patisserie art to the locality when the trip to Paris is being put on hold by the coronavirus. 

Incorporating exquisite pastries and haute French cuisine, the store has its tasty delicacies carefully crafted by the two-time MOF* winner – Guy KRENZER – to offer a wide array of delightful pastries, brunch sets, afternoon tea sets, and formal French courses. The well-rounded menu suits all-day dining needs, enslaving revelers and brunchers all with French flair, service and decorum.
*MOF, Meilleur Ouvrier de France, the highest honour for a French craftsman.
 Culinary Empire Built by Father of Contemporary French Pastry
The year 1957 saw Gaston Lenôtre open his first LENÔTRE patisserie on the AUTEUIL street in Paris.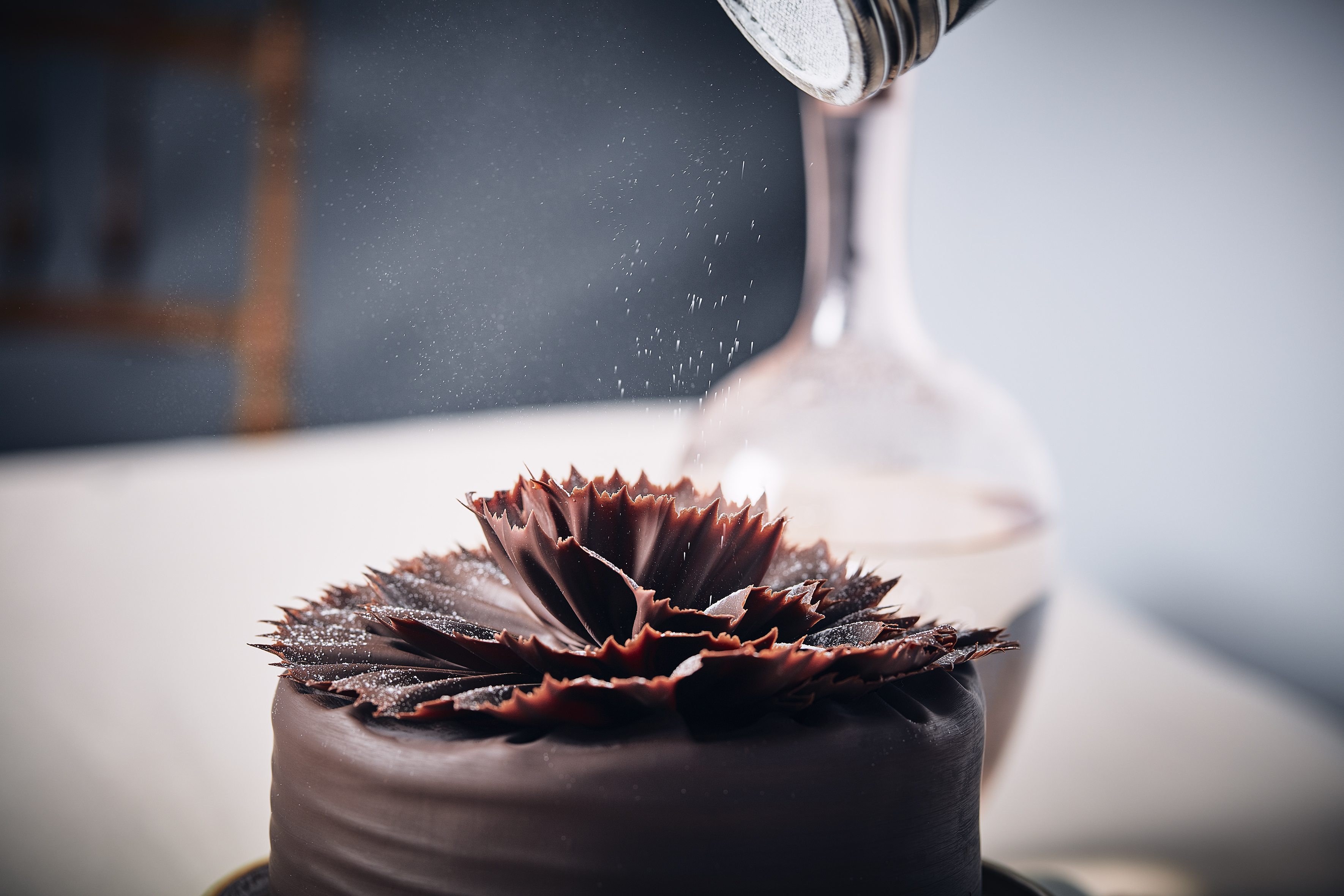 Back in old days, French desserts were relatively bulky in size, tangy in taste and were usually considered festive foods. Mr. Lenôtre wanted something less heavy so he whipped some air into the pastry and reduced the quantities of sugar and flour used, so shunned custard and replaced it with meringue shortcake, airy chocolate mousses and ganache. It was in 1968 that Mr. Lenôtre created his pastry signature 'Feuille D'automne'. The revolutionary "Autumn Leaves" was a bold creation and an instant hit among gastronomes.

Ever since then, Mr. Lenôtre invented numerous best-selling classics and made LENÔTRE a veritable gourmet brand in the pastry industry.
​Authentic French Style from Paris to Shanghai
The pastry wave has its Parisian tides rolled all over to the other side of the earth in Shanghai with LENÔTRE's China CEO – Li CHENG, and pastry master Guy KRENZER, leading a team of MOF chefs here in its flagship store in Xintiandi. Apart from LENÔTRE's revolutionary classic 'Feuille D'automne', guests will be able to enjoy other best-selling works including the refreshing Opéra, chocolaty Concerto, Lemon Tart with balanced meringue and sweet-sour filling, all newly adapted with reduced sugar and fat to suit the local palate.
Other favorites by guests include Vanilla Millefeuille, Paris Brest, Tarte Tatin, Baba Cake and Éclair.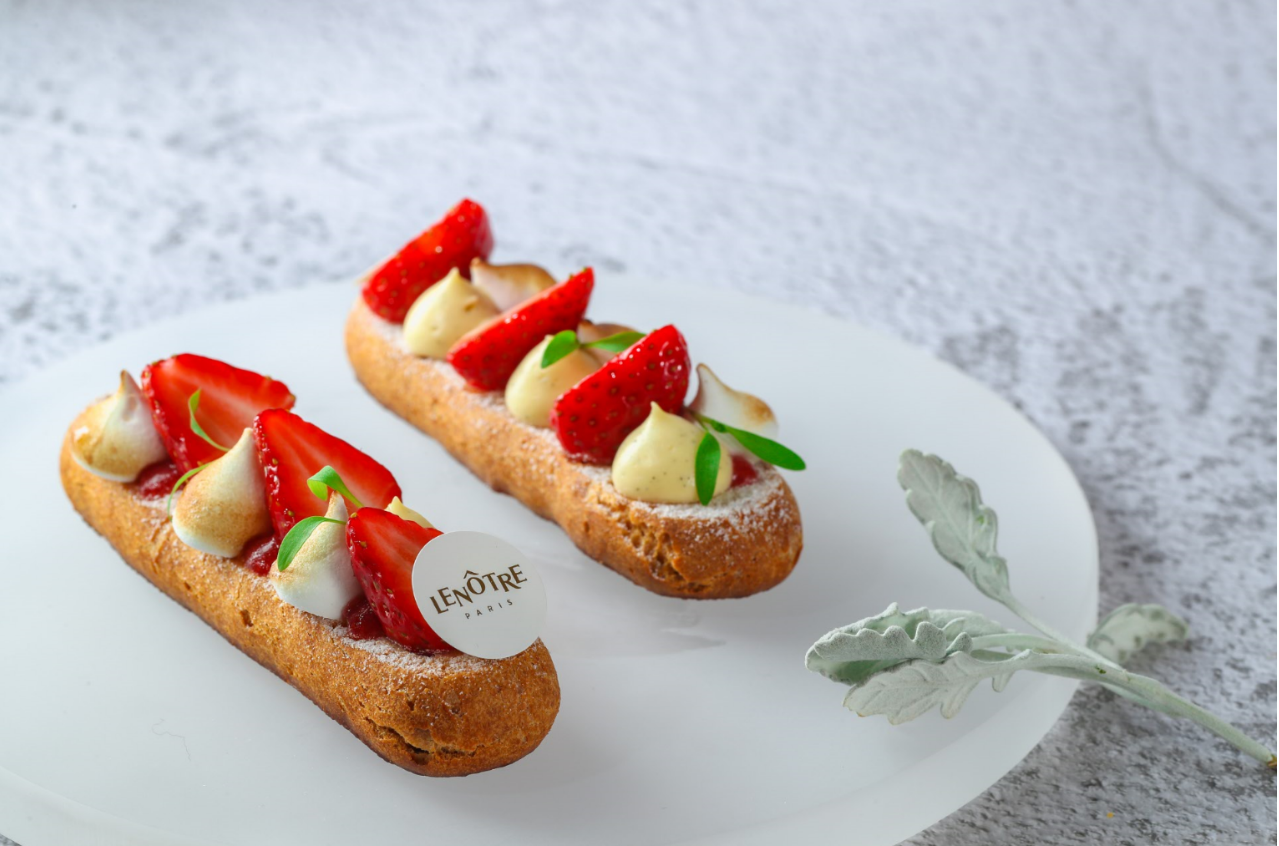 The LENÔTRE Group is the first to introduce chocolate making skills to France, and it has brought the mix-and-match of chocolate with various flavors to the extreme. All chocolates and macarons in the Shanghai store are directly air-freighted from France, ensuring world-class quality and taste.Here you will find a wide array of delightful pastries, brunch sets, afternoon tea sets, and formal French courses using fresh seasonal ingredients.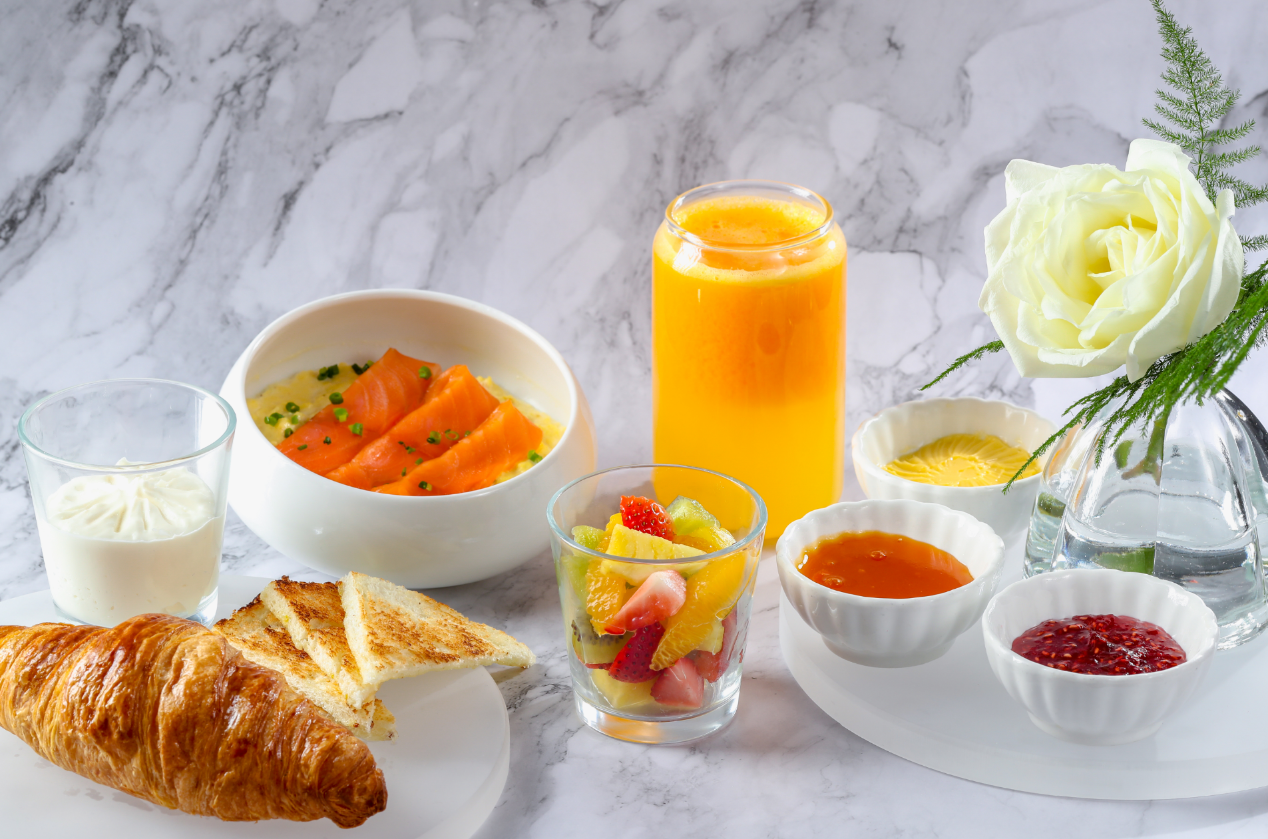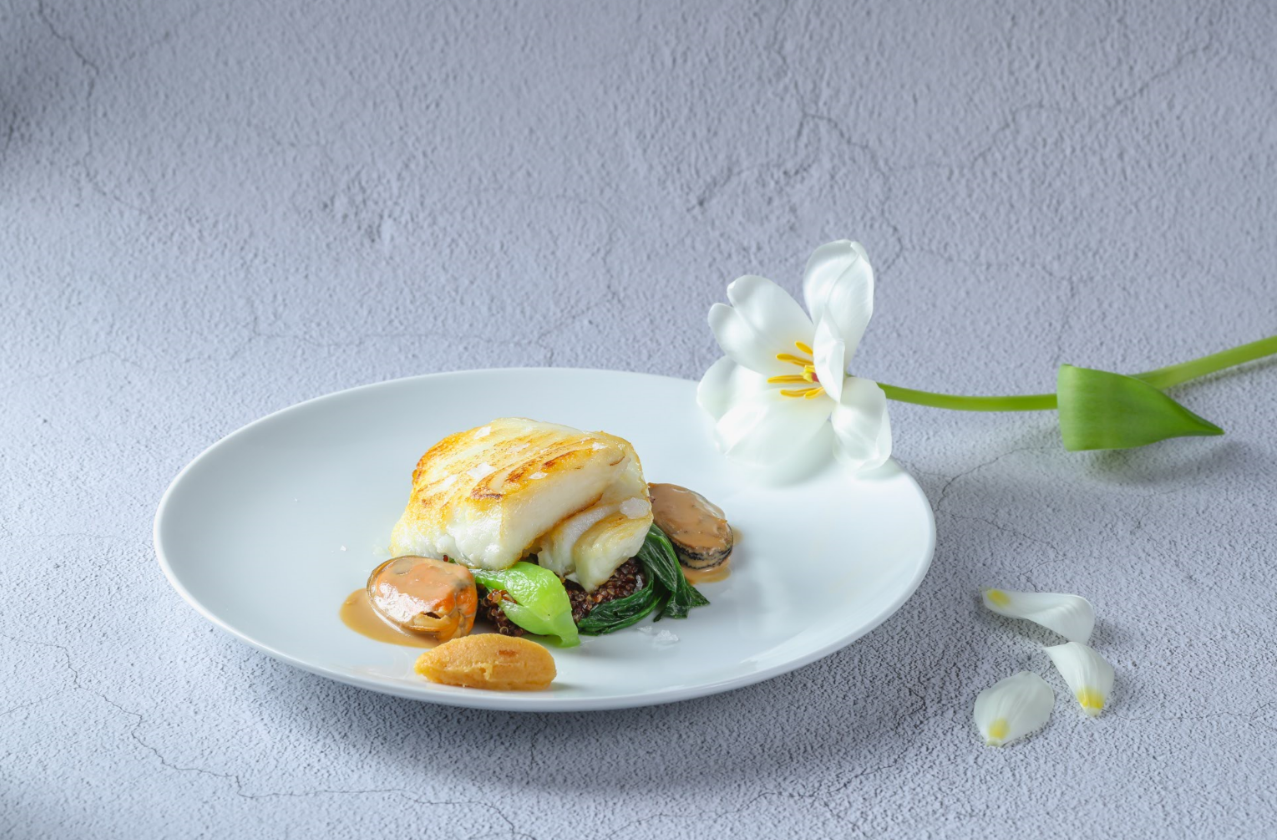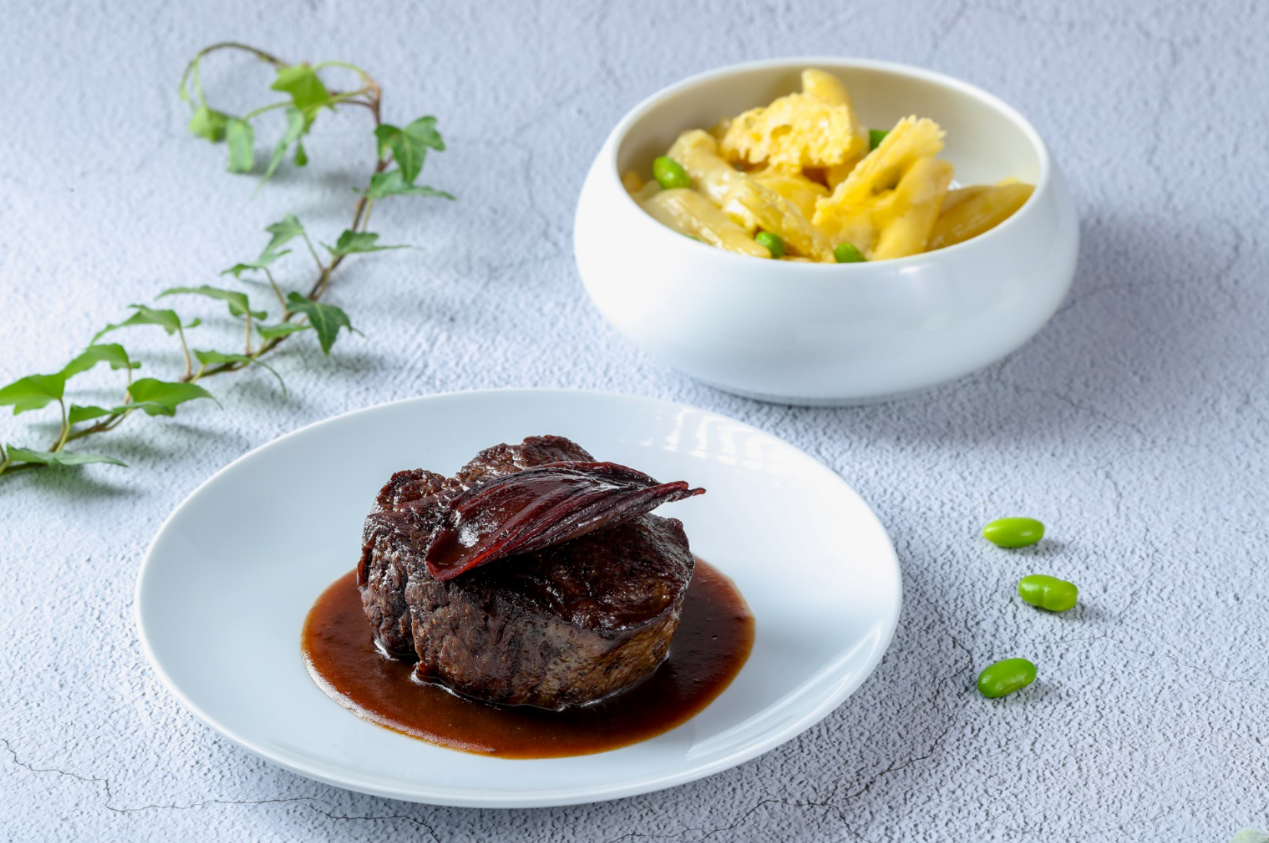 In addition, the flagship store also offers a variety of classic sharing cakes that can be enjoyed at parties or birthday celebrations. All you need to do is just book one day in advance. There are four choices of fruit teas made with best-quality fresh fruits and vegetables and are offered exclusively in the Shanghai store.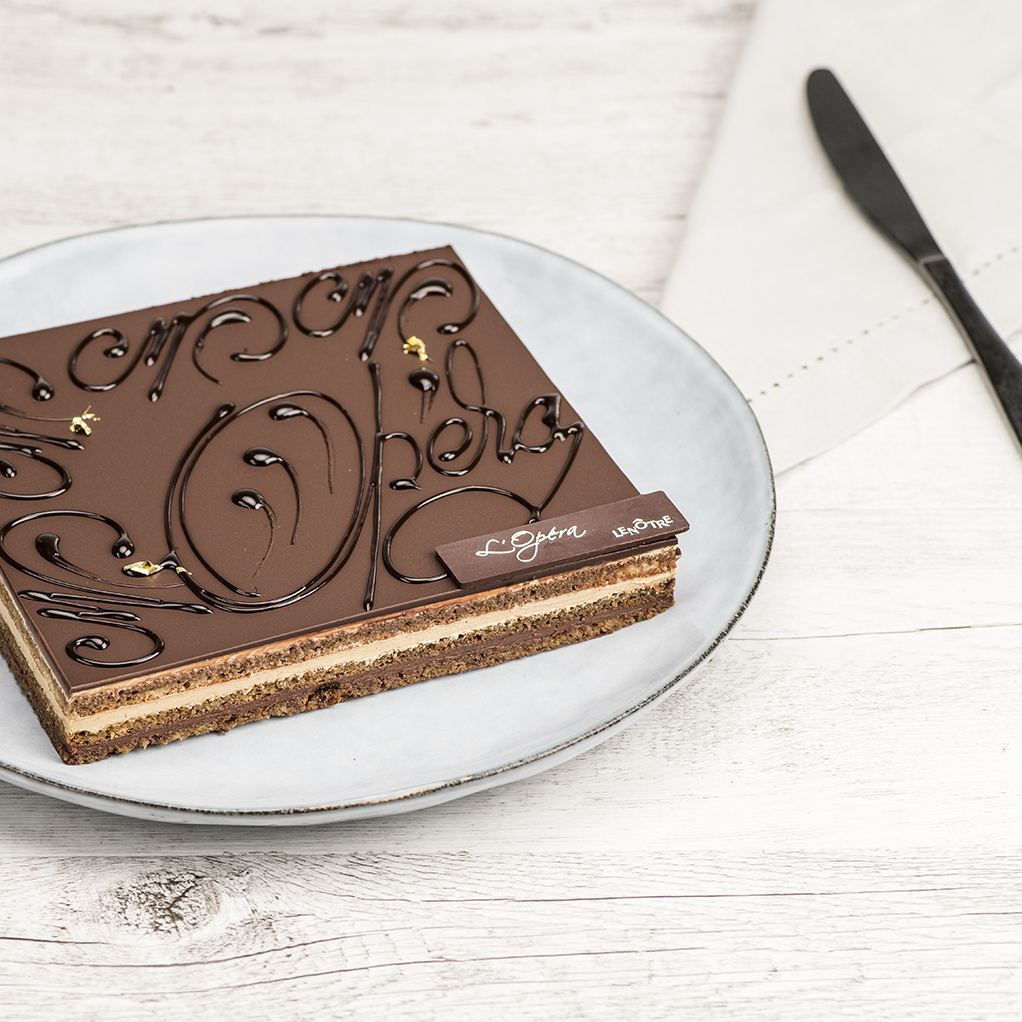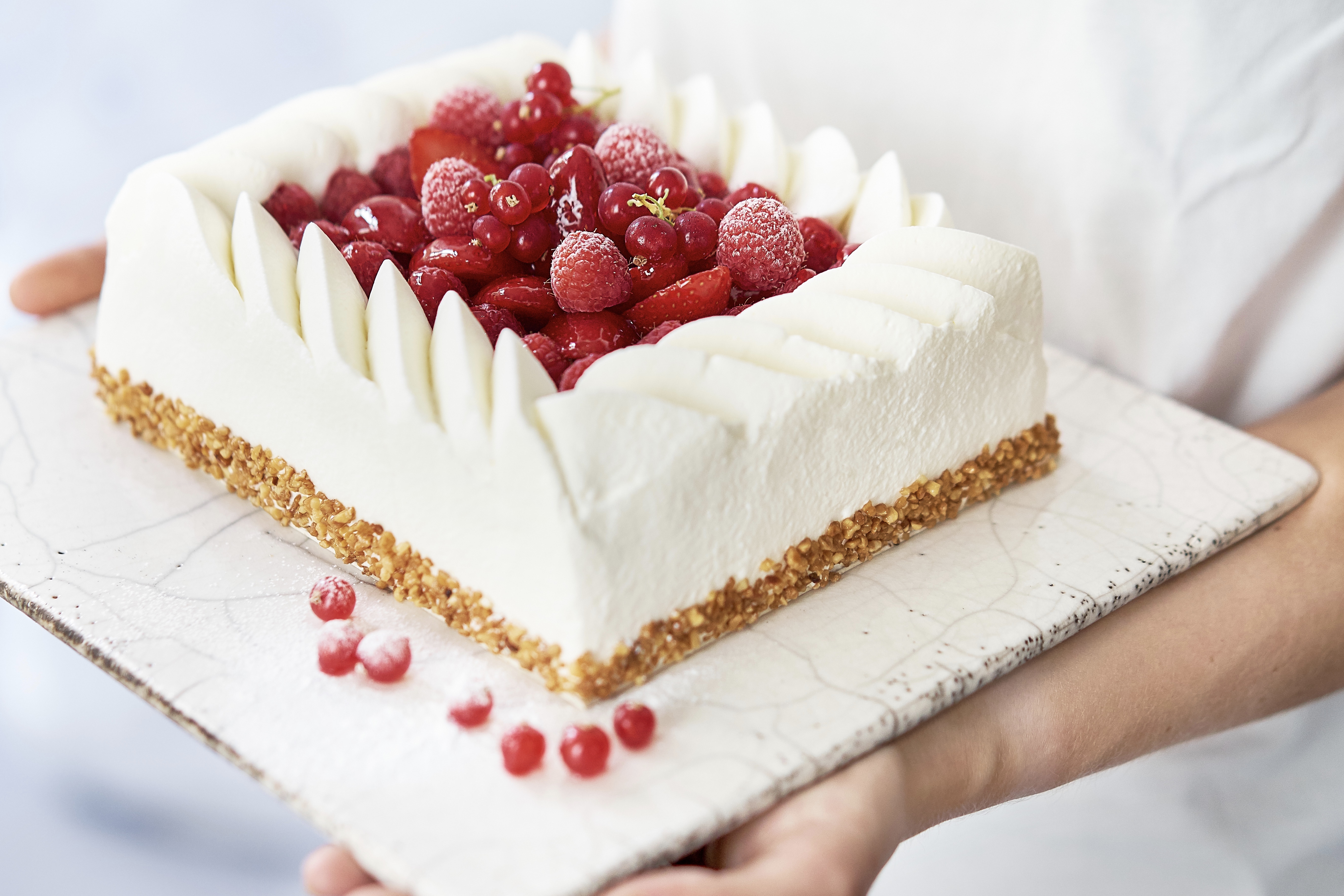 Paris-Inherited Elegance
Like its simple yet decent Bastille store in Paris, the Xintiandi store is designed with yellow and black patterns and sees the metropolitan sci-fi concepts marry the notion of classic beauty.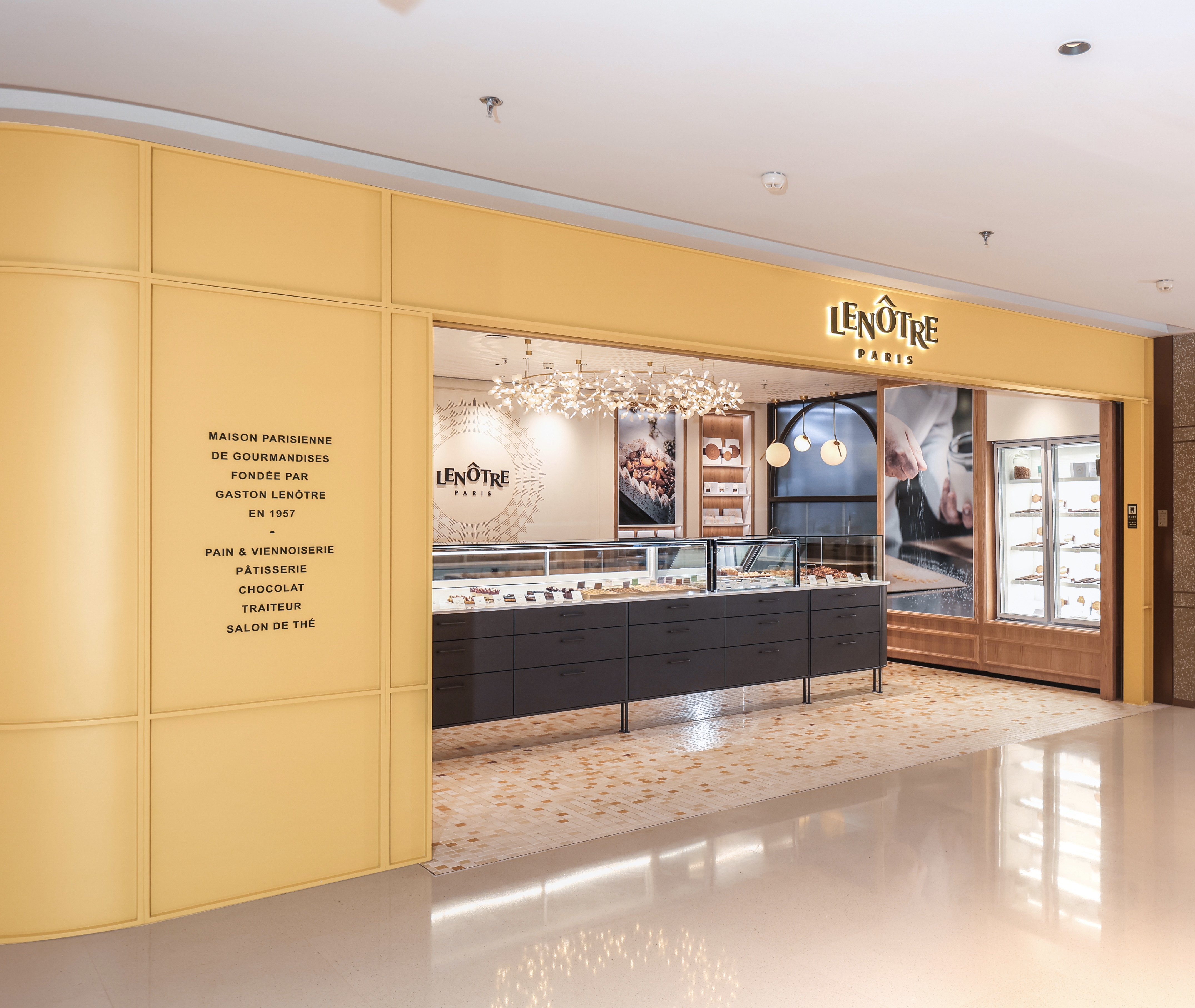 The showcases in the retail area of the store draw inspirations from the LENÔTRE banquet table and display LENÔTRE's iconic pastries. The precision and perfectionism each one of these made-to-order pastries exude are true reflections of the ultimate charm of the French patisserie. The airy dining room creates a pretty little laid-back hideaway for the city's busy lodgers to immerse themselves in real French elegance without having to fly to the real Paris.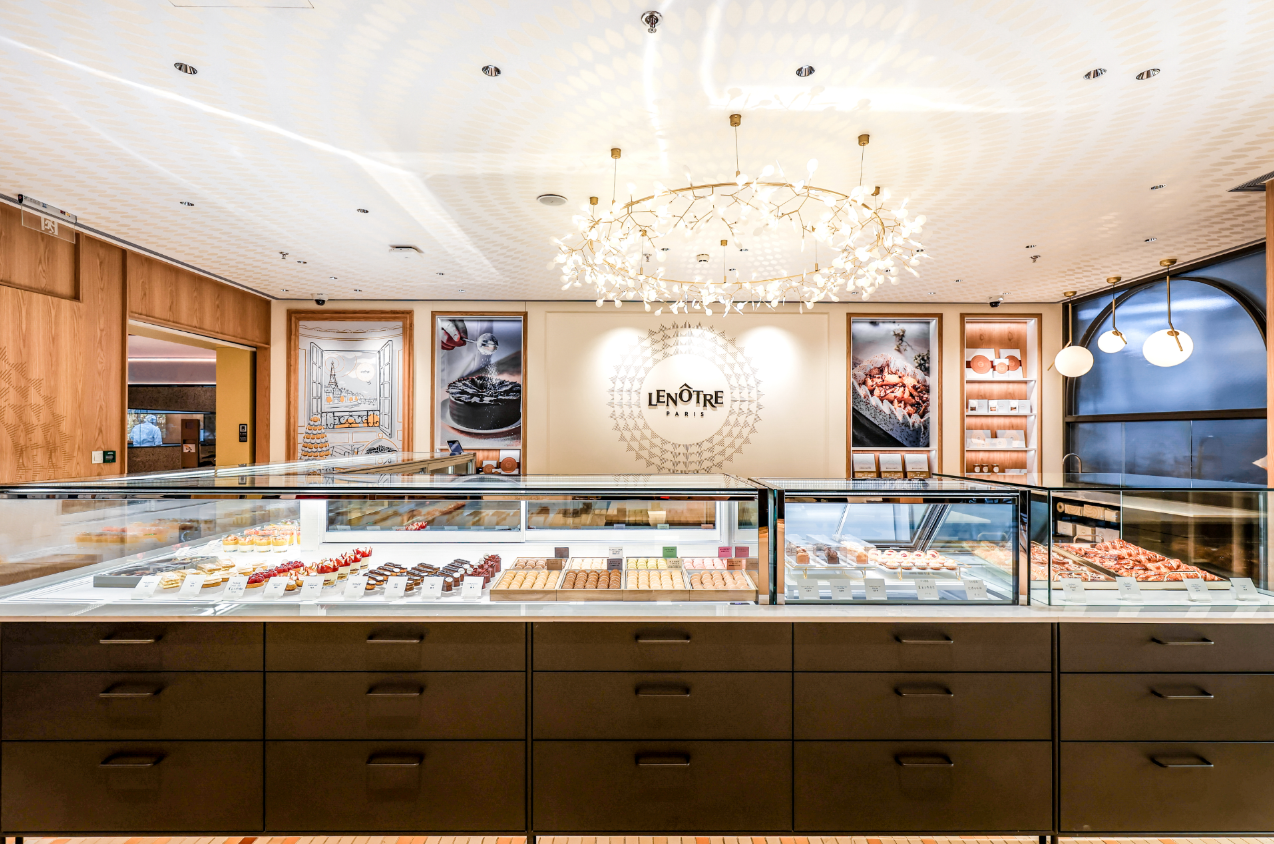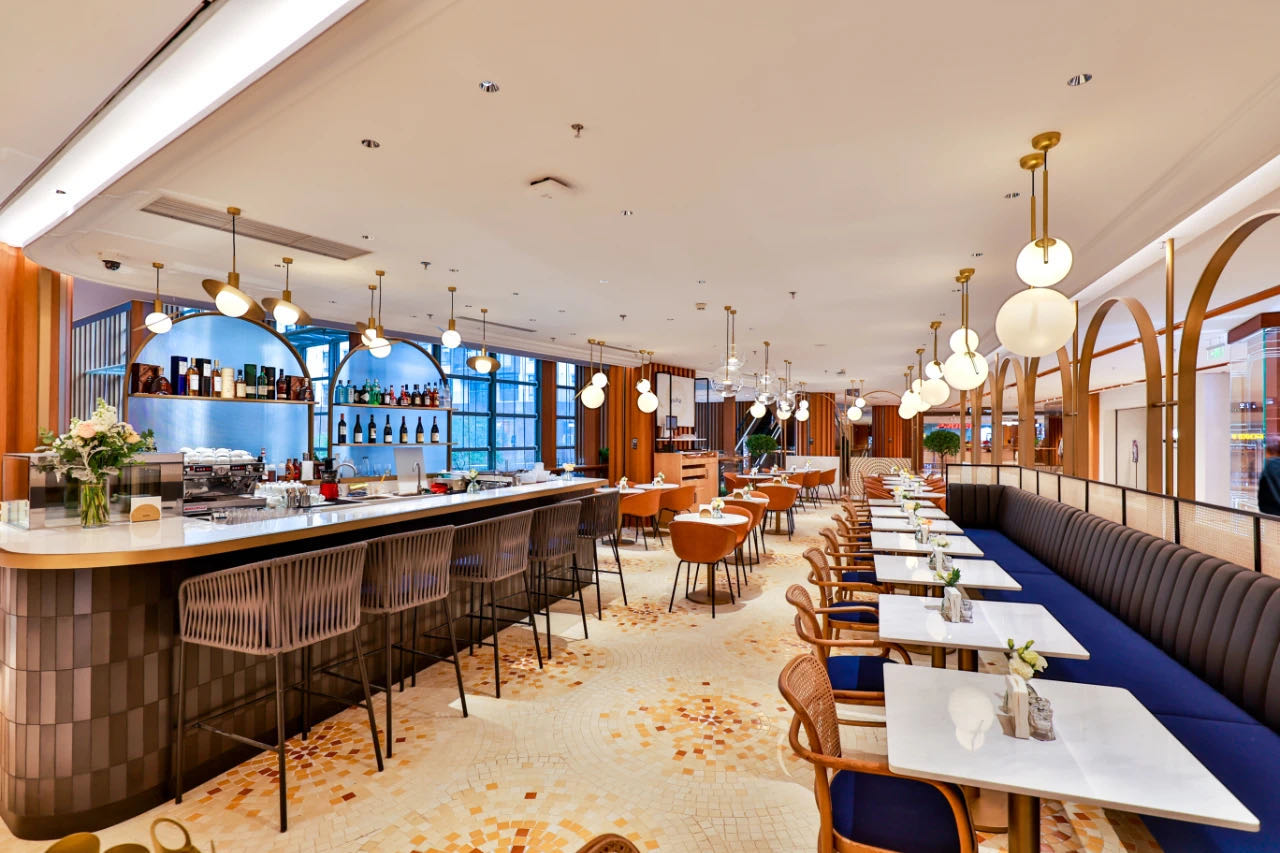 LENÔTRE Pastry Classics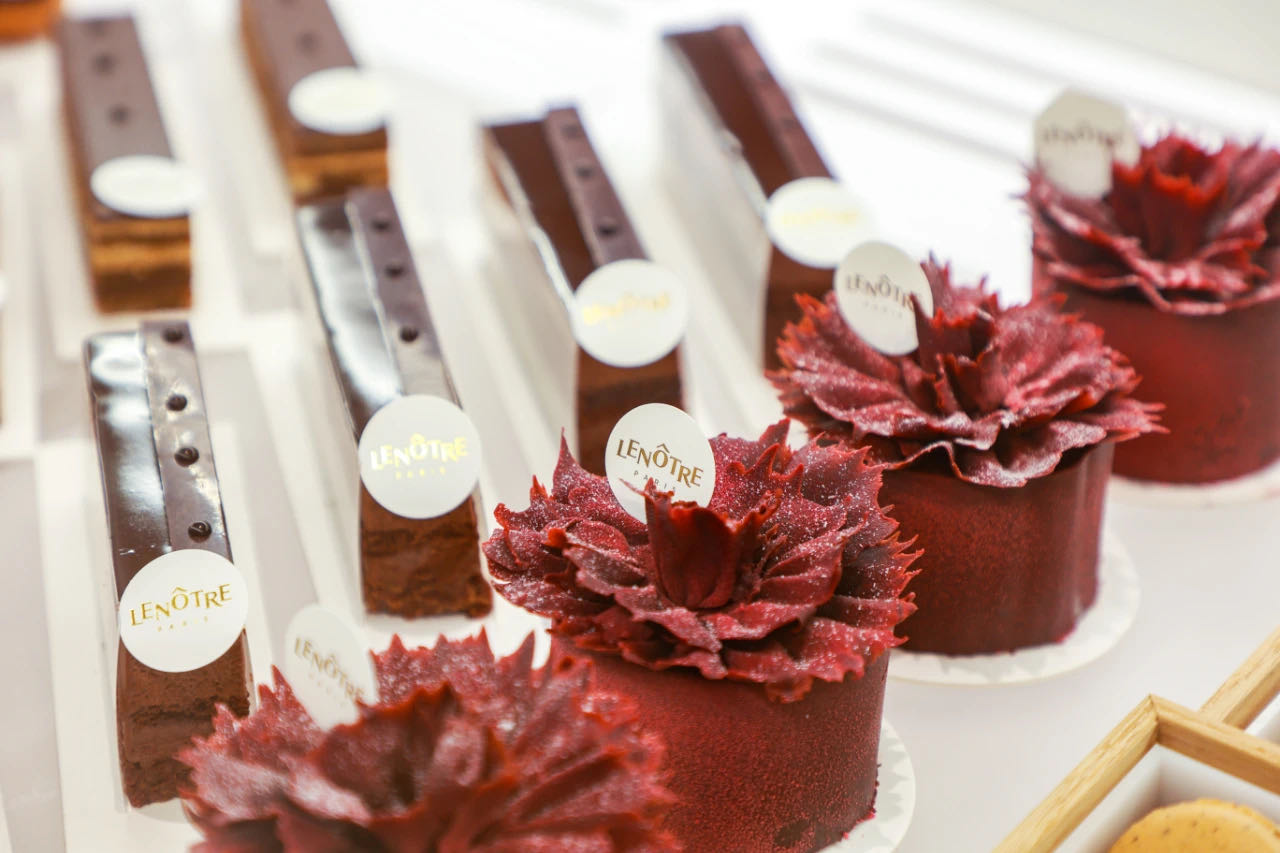 Feuille D'automne
If you went into a LENÔTRE shop and have never tried this cake then you are super missing out. This chocolate cake has brought pastry to the rank of art and received wide applause from pastry chefs all over the world. The almond and vanilla-perfumed meringue used to create an ultimate crunchy bite, matched with airy dark chocolate mousse, wrapped up in chocolate coating and finishing off with chocolate leaves on top.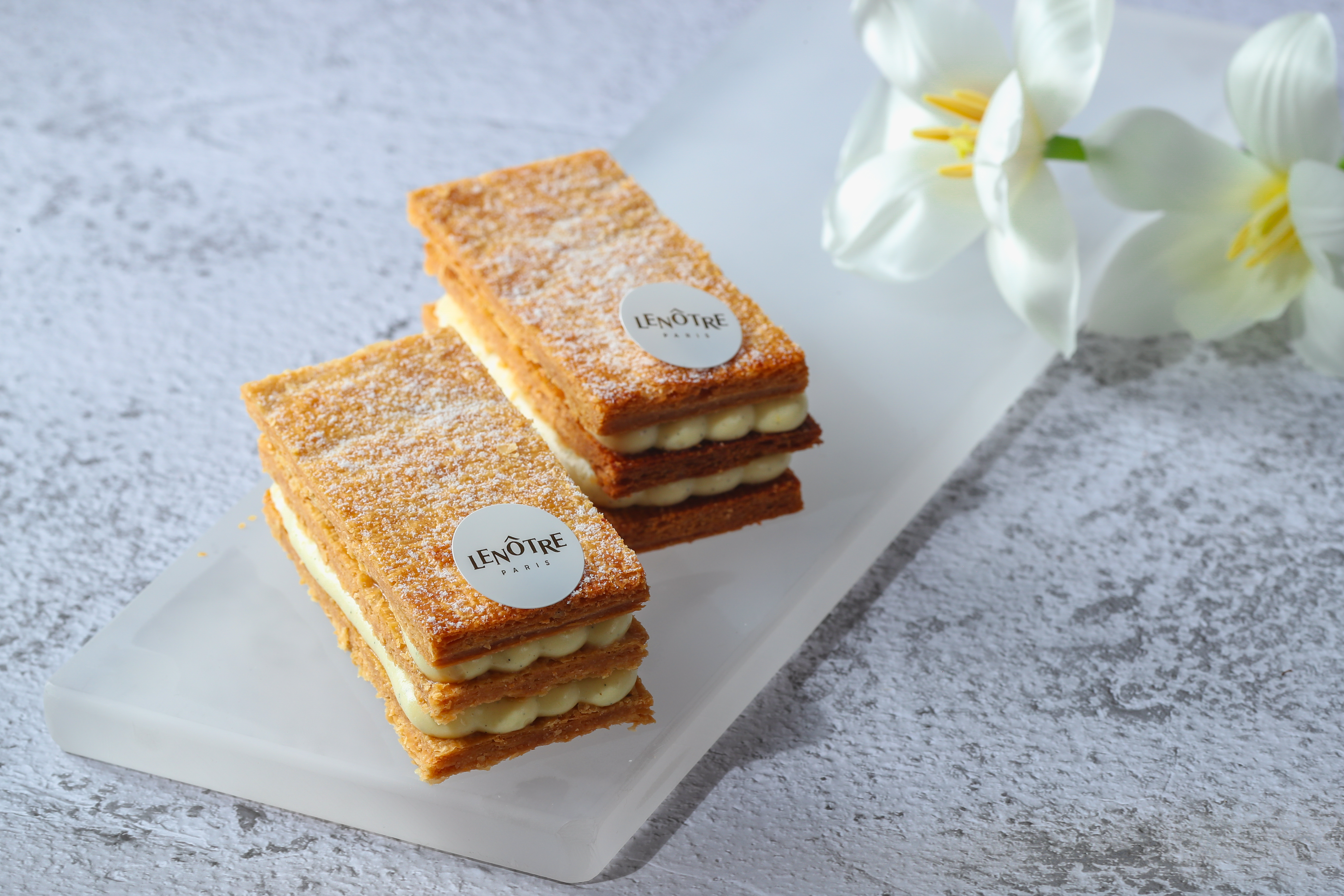 Vanilla Millefeuille
The crispy layers of puff pastry and smooth vanilla crème bring out the best of each other with complimentary flavors and strong sensory impacts, tasty to the mouth and playful to the ear.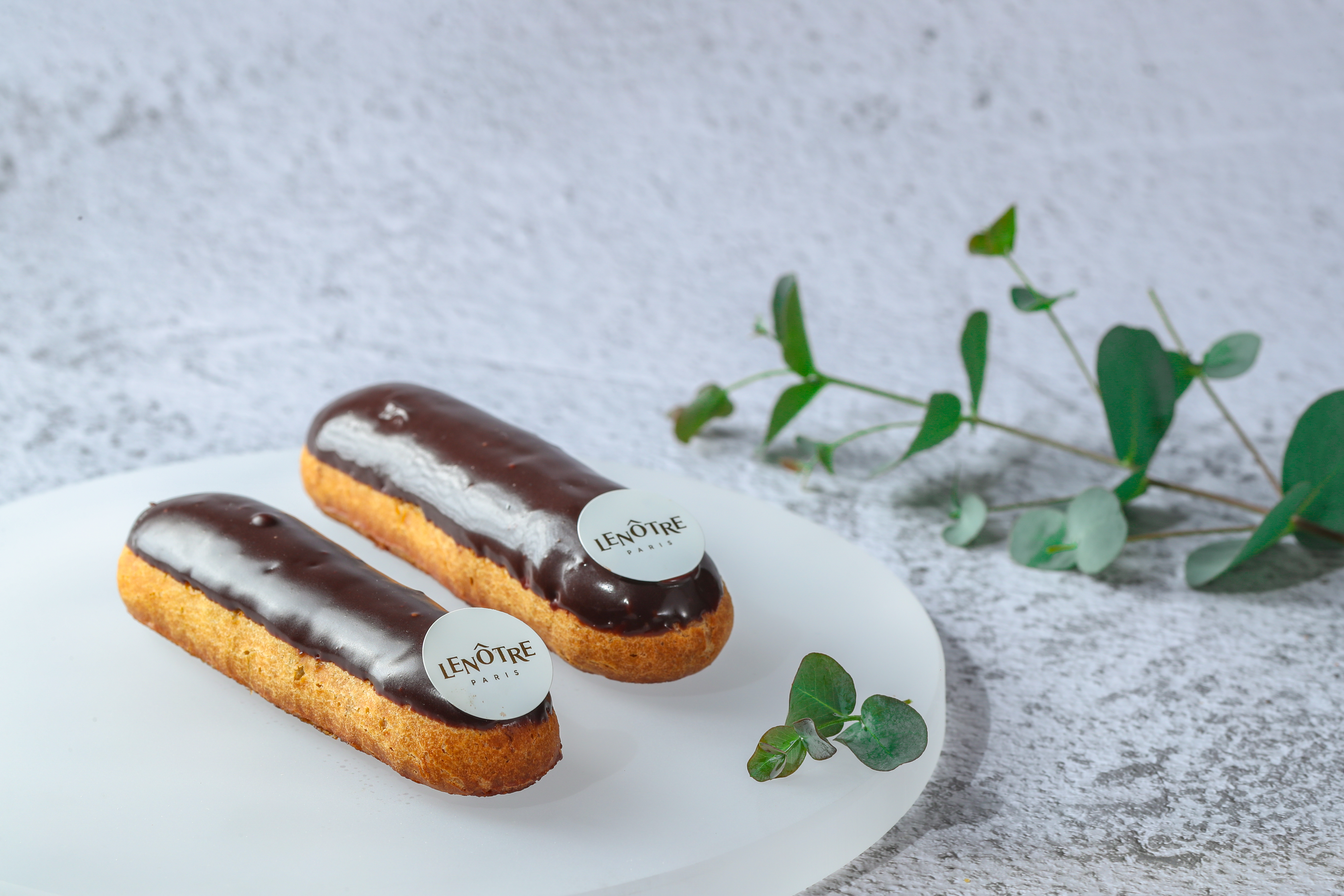 Éclair
Featuring flavored crème filling and puffy crust, this finger-shaped pastry would never harm your elegance and is your perfect snack for a break.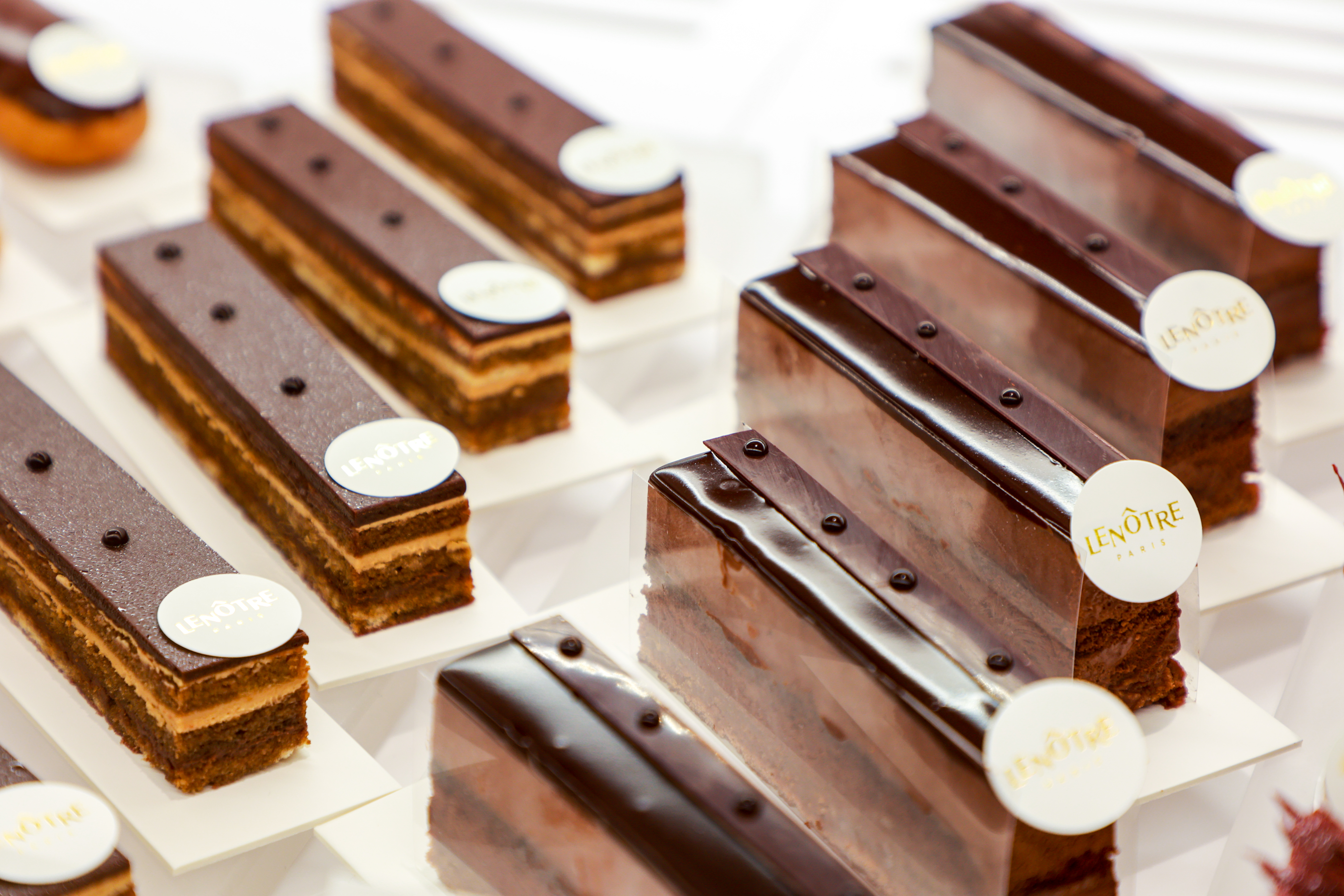 Opéra (left), Concerto (right)
Easily identifiable next to other French delicacies by the thin and oh-so-pretty layers of coffee-cream confection, chocolate ganache, coffee-soaked sponge and topped off in a glossy chocolate glaze, the LENÔTRE classic Opéra cake manages to keep its rich and balanced flavour with reduced sugar and fat while making for the first time an adapted version of Opéra for the modern palate.
About LENÔTRE Group
The LENÔTRE Group owns a chain of forty high-end patisseries, Michelin restaurants, catering services, cooking schools and a large central kitchen joined by over 450 chefs and pâtissiers, including pastry masters such as Guy Krenzer and Frédéric ANTON.As the designated provider, LENÔTRE has experience providing catering service to the Olympics, the World Cup, and the French Open. It has also catered many cultural and artistic festivals, brand competitions, princess weddings and large-scale private wedding banquets.

LENÔTRE is not only a top-notch gourmet brand known to almost every french household, but also one that is among the national living cultural heritage enterprises. It seeks to promote French luxury culture by close cooperation with top COLBERT brands including Chanel, Hermes and Airbus.
About Guy KRENZER
Leading a team of over 450 chefs in the central kitchen of LENÔTRE, Creative Director Guy Krenzer has been awarded the French Ordre des Arts et des Lettres and is also a double winner of MOF – "Best Craftsman of France in delicatessen" in 1988 and "Best Craftsman of France in cooking" in 1996. In 2004 he was invited to join LENÔTRE and was entrusted to not only improve the menu, but also bring innovation into LENÔTRE's restaurants, schools, and catering services.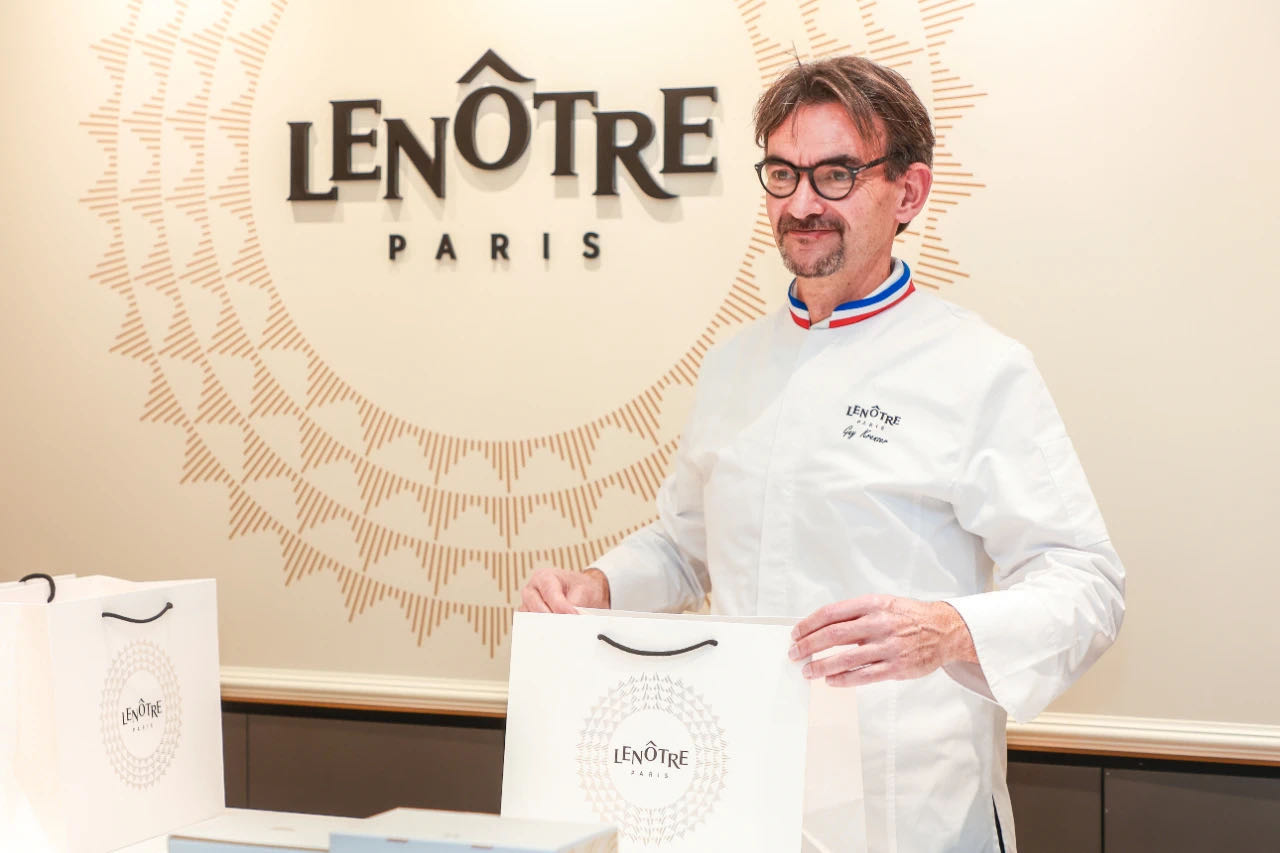 Double Winner of MOF Guy KRENZER
Guy Krenzer once served as an executive chef in the world-famous 100-year-old Michelin restaurant Le Negresco in Nice, a five-star Ritz in London, and Le Fouquet's, where Sarkozy hosted the presidential celebration. He has experience coaching the French national football team for the World Cup, and led the LENÔTRE trainees to win the Bocuse d'Or competition. He represents LENÔTRE's strong research strength and brand image by close cooperation with top luxury brands including Chanel, Louis Vuitton and Hermes.
As a recognized successor of Gaston Lenôtre, Guy KRENZER has faithfully inherited LENÔTRE's versatile gastronomical achievements and unique professional skills and is hailed as the "avant-garde of modern pastry".
LENÔTRE French Pastry (Xintiandi)
Address:No 16-17 L2, Xintiandi Style (I), No 6. Lane 123 XingYe Road, Shanghai
Opening Hours:Mon-Sun 10:00-22:00
TEL:021-63338657