January 22, Shanghai – When words can't aptly express your appreciation, LENÔTRE's expertly crafted Gift Boxes can. Our handpicked collections of sweets and chocolaty delights travelling from afar constitute a range of iconic gift boxes that makes every family and friend feel they are the most. They are the sweetest and romantic gesture of gratitude that lets no good deed go unnoticed in welcoming in the Year of the Ox. All Gift Boxes are available now till Valentine's Day.
Our beautiful range of four New Year Gift Boxes are Paris Classic Gift Box (¥636), Glamour Chic Gift Box (¥896), L'amour Deluxe Gift Box (¥936) and Fine Crafted Gift Box (¥1816). All offer freshly imported macarons, chocolates, champagne, scented tea, acacia honey and bakeries, arousing authentic Parisian memory for your taste buds.
The four Year of the Ox Gift Boxes are best demonstrations of French craftsmanship and a romantic interpretation of the elegant way of life. Our famed assortment of Praliné chocolates with caramel nut fillings like buckwheat, almonds and hazelnuts, together with seven silky ganache chocolates made with raspberries, grapefruit and lychee, are an unravelling combination of mellow, flavorful chocolates that create delectable electrics and luscious indulgence. Those seeking a premium chocolate gift need look no further.

LENÔTRE gift boxes have been an all-time favourite gift choice among French dignitaries for half a century. Now, these exquisite boxes of treasured chocolate pieces are here in China for you to make an impression and show genuine goodwill. We tuck our elegant gift boxes inside crisp, LENÔTRE wrapping paper to create the perfect gifting experience, making an outstanding gift idea for occasions including business meetings, holiday celebrations, wedding banquets, or visiting relatives and friends.

All products are shipped nationwide by SF Express from now on. It is recommended to use the online-app-mall to place an order, or call us at +86 153 1686 323, besides, sending an email to jessica.zhu@etc-france.cn is also acceptable.

LENÔTRE PARIS CLASSIC GIFT BOX  ¥636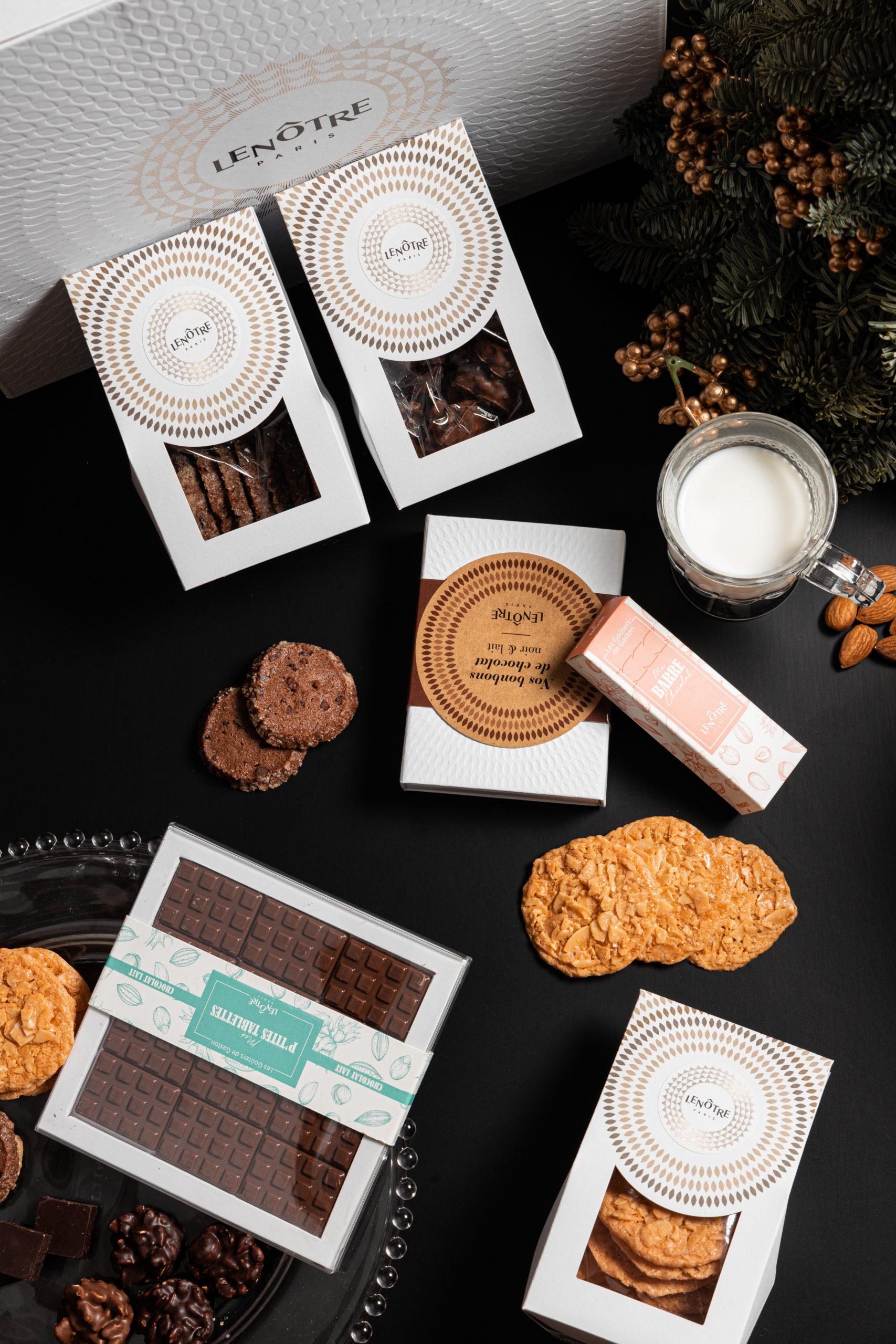 BOX OF 6 CAPSULES COLLECTION 42g
Almond & Hazelnut Praliné Chocolate 35g
Mini Dark Chocolate Flakes with Ganache Filling
Crunchy Biscuit: Almond with Milk Chocolate (12/bag)
Lemon Sablé Square (15/bag)
Chocolate Diamond (10/bag)
LENÔTRE GLAMOUR CHIC GIFT BOX ¥896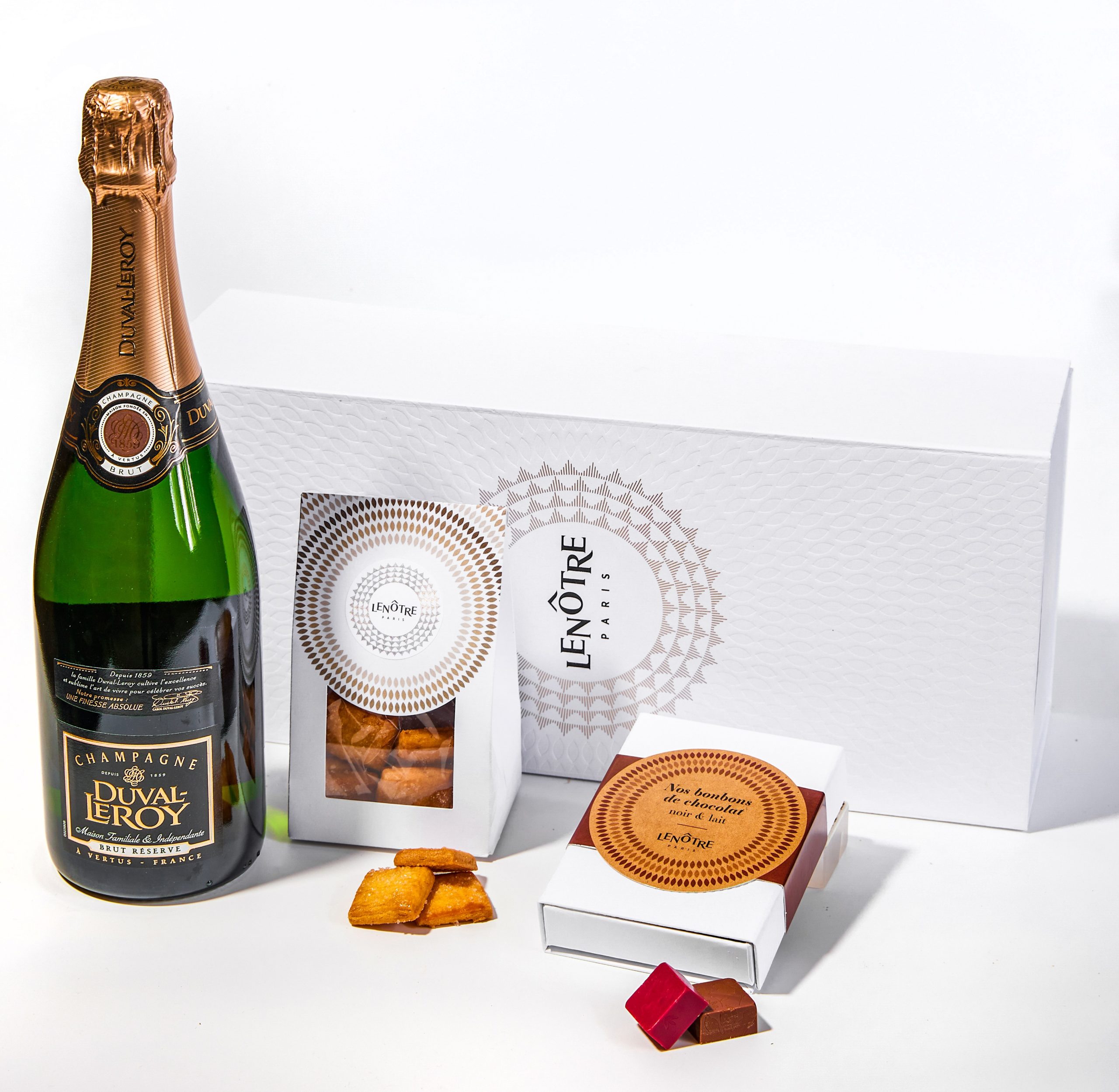 Duval Leroy Champagne 'Brut Reserve'
Duval-Leroy à Vertus, France
BOX OF 6 CAPSULES COLLECTION 42g
Almond Tile (10/bag)
LENÔTRE FINE CRAFTED GIFT BOX  ¥936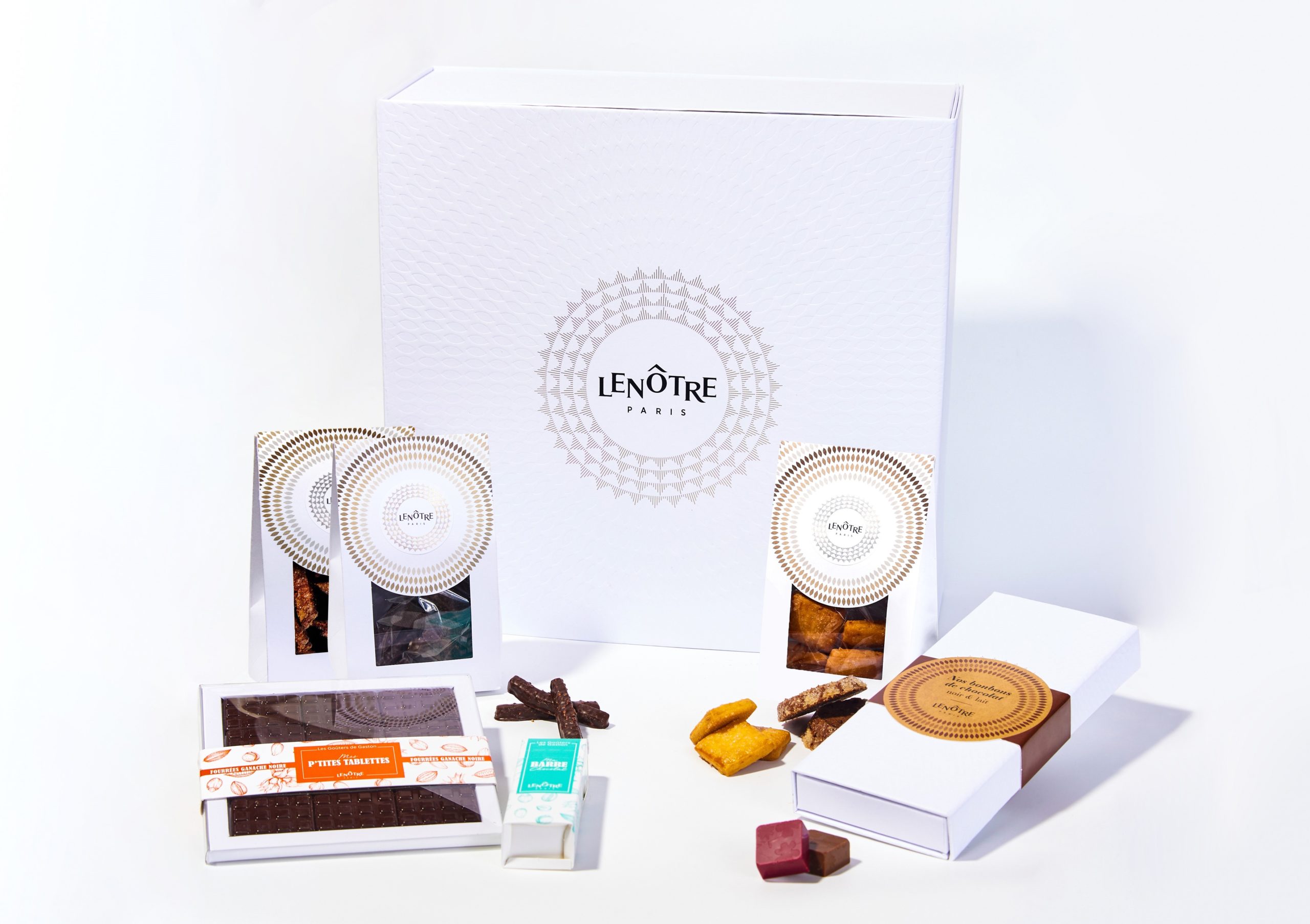 BOX OF 12 CAPSULES COLLECTION 90g
70% Dark Chocolate Flakes
Duo Praliné Pecan Nuts & Caramel Ganache 35g
Chocolate: Orangette with Almond Flakes (30/bag)
Lemon Sablé Square (15/bag)
Chocolate Diamond (10/bag)
LENÔTRE L'AMOUR DELUXE GIFT BOX ¥1816
DuoPraliné & Milk Chocolate Ganache 35g
15 SQUARE MILK CHOCOLATE « MENDIANT » 120 g
BOX OF 12 CAPSULES COLLECTION 90g
Crunchy Biscuit: Hazelnut & Sunflower with Dark Chocolate (12/bag)
Mini Milk Chocolate Flakes with Hazelnut Praliné Filling
AcaciaHoney 250g
Chocolate: Orangette with Almond Flakes (30/bag)
LemonSablé Square (15/bag)
Chocolate Diamond (10/bag)
LENÔTRE Shanghai Flagship
LENÔTRE, the world-renowned restaurant group originated from France, has unveiled its first flagship in China in the lively city heart of Xintiandi in Shanghai in December 2020. Incorporating exquisite pastries and haute French cuisine, the store has its tasty delicacies carefully crafted to offer a wide array of delightful pastries, brunch sets, afternoon tea sets, and formal French courses. The well-rounded menu suits all-day dining needs, enslaving revellers and brunchers all with French flair, service and decorum.
About LENÔTRE Group
The LENÔTRE Group owns a chain of forty high-end patisseries, Michelin restaurants, catering services, cooking schools and a large central kitchen joined by over 450 chefs and pâtissiers, including pastry masters such as Guy Krenzer and Frédéric ANTON. As the designated provider, LENÔTRE has experience providing catering service to the Olympics, the World Cup, and the French Open. It has also catered many cultural and artistic festivals, brand competitions, princess weddings and large-scale private wedding banquets. LENÔTRE is not only a top-notch gourmet brand known to almost every French household, but also one that is among the national living cultural heritage enterprises. It seeks to promote French luxury culture by close cooperation with top COLBERT brands including Chanel, Hermes and Airbus.
LENÔTRE French Pastry (Xintiandi)
Address:No 16-17 L2, Xintiandi Style (I), No 6. Lane 123 XingYe Road, Shanghai
Opening Hours:Mon-Sun 10:00-22:00
TEL:021-63338657