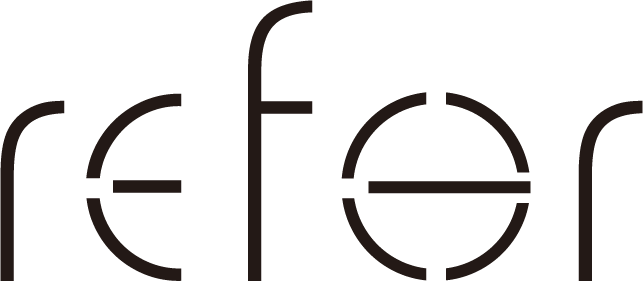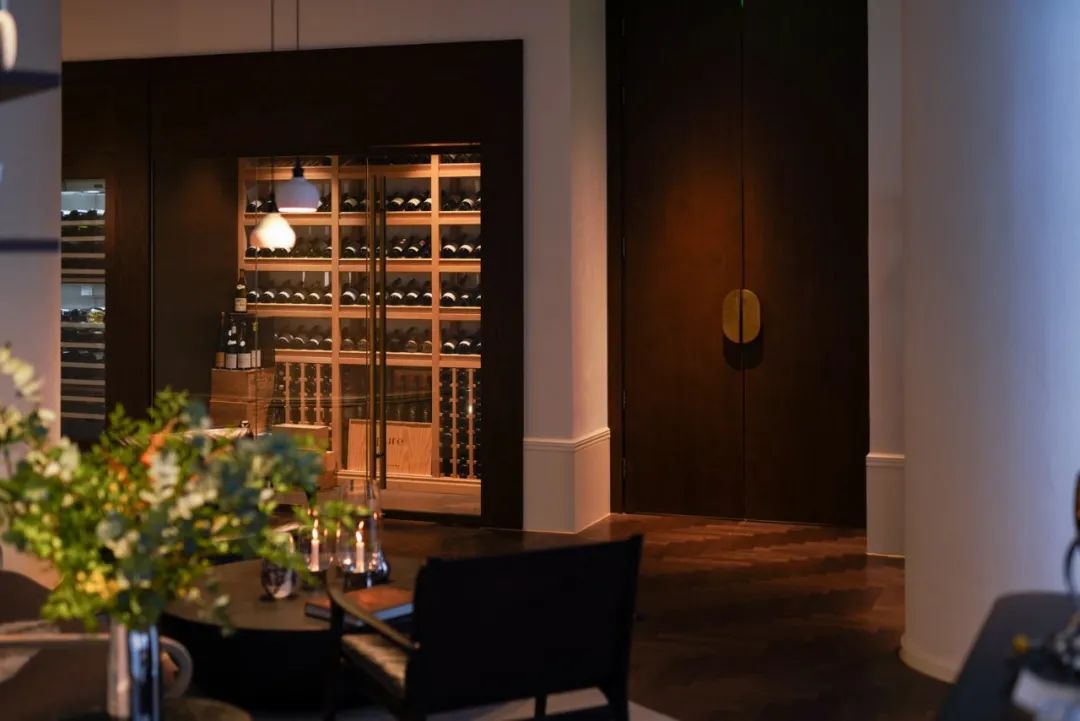 四季更迭,而今恰是秋意绵绵,秋韵美轮美奂之时。秋天往往是分成两半的,一半萧瑟,一半灿烂。落叶带走了烦恼,枫叶的红火又承载着新的希望。斜阳映入,秋风撩拨,秋景点染。摘一片秋叶,捕一缕秋风,听一声秋雨,主厨Talib将秋天的讯息依次扣入心窝,结合初秋的淡雅,迎来深秋的斑斓,献上新一季秋季体验之旅,引领食客走遍秋色角落。
There are times when autumn is bleak, but there are also times when it is glorious. The slanting sun reflected in autumn breeze, the landscape dotted with fiery leaves, the splendid storms and marigolds, the quiet repose and sudden chills… Is not this a true autumn day? Through capturing subtle elegance and vivid radiance of the season, Chef Talib samples the best of autumn's bounty with sensational flavors and outstanding craftsmanship.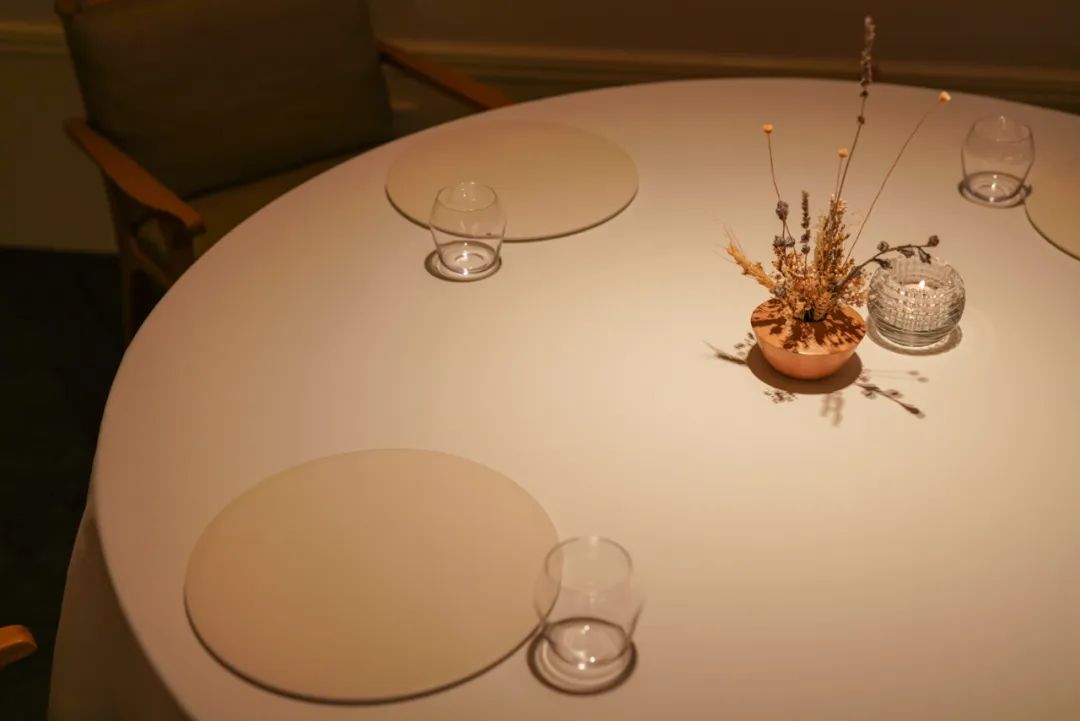 秋季菜单
AUTUMN MENU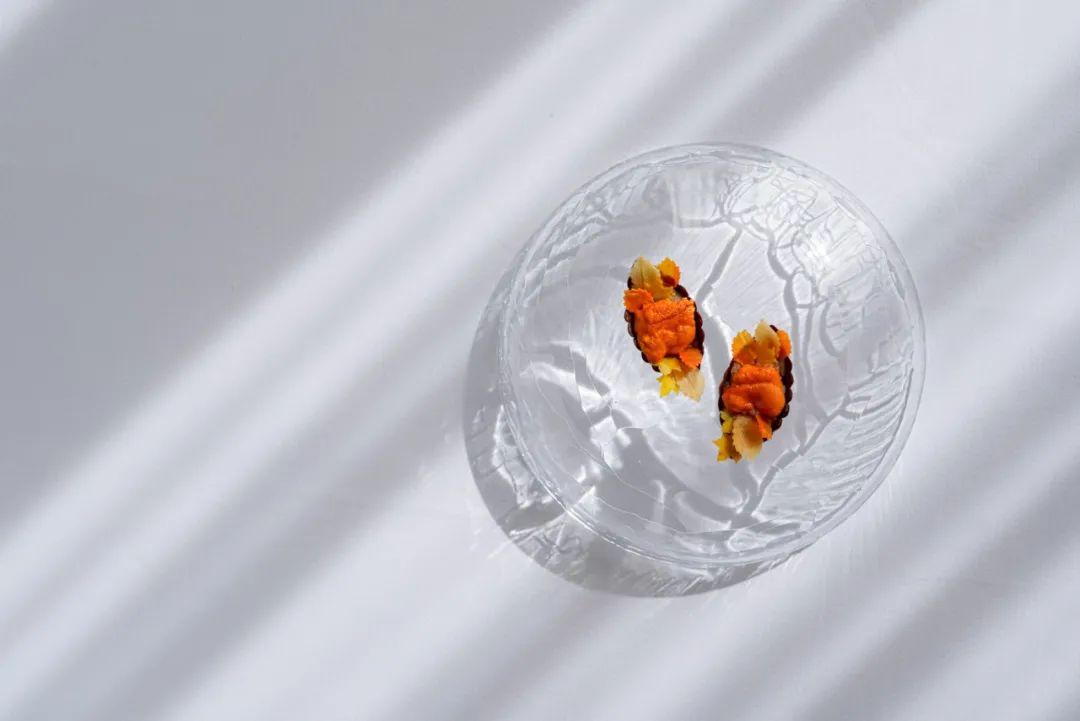 雪松炭烤野生海鳌虾
大连海胆 · 荞麦 · 胡萝卜
防风根 · 佛手柑醋及姜油
Wild Scampi Grilled On Cedar
Dalian Sea Urchin, Buckwheat, Carrots
Parsnips, Buddha Palm Vinegar & Ginger Oil
创意的食材组合带来秋日清甜之味。臻选新西兰野生海鳌虾,经炙烤烟熏后搭配新鲜海胆,柔嫩带有微微熏香。当季佛手柑点缀其中,散发柑橘清香。利用⼤连黑荞麦制成底壳,醋渍姜丁、双色胡萝卜、防风根以树叶形状浸染斑斓秋色。
A creative combination of ingredients brings out the sweetness of autumn. Wild scampi from New Zealand is roasted, smoked and paired with fresh sea urchin for a tender, slightly smoky result, and further garnished with the citrus Buddha palm vinegar. The base made of Dalian buckwheat is completed with marinated diced ginger, carrots and parsnips to splash a palette of autumn hues.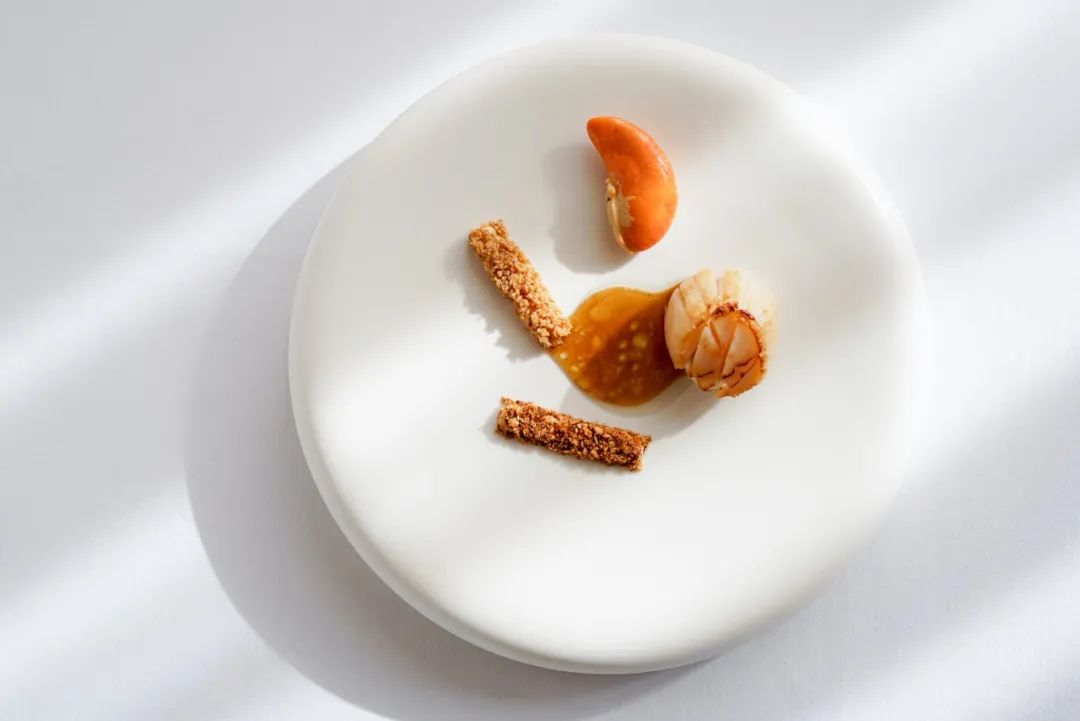 法国布列塔尼扇贝 · 芹菜根
木姜子及咖啡醋 · 鸡皮
Brittany Scallop, Celery Root
Litsea Seed & Coffee Ponzu, Chicken Skin
浓郁秋色跃然盘上。来⾃法国布列塔尼的扇贝肉质饱满鲜嫩,佐以木姜⼦咖啡做的日式柚⼦醋,酸甜风味碰撞出别样火花。⽤鸡油炸制的芹菜根和鸡皮脆粒松脆可口,鸡皮脂香四溢,搭配芹菜根泥,清新与脆爽口感融汇交织。
The Brittany scallop is plump and tender and coupled with litsea seed & coffee ponzu for a sweet and sour delight. The celery root and chicken skin are deep-fried in chicken oil, served with celery root puree for a refreshing and smooth mouthfeel.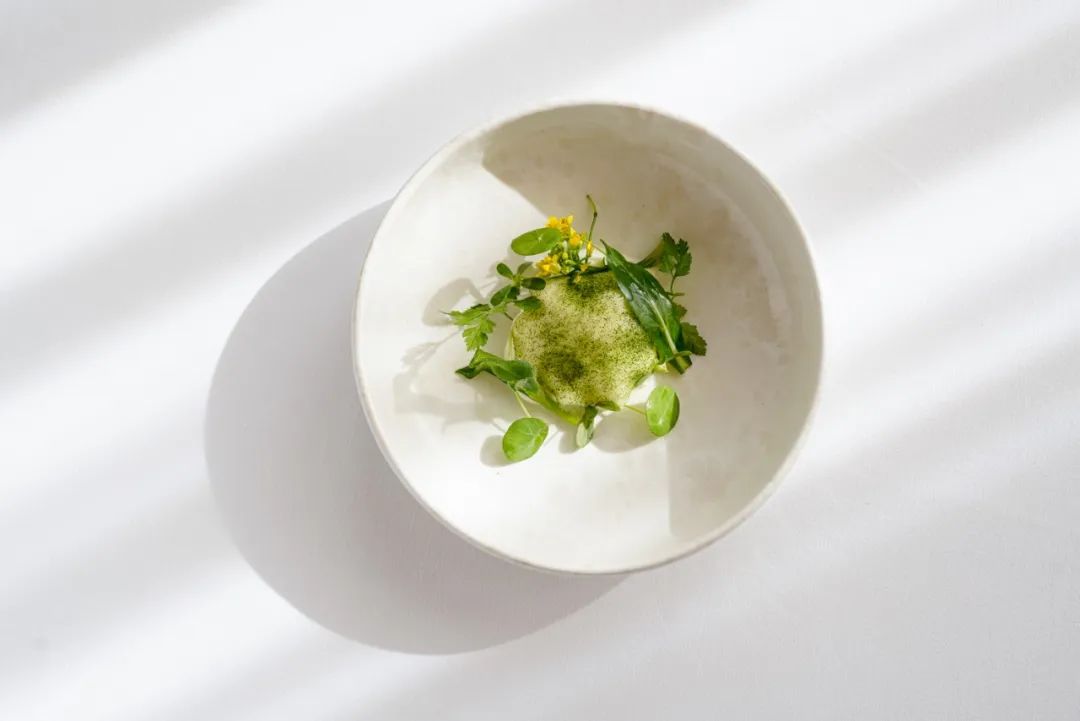 花园香草 · 腊肉油 · 面包蟹
土豆 · 烤柠檬 · 莳萝及贻贝酱
Garden Weeds, Larou Fat, Brown Crab
Potato, Burnt Lemon,Dill & Mussel Sauce
这是一道口味较清淡的菜品,面包蟹蒸熟后自带的鲜甜与土豆慕斯夹杂的奶香完美结合,搭配裹有腊肉油脂的秋天应季蔬菜,利用烤柠檬啫喱的酸度进行味觉上的撞击,帮助味蕾打开一个新的维度。另撒上菠菜粉,加入贻贝和羽衣甘蓝熬煮的酱汁和莳萝油,将整道菜品的调味推到一个较为复杂的程度,却又不失口感上的清爽。北欧地区轻松惬意的菜品风格,北京秋季蔬菜的搭配,主厨Talib的调味加成,三者合一,相辅相成,美观又不失美味的北欧融合菜品。
This is a lighter dish, where the fresh sweetness of the steamed brown crab blends perfectly with the creaminess of the potato mousse. Paired with seasonal vegetables dipped in larou fat, the contrasting acidity of the burnt lemon jelly helps to open up a new dimension, further elevated by a sprinkling of spinach powder, kale & mussel sauce and dill oil to add complexity. Chef Talib incorporates seasonal vegetables from Beijing into a Nordic-inspired style of cuisine to bring to life this beautiful and delicious fusion dish with refined techniques and creative twists.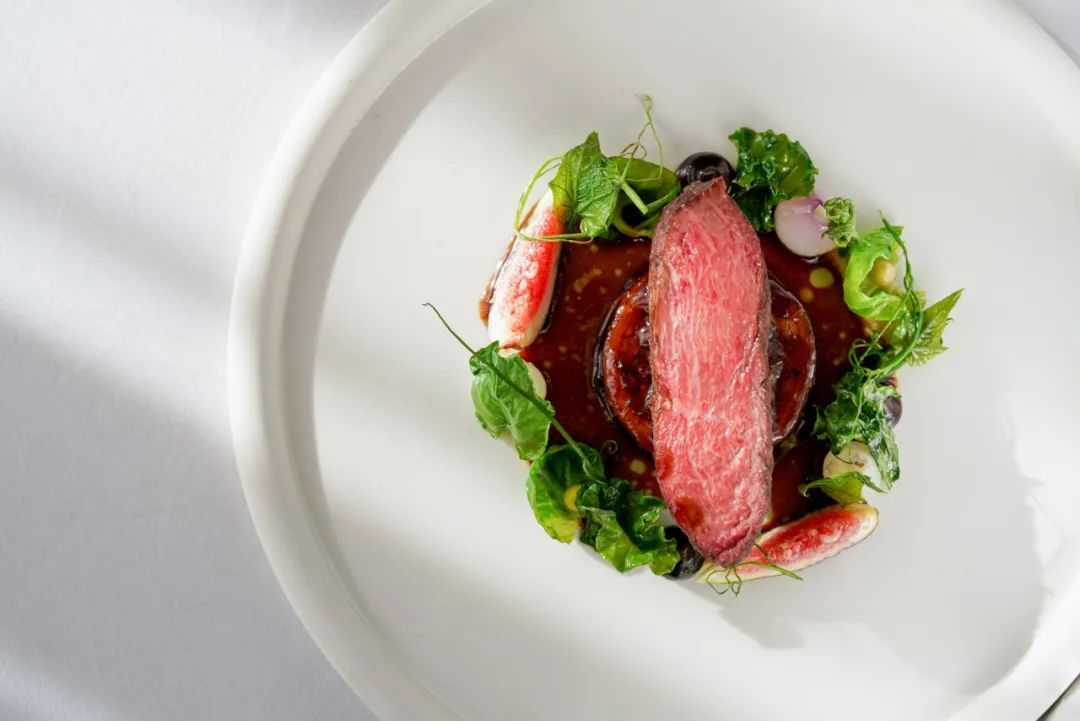 伊比利亚猪肉及卤猪蹄
猪肉豆豉酱及无花果叶油
酸菜 · 西梅 · 无花果和松露
Iberico Pork Presa & Braised Pork Trotter
Fermented Black Bean Sauce & Fig Leaf Oil
Fermented Cabbage, Prune, Figs & Truffle
主厨Talib致力于将中西餐饮的食材,烹饪理念和表达用意趋于理想化和现实共存的结合,这道主菜将伊比利亚黑猪肩颈肉进行火焰炙烤,搭配河北散养黑猪的炖猪蹄肉卷,从用料和口感上分出了差别感,食材外层是由多重食材组成的内馅裹成的猪皮,四周圈以新鲜无花果以及各色如甘蓝及干葱的蔬菜,最后淋上猪骨豆豉酱,无花果叶油,充以东北酸菜泥和发酵焦糖西梅酱,完成一道内容丰富的菜品呈现。轻盈感在略显厚重的食材中脱颖而出,东北酸菜,焦糖西梅,无花果叶油为法国与中国的东北架起了一座桥梁,将秋天最合适的食材和搭配用料精确结合在了一起,意蕴出美妙的口感奉献。
Chef Talib strives to combine the ideal and practical coexistence of ingredients, culinary concepts and expressions of Chinese and Western cuisine. This main course is a flame grilled Iberico pork presa and braised pork trotter from free-range black pig in Hebei province of Northern China. Surrounded by fresh figs and a variety of vegetables such as kale and dried spring onions, the dish features fermented cabbage puree and caramelized prune which are finished off with a drizzle of fermented black bean sauce and fig leaf oil. Airiness stands out against slightly richer ingredients while the cabbage, caramelized prune and fig leaf oil showcasing scrumptious specialties from France and Northeast China with exact flavour specifications and wonderful taste offering.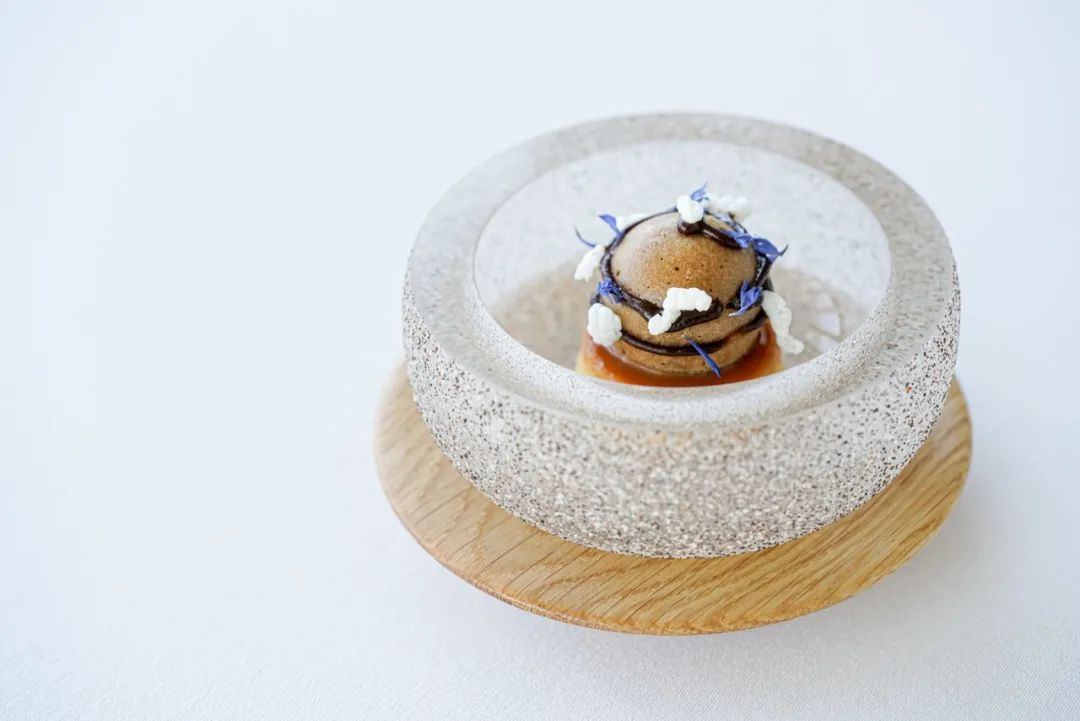 焦糖豆奶布丁 · 沙姜
膨化大米 · 黑蒜 · 枣糕
Soy Crème Caramel, Sand-Ginger
Puffed Rice, Black Garlic & Date Cake
以焦糖豆奶布丁为底,布丁上方一改固定冰淇淋球的搭配模式,采用的是团队自制枣糕球,口感绵密且丰富。沙姜,膨化⼤米,黑蒜酱为甜品的层次增加了级别,一抹蓝色矢车菊将用料颜色的对差体现出来,与其他用料相映成趣,与菜单的末尾部分形成了良好的呼应。
Instead of the usual ice cream, a homemade date cake is placed on a bed of rich, smooth soy crème caramel. On top of sand ginger, puffed rice and black garlic sauce, a splash of cornflower blue draws a bold yet harmonious colour boost to add a lovely vibe while gently echoing the end of the menu.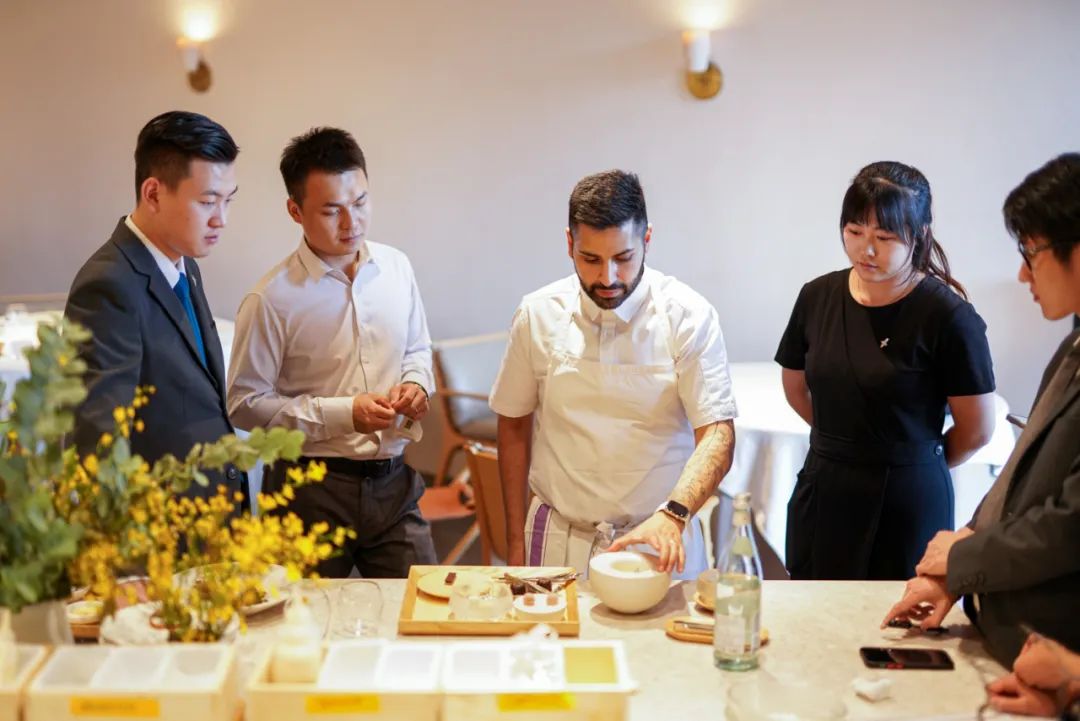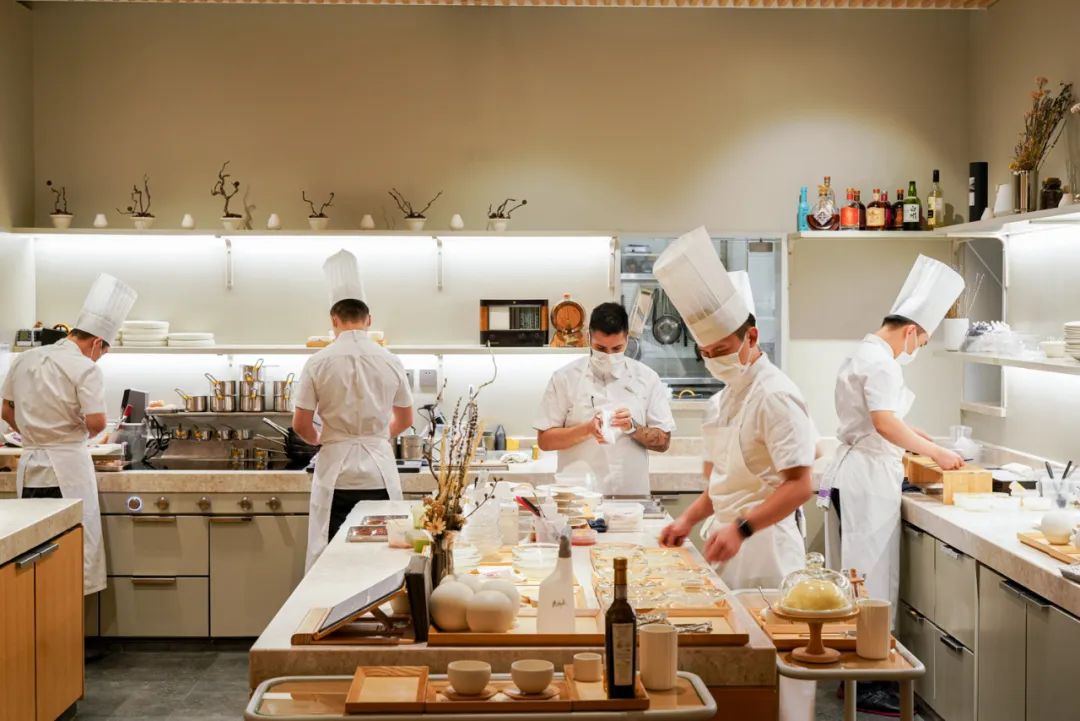 多情之秋,餐厅里各色画面遍布,菜单的构思,食材的准备,菜品的调试,细节的修改,后厨的忙碌,客人的莅临,完整且愉快的体验。一套菜单如同一枚硬币,一面是主厨Talib带领的团队日日夜夜的努力,一面是客人用餐时恰到好处的体验。如你我期许那样,略带寒意的秋季夹杂着这儿的温情。亦正是对美食的热爱,对情感的抒发,五湖四海相聚于此,激发出更多有温度的友情,爱情,念情。
This amorous autumn, Refer is ready to offer a complete and enjoyable culinary experience with elegant dining space, thoughtfully crafted menu, top quality ingredients, and full attention to detail. Chef Talib has worked intensely and enthusiastically with the team to provide the best possible dining experience for guests. It is the love of food and the expression of affection that brings people from all over the world together, and continues to inspire friendship, love and nostalgia.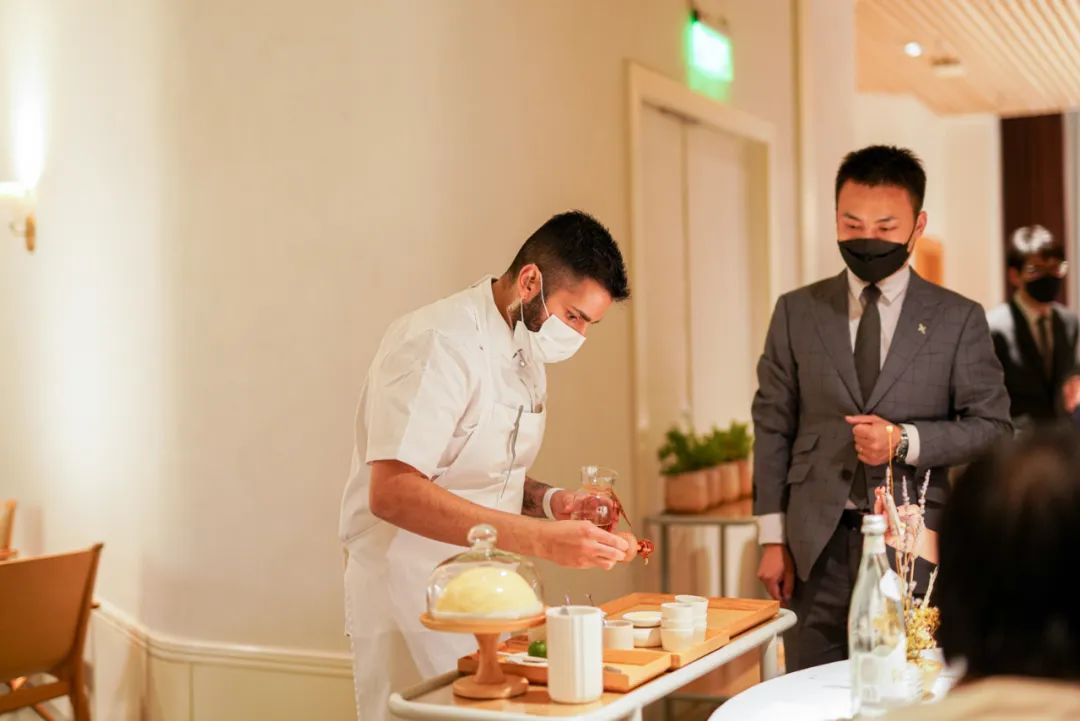 时光流转已到秋,秋叶飘零镜似梦。缓缓迈向冬天的旅途,Refer期待与您一同度过。
The autumn leaves of red and gold; the cool breezes drift by the window. As we slowly make our way towards winter, Refer looks forward to spending precious times with you.
*Refer秋季焕新菜单已上新,将供应至12月,菜单视食材供应情况而定
*Refer's autumn menu will be available until Dec, menu items may change with market availability.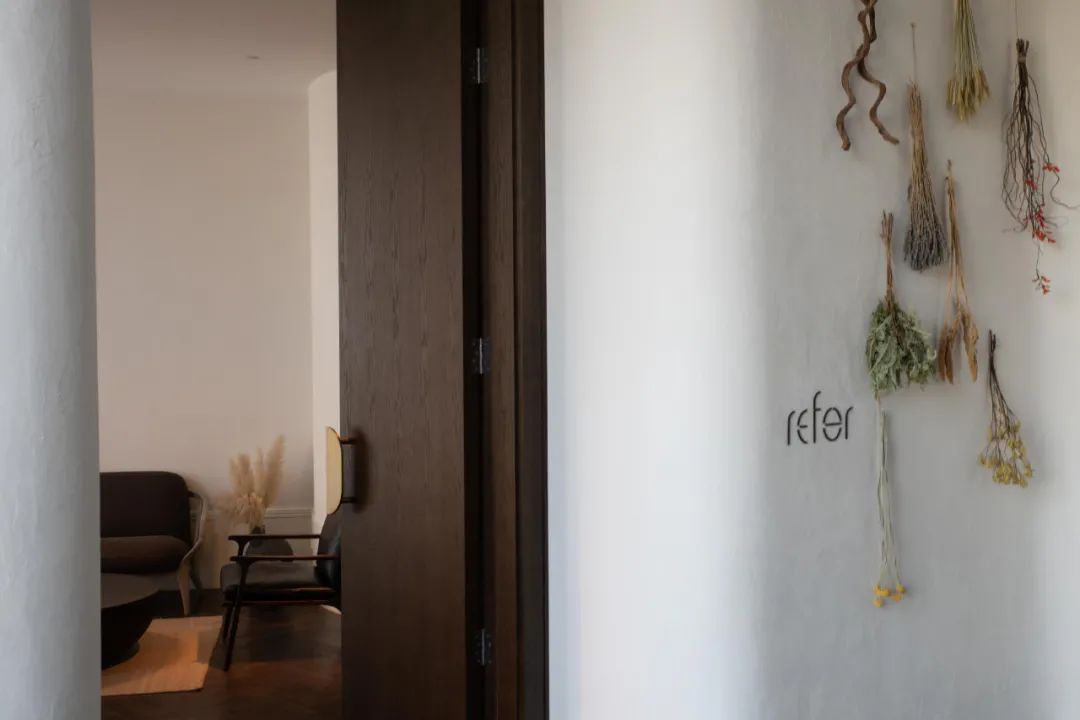 温馨提示
Please be gently reminded
营业时间 Opening time
周三至周日 Wed. to Sun. 18:00 – 22:00
国庆假期期间 餐厅正常营业
We are open as usual during the Golden Week.
着装提示Dress code
商务休闲/正装 Business Casual/ Formal
预订方式 Reservation
为确保带来最佳的就餐体验
前来Refer就餐的客人可通过Refer官方网站/微信
进行提前预订并支付全额订金即为预订成功
宾客的饮食习惯请于预订时告知确认。
To ensure the best dining experience, guests are encouraged to make a reservation through Refer's official website or Wechat. The reservation will be successful once an upfront deposit is fully paid. Dietaries of all guests must be confirmed before booking.
官方网站 Web
www.restaurantrefer.com
微信 WeChat
restaurantrefer
地址 Address
太古里北区N8座5层朝阳区,北京
5th Floor, Building No.8, TaiKooLi North
Chaoyang, Beijing
如您遇到任何问题,欢迎随时与餐厅沟通。
If you have any problems during the reservation process, please do not hesitate to contact the restaurant.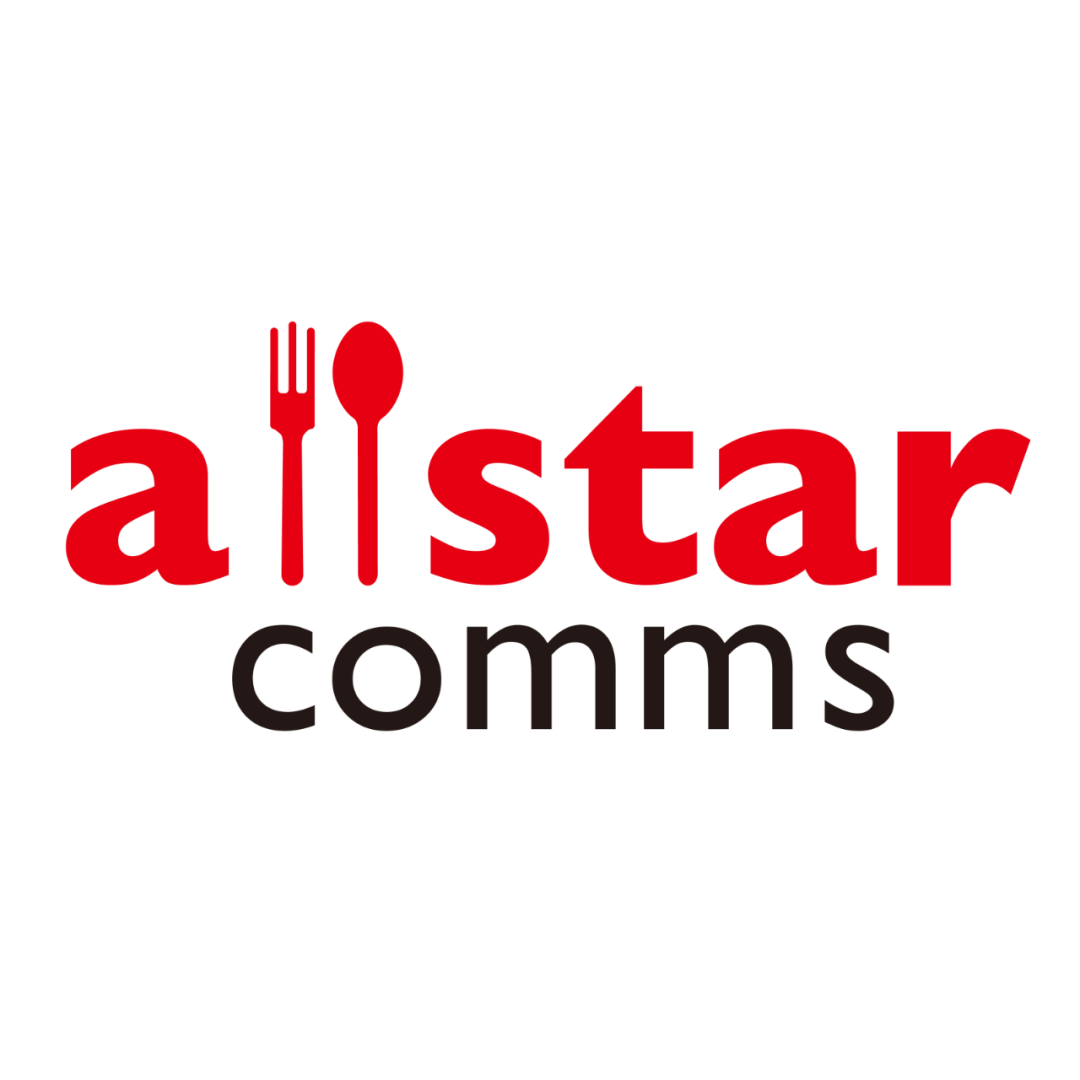 如有任何品牌顾问需求
请联系上海食达文化传播有限公司:
资深传播顾问 Daniel Zhu,
danielzhu@allstarcomms.com