2021 年 9月 26日,上海 – 沪上知名餐饮品牌漢舍精心打造升级之作— "漢舍中国菜馆臻选店",9月26日于新兴地标商场瑞虹天地太阳宫正式对外营业。厚积薄发十三年,本次漢舍将品牌诞生之初的想法——"中国人的家"理念全面优化提升,持续探索优质时令食材,研发更为精致可口的中式味道。
Shanghai, 26 September 2021 – Shanghai's leading restaurant brand Madam Zhu's Kitchen officially launches its reserve store at Ruihong Tiandi Sun Palace, the largest commercial complex in Hongkou. With thirteen years of practice and experience, the launch of the reserve venue is a major step forward of the restaurant's original endeavour – creating the place of Chinese home dining, as it continues exploring quality ingredients and harnessing culinary techniques to forge delicious Chinese flavours.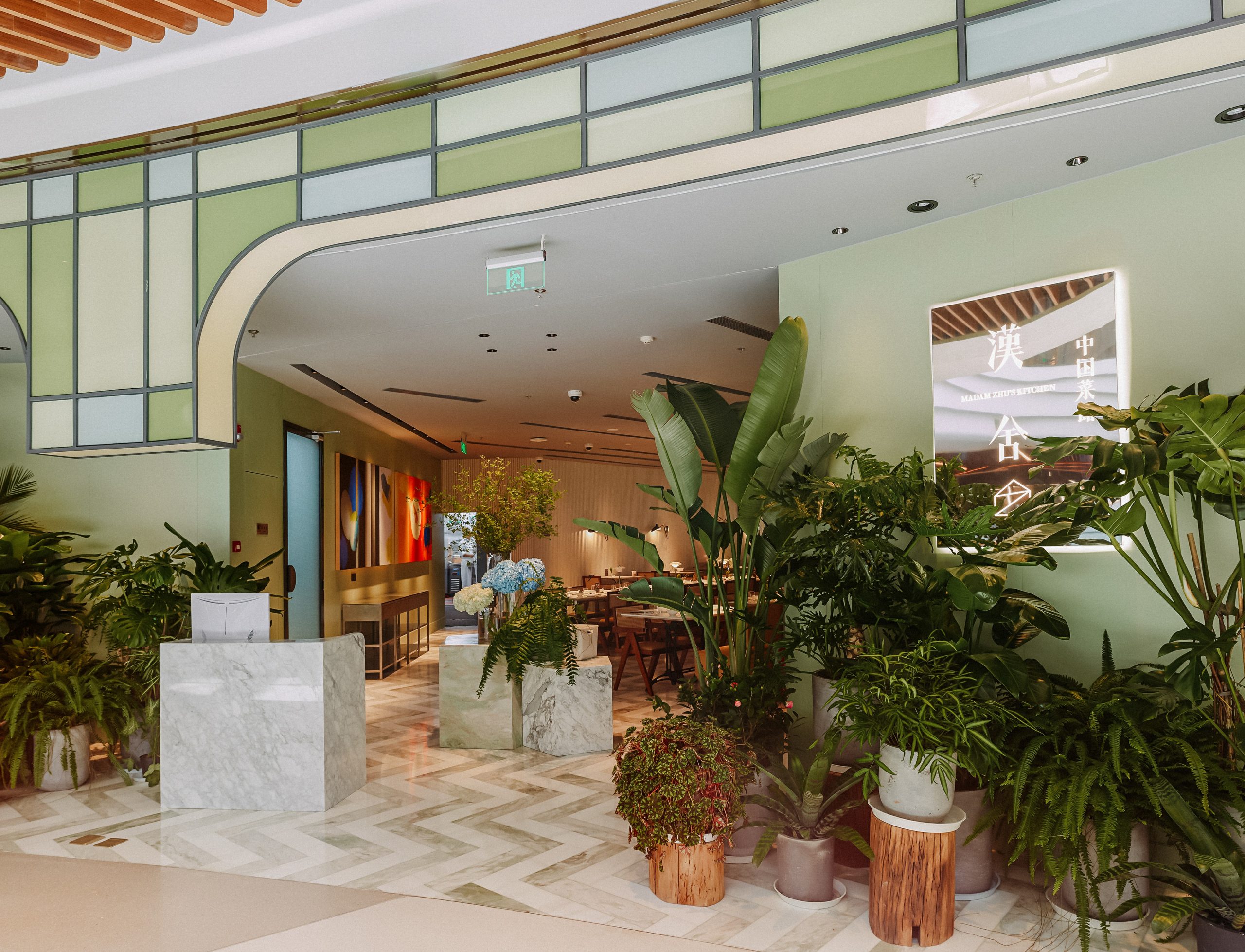 汉舍中国菜馆臻选店 Madam Zhu's Kitchen Reserve
2008年,漢舍中国菜馆在上海浦东丁香路创立, 迄今已是历久弥新的经典中餐品牌。上海889广场店自2017年起连续五年荣获米其林餐盘推荐,上海丁香店入围2021黑珍珠餐厅指南。成立迄今,漢舍致力体现中国料理的多样性,让食客们一年四季来到漢舍用餐时,就像造访五湖四海朋友们家里一样,能够在享用应季食材的同时品尝到风情万种的美味佳肴,呈上餐桌的每道菜肴都仿佛倾注妈妈们的用心,别有家的风味。
Established in 2008 on Dingxiang Road in Pudong, Shanghai, Madam Zhu's Kitchen has been a long-established traditional Chinese restaurant brand. The branch at 889 Plaza has been recommended by the Michelin Plate for five consecutive years since 2017, and the Dingxiang Road venue has been listed in the 2021 Black Pearl Restaurant Guide. Madam Zhu's Kitchen has been committed to honouring the rich tapestry of Chinese cuisine, offering seasonal delicacies and authentic flavours all year round for diners visiting any time of the year.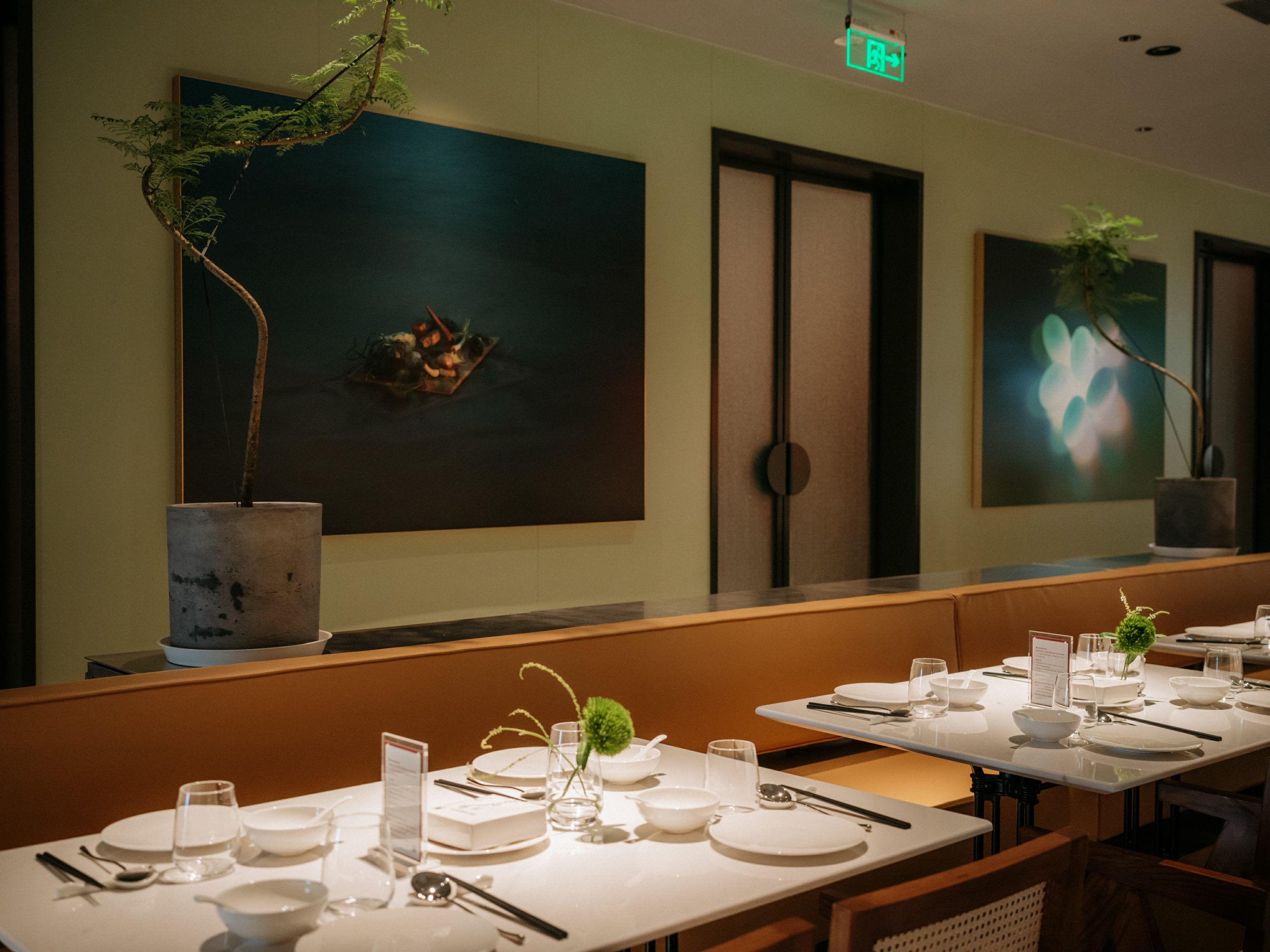 餐厅一隅 Restaurant Interior
不时不食‧沪川美馔
About Cuisine
漢舍中国菜馆臻选店以本帮菜为主,穿插经典川菜,形成以"沪川菜"为概念定位的精致餐饮。将浓油赤酱、咸淡适中、保持原味、醇厚鲜美为特色的本帮菜进一步改良,形成具有选料新鲜、品质优良、制作考究、咸鲜适中、口味多样的菜品特色。并将之与品牌主理人的家乡菜系-川菜相结合,以考究的烹饪工艺,为饕客带来"风物各有先天,一碗各成一味;坚守家庭精制,四季不时不食"的别样风味。招牌菜品包括老上海葱油鸡,火焰焖烧乳鸽,鸡汤海带苗炖辽参,蒜泥白肉,椒麻芋儿鸡等。
Madam Zhu's Kitchen Reserve offers a wide variety of fine dishes based on the concept of "Shanghai-Sichuan Cuisine", with a focus on local cuisine interspersed with classic Sichuan dishes. It has further improved the local style which is characterised by heavy use of oil and soy sauce, to highlight a balanced seasoning, fresh, quality ingredients, thoughtful preparation, and a variety of natural flavours. The restaurant is looking forward to sharing with gourmet diners the distinctive flavours of true Chinese home cooking and a beautiful interpretation of eating with nature and seasonality. Signature dishes include Shanghai-Style Scallion Oil Chicken, Flame Braised Squab, Liaoning Sea Cucumber and Seaweed in Chicken Soup, Sliced Pork Belly with Garlic Sauce, Taro Chicken with Peppercorn.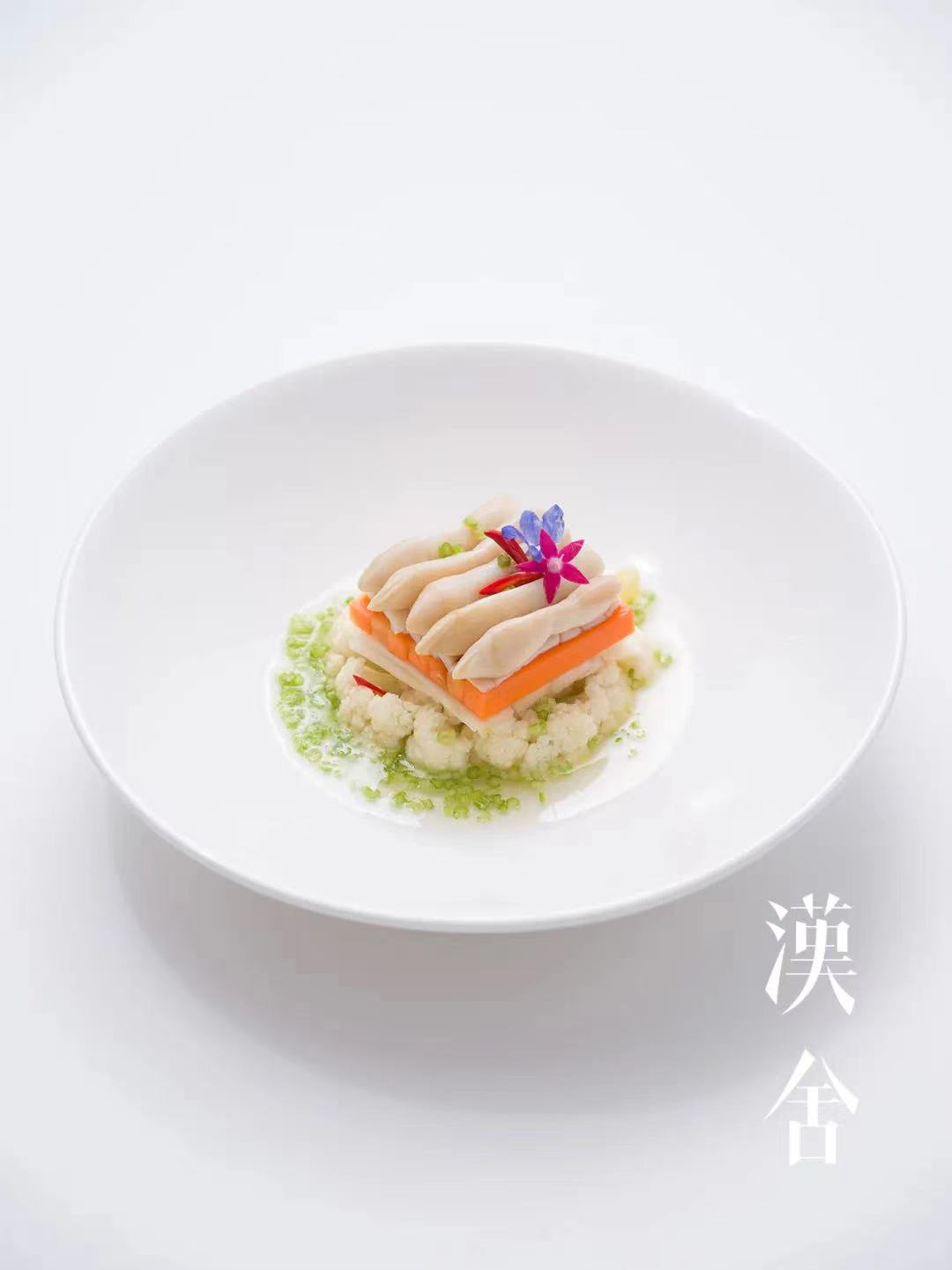 跳水泡菜竹蛏 Razor Clams and Pickled Vegetables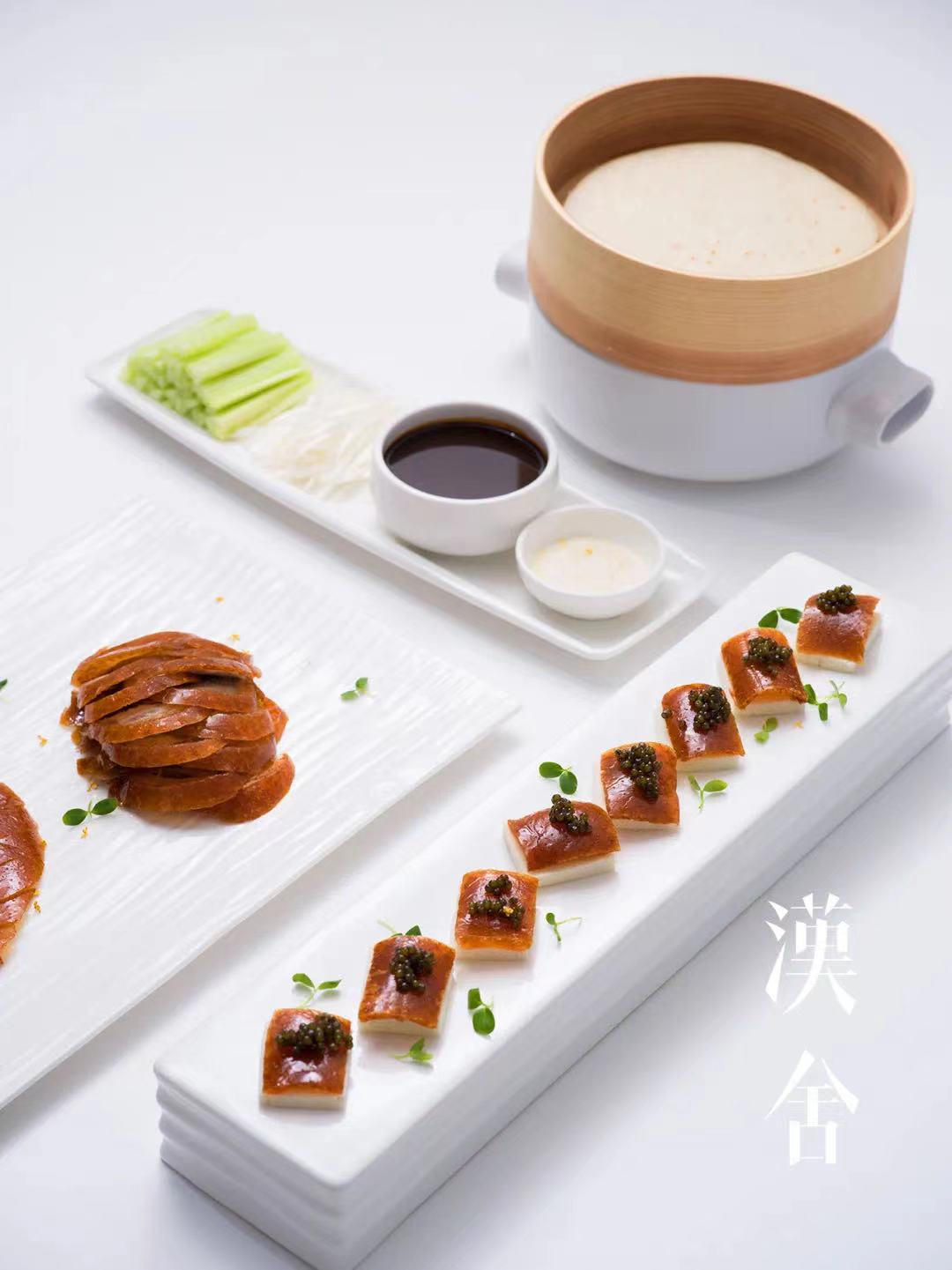 漢舍招牌果木烤鸭 Signature Roast Duck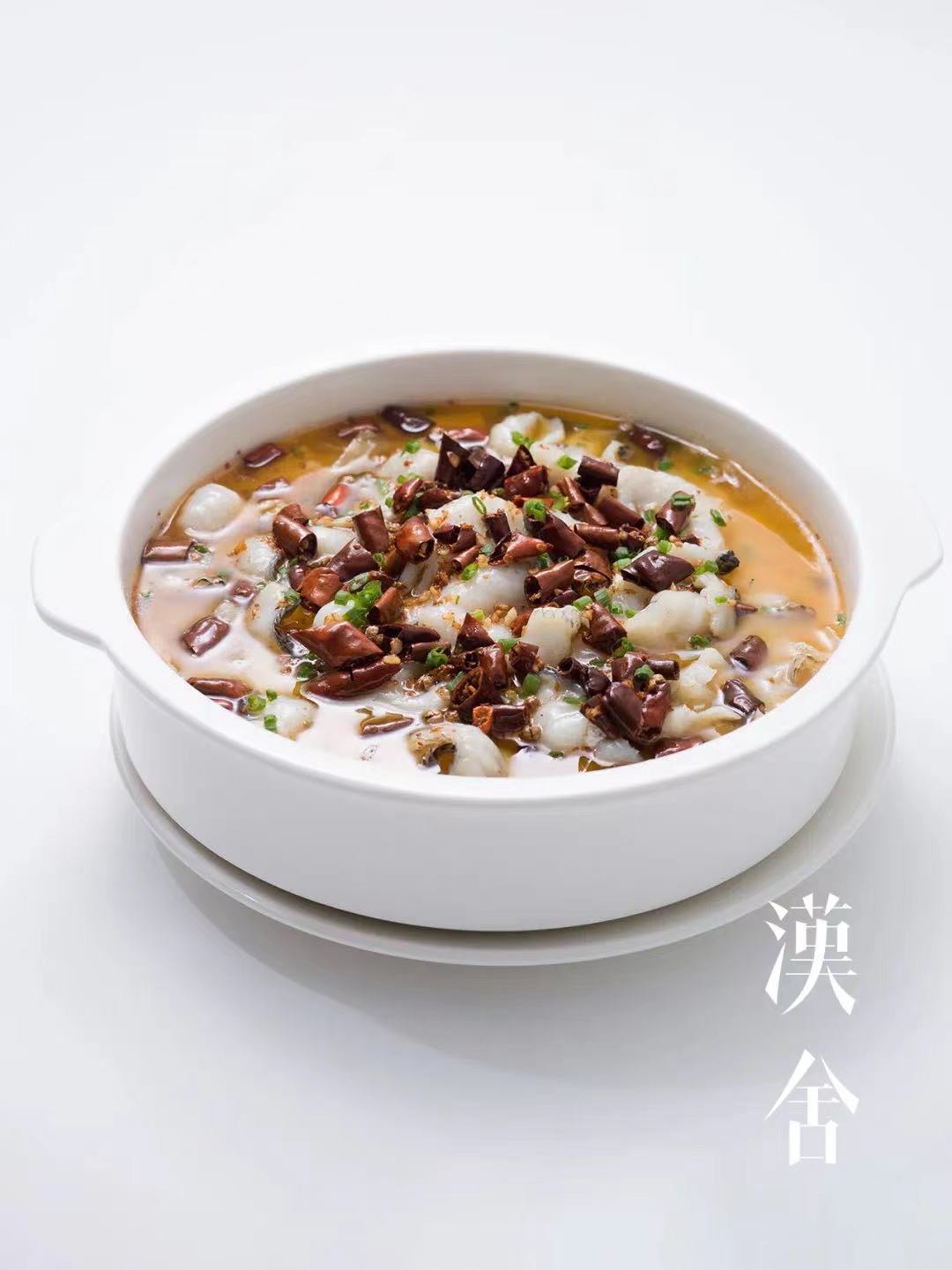 酸菜黑鱼片 Boiled Fish Fillet with Pickled Mustard Green
漢舍中国菜馆臻选店‧坚强团队阵容
About Team
漢舍中国菜馆臻选店匠心具足走向精致化餐饮,汇集优秀的团队阵容,带来不同凡响的沪川菜体验。行政总厨陈军师从烹饪大家李耀云,精工本帮菜、淮扬菜、川菜。习取各地餐饮精髓,中餐经历丰富,熟稔西餐食材和烹饪技法系统。2011年加入漢舍,统领旗下品牌菜品研发、出品及管理。前厅经理曹迎春,先后任职北京海港大酒楼后勤部经理和北京8号公馆大堂管理教练,熟悉餐厅的日常管理营运和细致服务。2010年加入漢舍,负责上海区域运营。集团运营负责人王莹,曾任黑珍珠评委,《味觉大师》前市场总监;品牌市场负责人丁颖,《周末画报》北京版前副主编,《VOGUE》前资深专题编辑和悦食中国产品总监;信息管理负责人王菲,曾任中国电信运维工程师。
Madam Zhu's Kitchen is a restaurant with a strong focus on fine dining, bringing together an outstanding team to deliver an extraordinary Shanghai-Sichuan experience. Executive Chef Chen Jun, who received rigorous training from cooking master Li Yaoyun, has a wealth of experience in Shanghai, Huaiyang and Sichuan cuisines, and is fully conversant with Western ingredients and culinary system. He joined Madam Zhu's Kitchen in 2011 and has since in charge of the development, production and management of the dishes. Previously the logistics manager of Sea Harbour Beijing and the lobby manager of No.8 Mansion Beijing, floor manager Cao Yingchun joined the Shanghai team in 2010 and has been ensuring the restaurant's smooth operation and meticulous service. The operation director of the restaurant group, Wang Ying, is a former Black Pearl judge and marketing director of a popular recipe app. The marketing director, Ding Ying, was the deputy editor of Modern Weekly Style's Beijing section, senior editor of VOGUE and product director of Yueshi China, a lifestyle consulting project. Head of information management, Wang Fei, is formerly an operations and maintenance engineer of China Telecom.
行政总厨陈军(右三)及厨房团队
Executive Chef Chen Jun (The third from the right) and his team members
宾至如归‧雅致设计
About Aesthetic
臻选门店装修偏向新古典主义风格,空间布局疏朗,色调以灰绿为主,去除冗余装饰,希望给人以舒适细腻的感受。餐厅里的植物、灯光、家具、音乐设计也都别具匠心,营造出宾至如归的舒适和放松感。漢舍中国菜馆臻选店总餐位共180个,共有6个包间。
Leaning towards a neo-classical décor, the reserve store is designed with a spacious layout, grey and green hues, lifting complicated decorations to offer a gentle, warm atmosphere. The plants, lighting, furniture and music are specially organised in a way that's closely connected to each other, giving you the sense of relax that makes you feel at home. The restaurant has a total of 180 seats and 6 private dining rooms.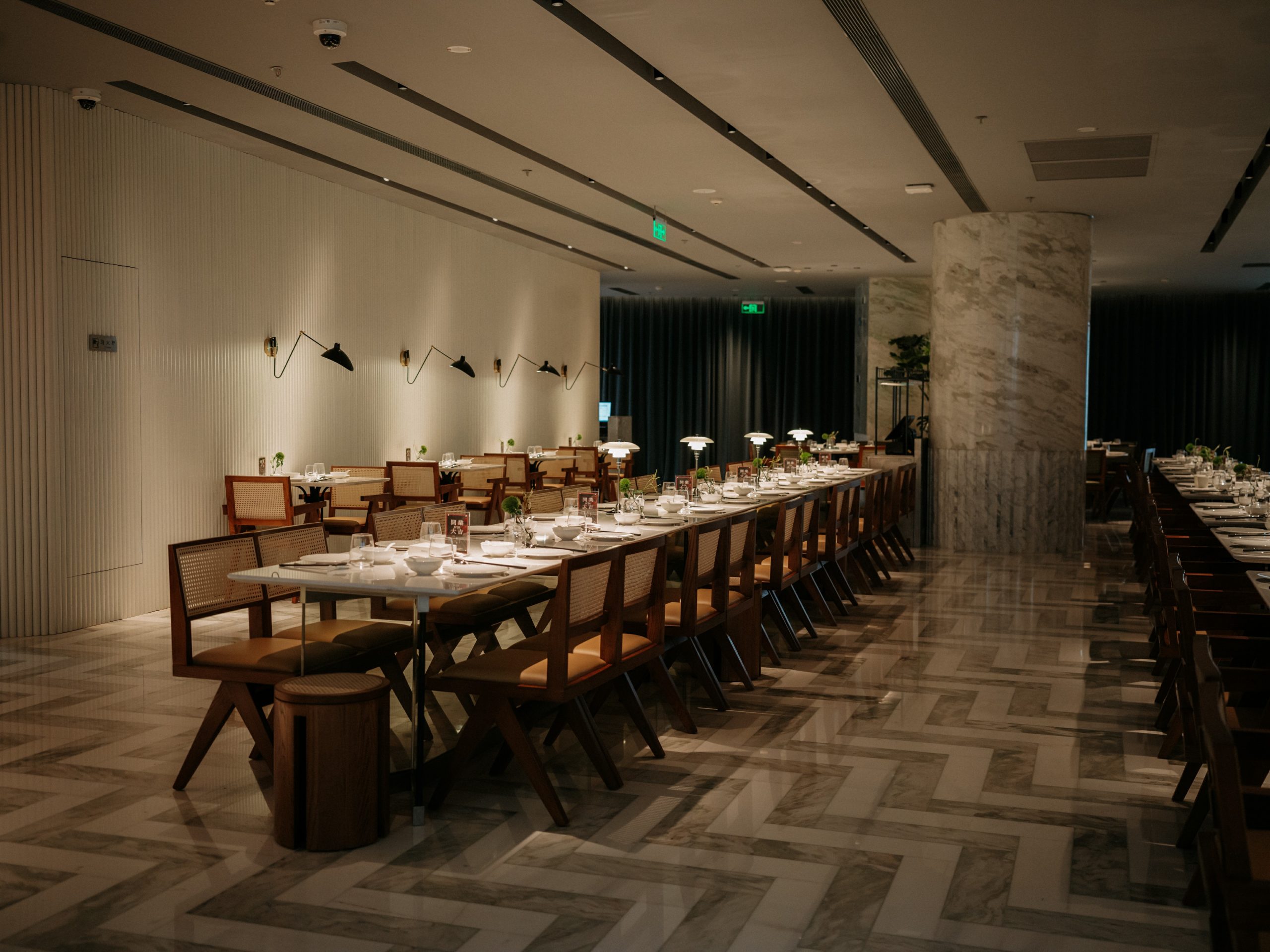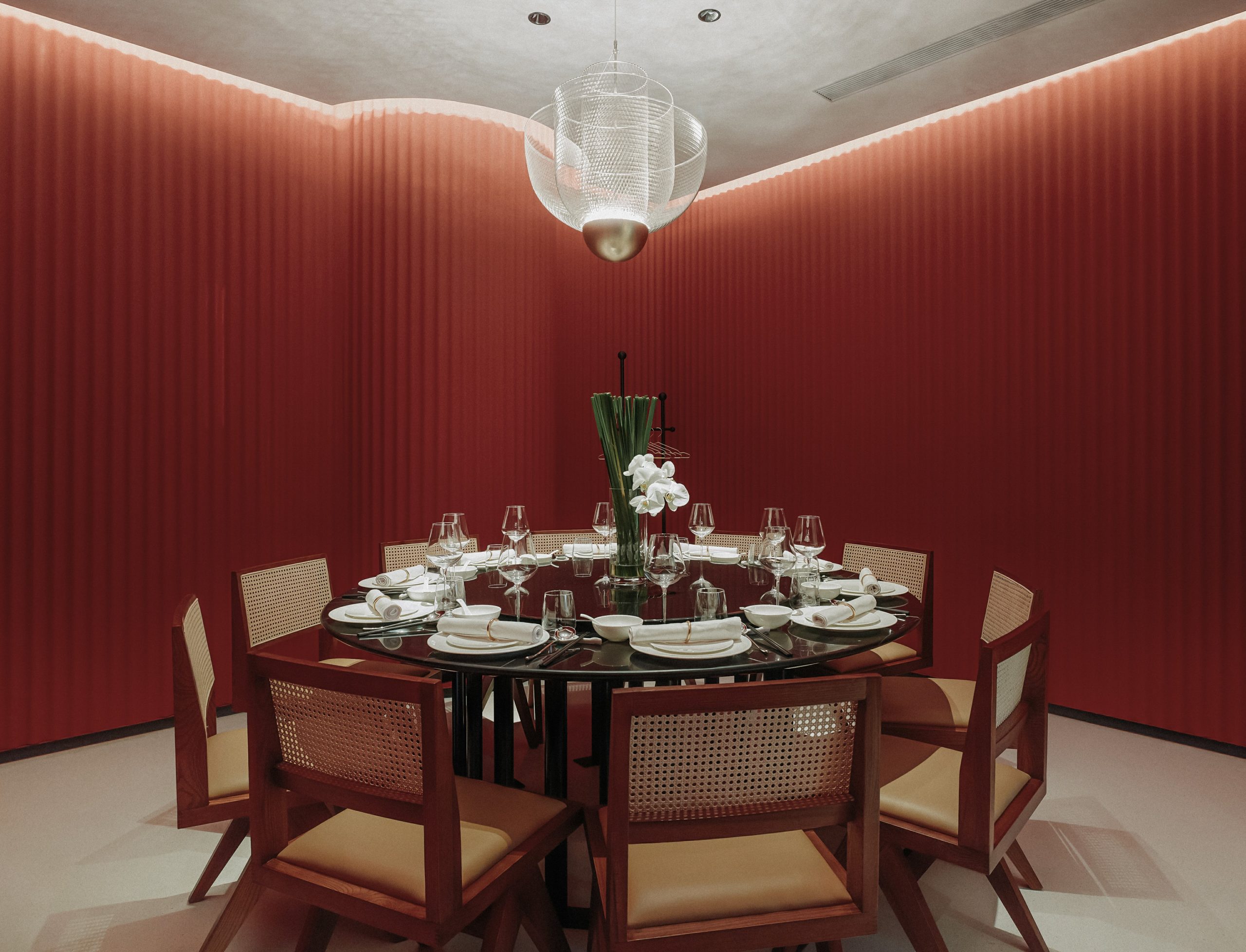 餐厅大厅及包间环境 Environment
漢舍中国菜馆臻选店
地址:上海市虹口区瑞虹路181号太阳宫商场6F14–15A
营业时间:午市11:00–14:00;晚市17:00–21:00
微信号:madamzhuskitchen
电话:021–65151088/021–65151288
Madam Zhu's Kitchen Reserve
Address: 6F14–15A, Ruihong Tiandi Sun Palace, 
181 Ruihong Road, Hongkou District, Shanghai 
Opening time : Lunch 11:00–14:00; Dinner 17:00–21:00
WeChat: madamzhuskitchen 
Tel: 021–65151088/021–65151288
如有任何公关需求
请联系上海食达文化传播有限公司:
公关副总监 Lucy Lee,
lucylee@allstarcomms.com
公关专员 Daniel Zhu,
danielzhu@allstarcomms.com
For further media/PR inquiry,
please contact Allstar Communications Ltd.,
Associate Public Relations Director / Lucy Lee, lucylee@allstarcomms.com
PR Executive /Daniel Zhu, danielzhu@allstarcomms.com