專注江戶前壽司風格·時令食材 不斷創新
Seasonal Ingredients and Constant Innovation
迎接新年的到來「Sushi Fujimoto」應季而出時令菜單,包含4種以當季漁獲製成的酒肴、13款壽司、2款日本玉子燒和細卷等,而本季的食材亮點為冬季鰹魚及北極貝。藤本主廚(Kenichi Fujimoto)始終秉持初心,專注於季節時令食材的運用,在還原傳統日本風味的基礎上琢磨創新。
To celebrate the coming New Year, Sushi Fujimoto is offering a seasonal menu with 4 types of seasonal catches, 13 types of sushi, 2 types of tamago-yaki and small rolls, with winter bonito and Japanese surf clam being the highlights. Focusing on seasonal ingredients, Chef Kenichi Fujimoto has always been committed to traditional Japanese flavours infused with creative twists.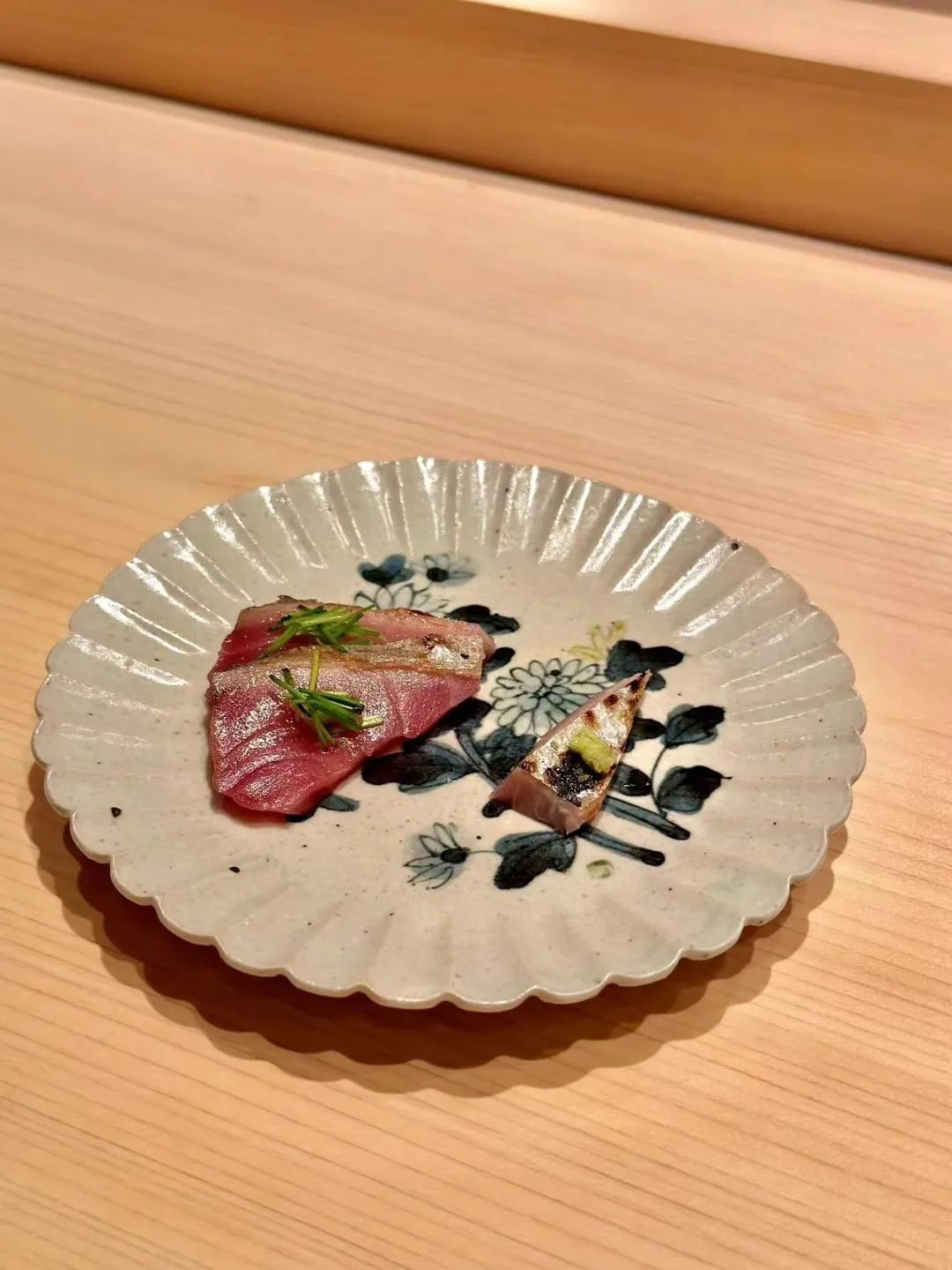 北寄貝 Japanese Surf Clam
選用來自北海道的北寄貝,作為刺身或炙烤後食用均可。藤本先生通過木炭烤架微微炙烤,激發出它特有的甜味,卻依然保留其柔嫩的口感和清新的潮香。
Choose clams from Hokkaido, which can serve as sashimi or grilled. Fujimoto San chooses to grill lightly over the charcoal grill, springy in texture is sweet and has a strong ocean aroma.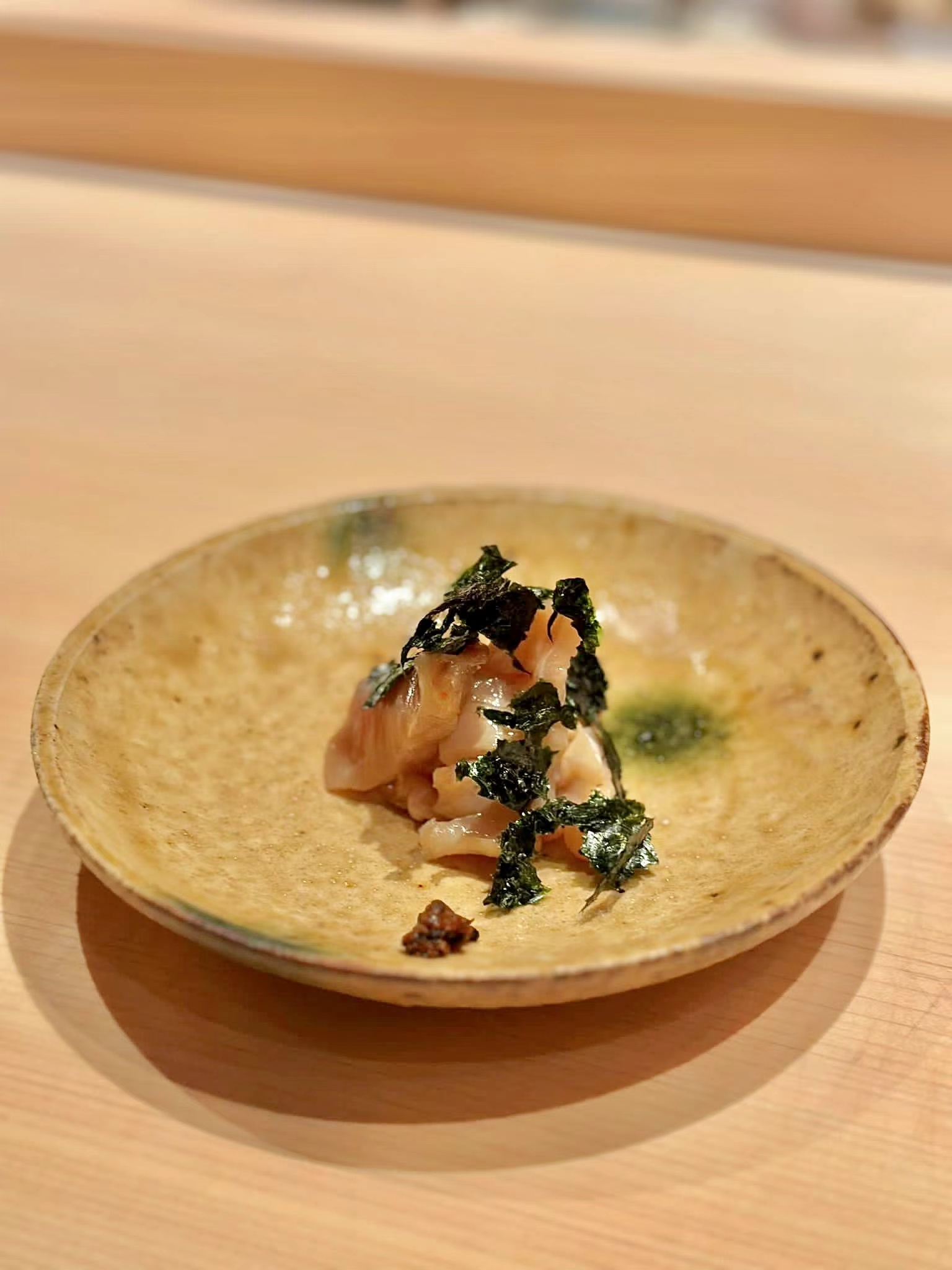 3種吞拿魚壽司 3 types of Tuna Sushi
藤本主廚的招牌菜式為3種吞拿魚壽司與手卷吞拿魚。分別是赤身、中腹和大腹,取於吞拿魚的背部和腹部,中腹和大腹脂肪含量較高,顏色偏白。大腹肉質較為綿軟,入口即化。主廚以新鮮食材的本身釋放味覺魅力。
Three types of Tuna Sushi and Tuna Maki is Chef Fujimoto's signature dish. The Akami, Chutoro and Otoro come from the back and abdomen of the tuna: Chutoro and Otoro appear whiter due to higher content of fat; Otoro has a softer texture and instantly melts in the mouth.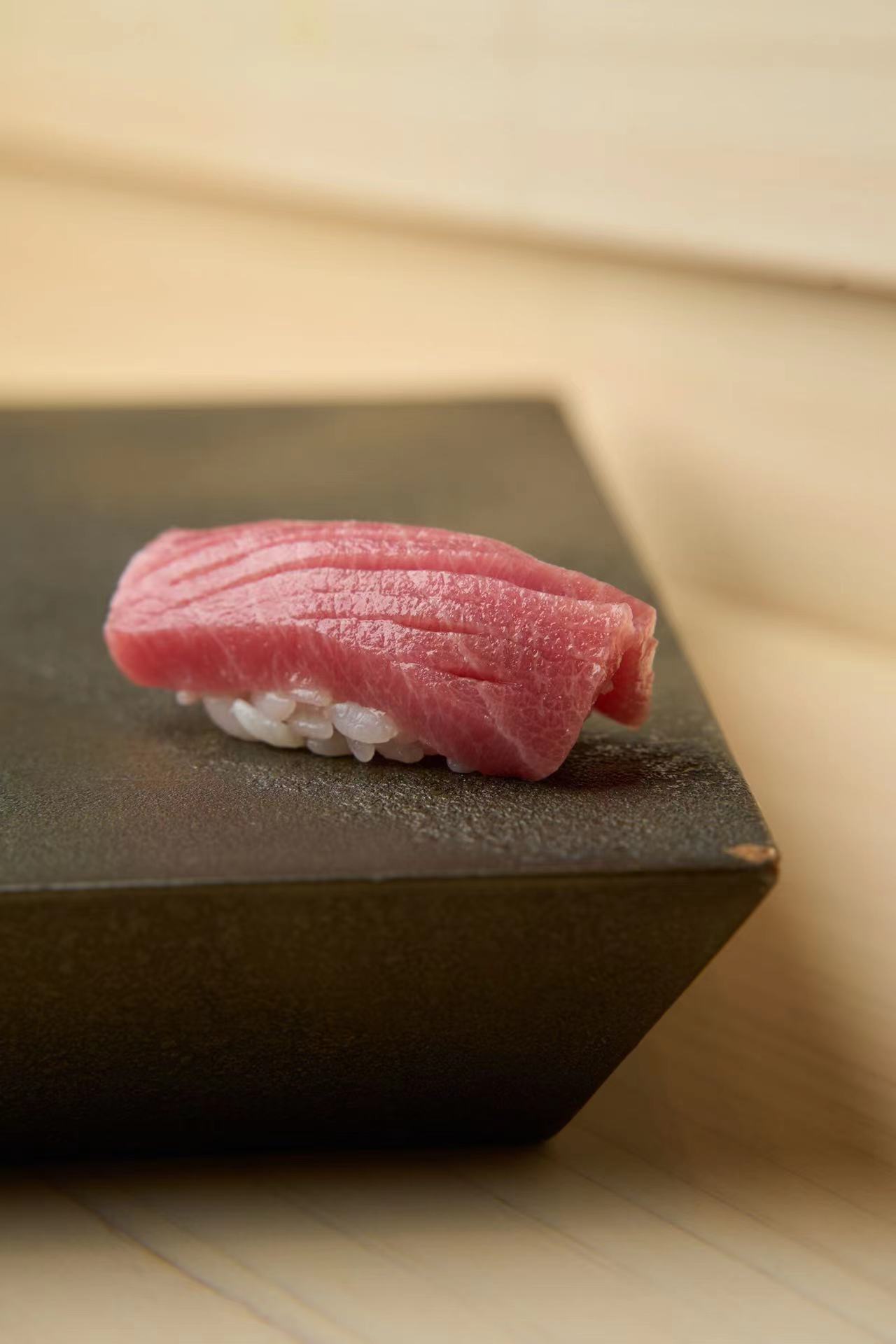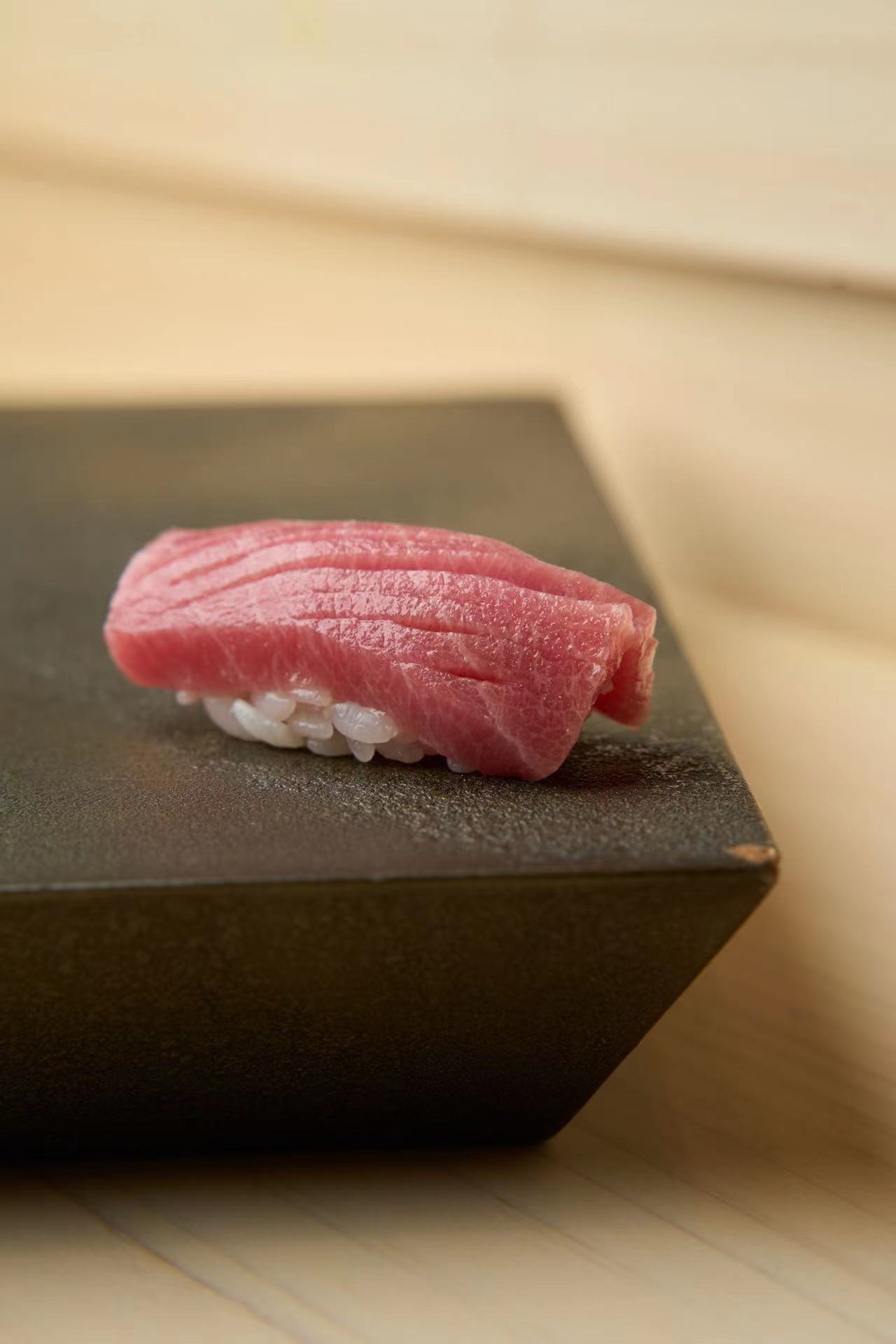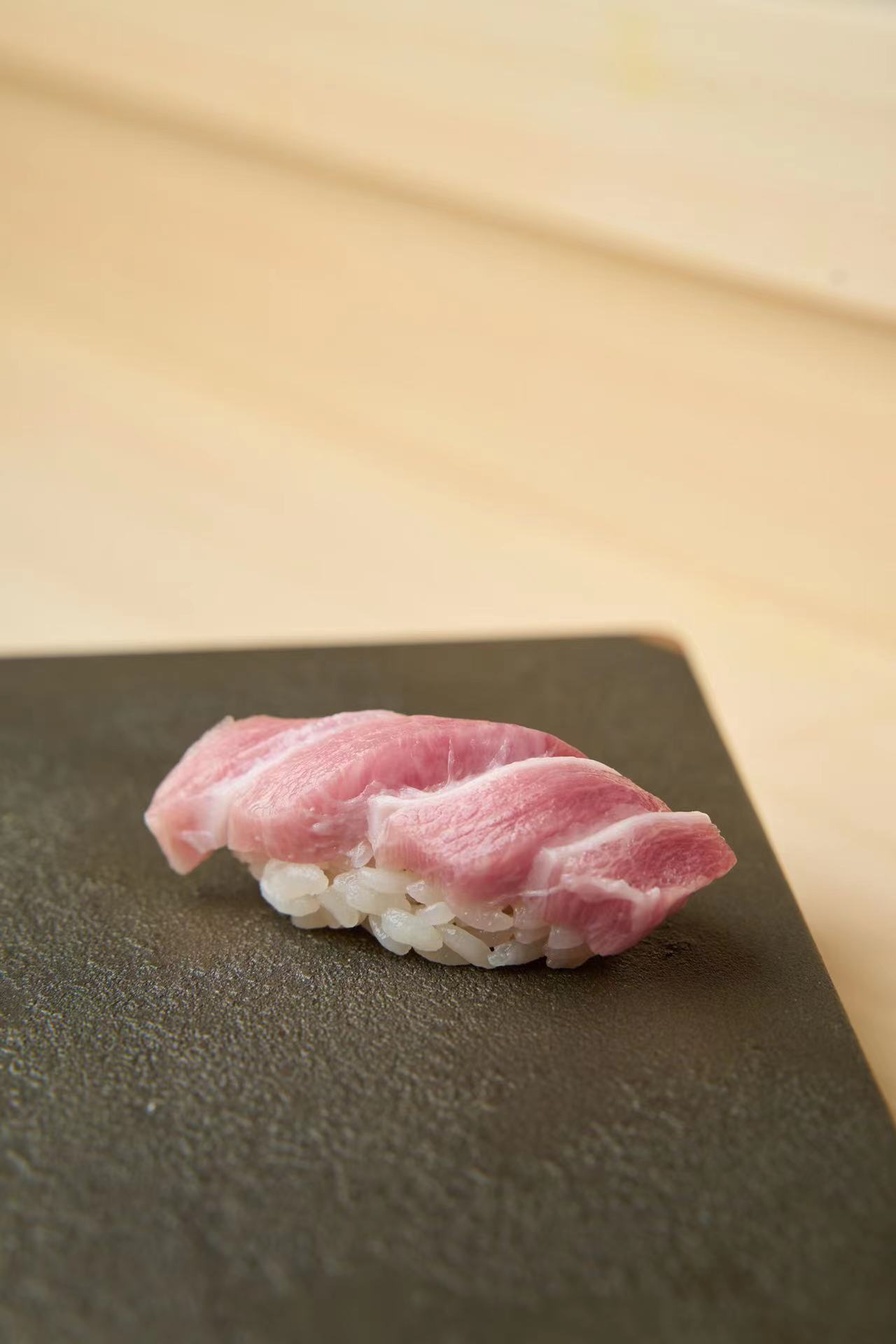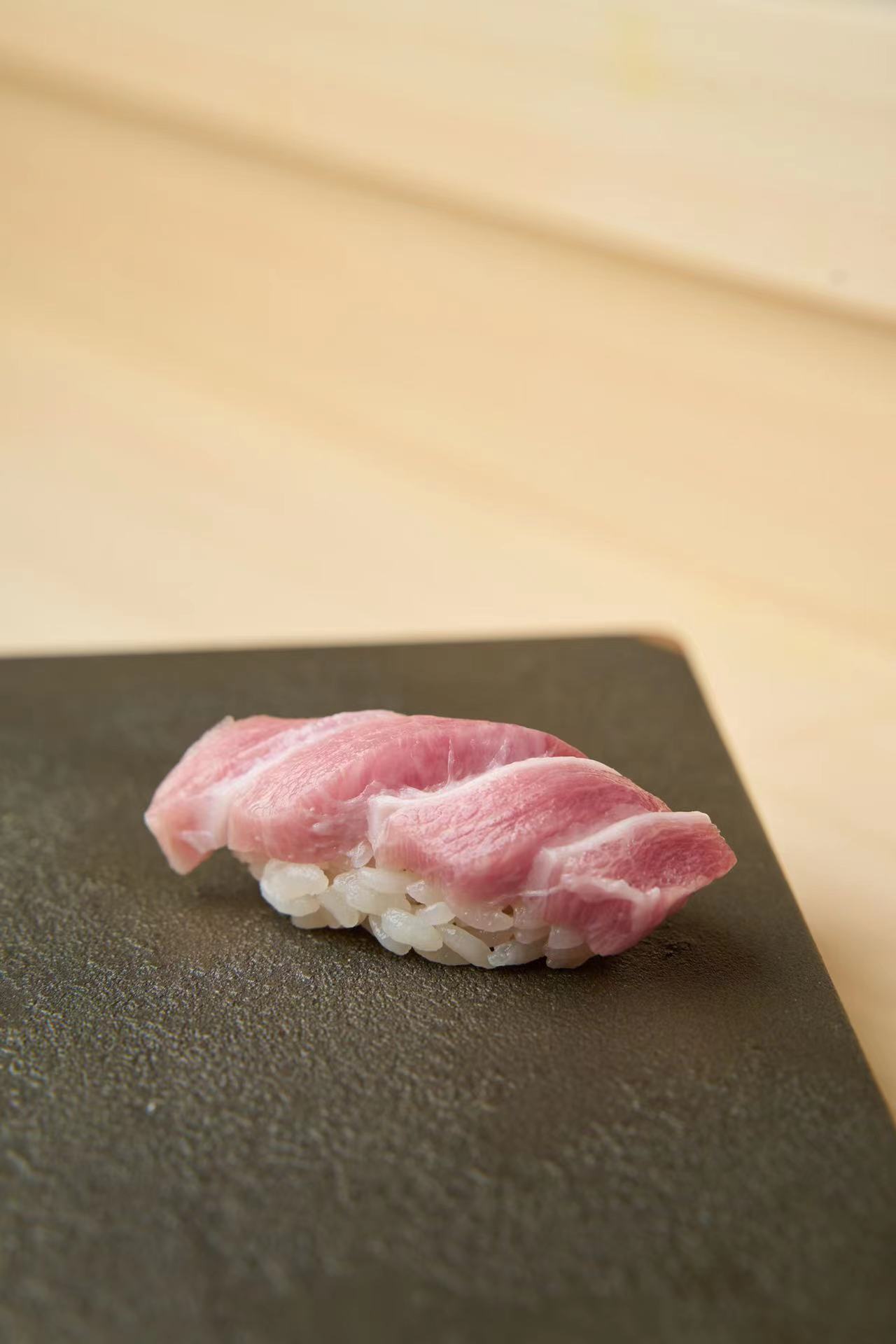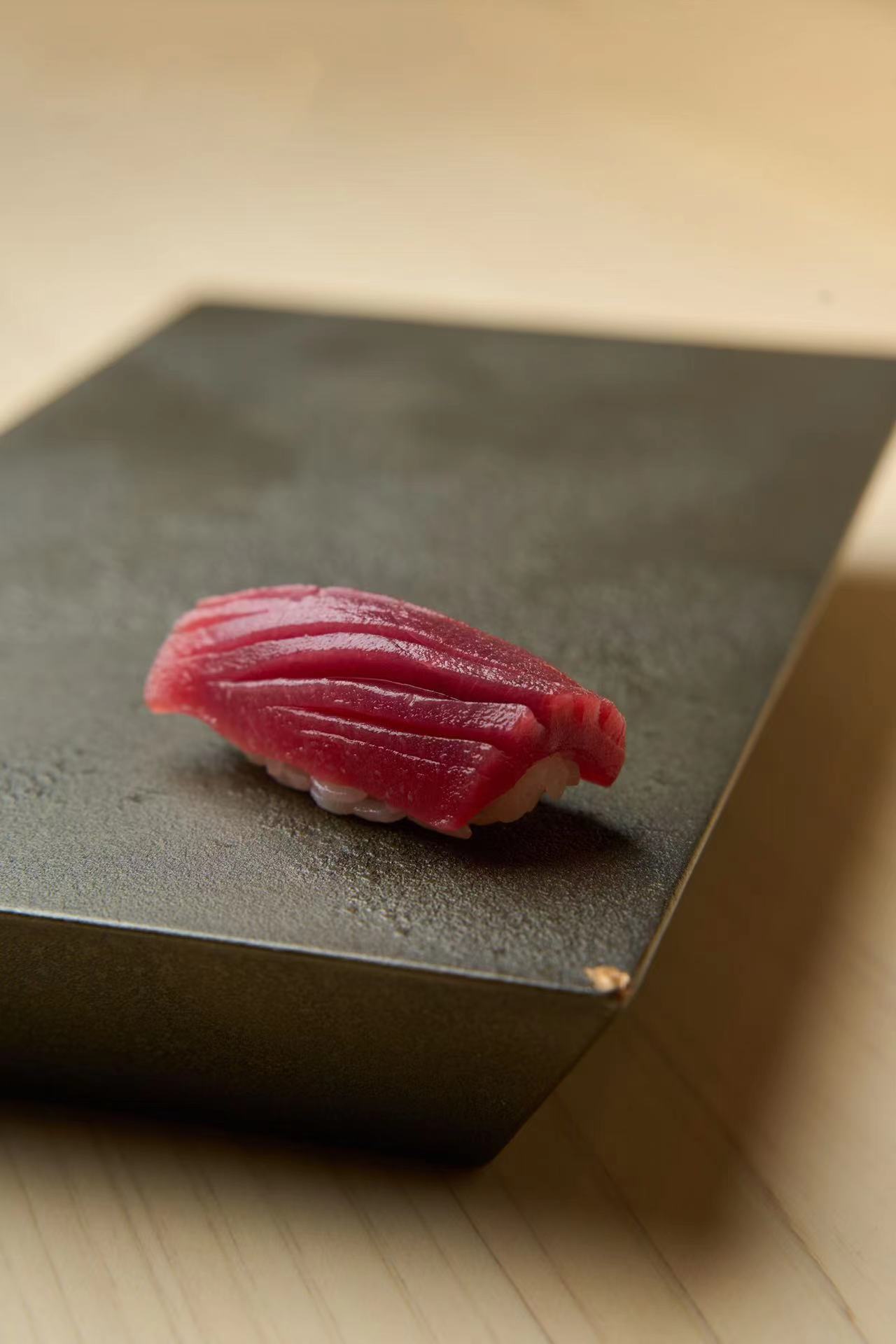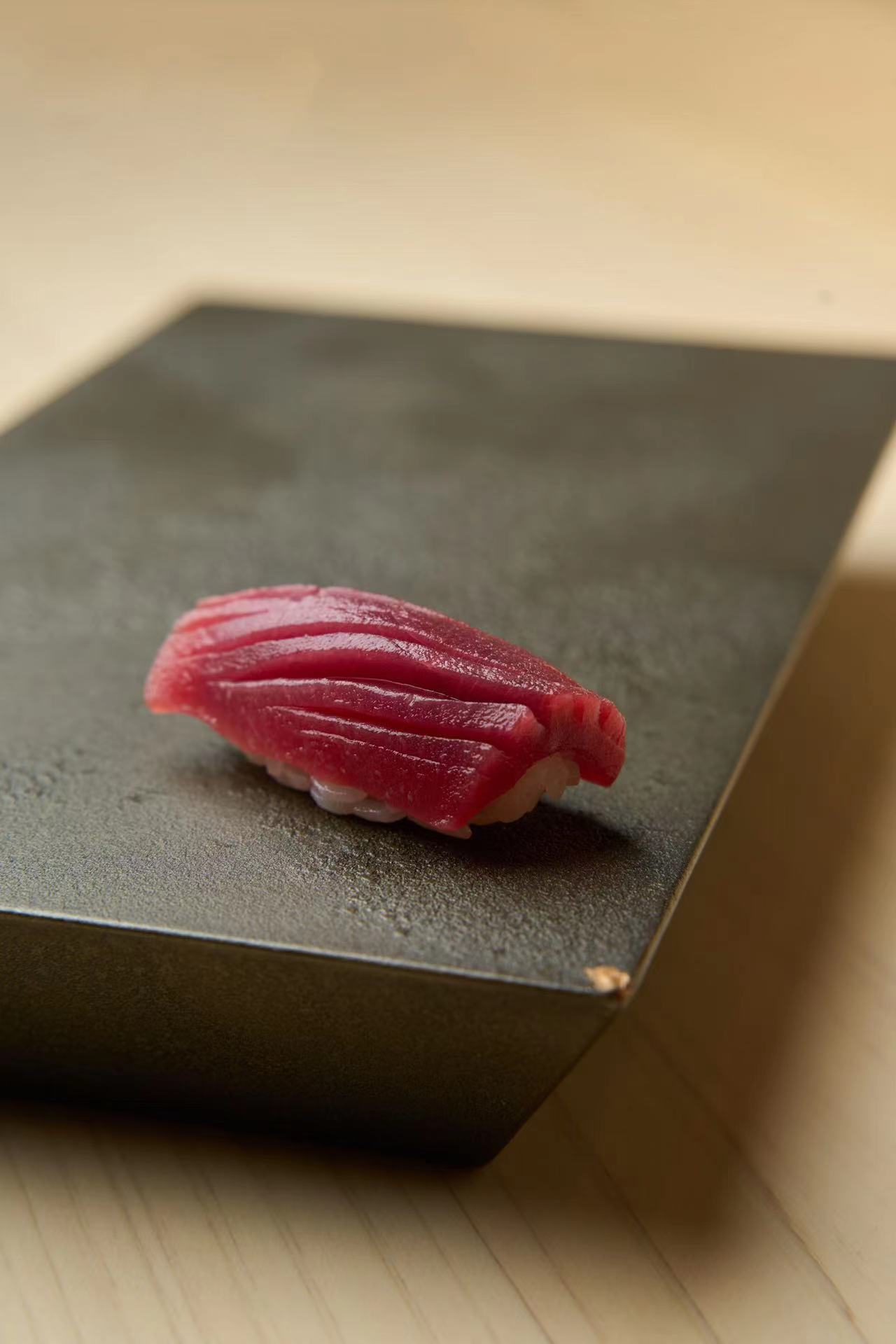 鮭魚卵 Ikura
產季從8月底持續到來年1月初。先去掉表面的皮和纖維,然後在日式高湯裡醃制一天,通常會搭配日本柚一起上桌。鮭魚卵質地柔軟,一口咬下,油脂在口中爆裂開來,鹹中帶鮮,細細品嘗後可感受到甘味在口中蔓延。
The ikura season usually lasts from late August until early January in the following year. The ikura is first removed from its skin membrane, then marinated for 24h in Japanese stock and served with Japanese yuzu. The soft, oily and savoury salmon roe would burst in the mouth as you savour the umami flavour spreading all over the tongue.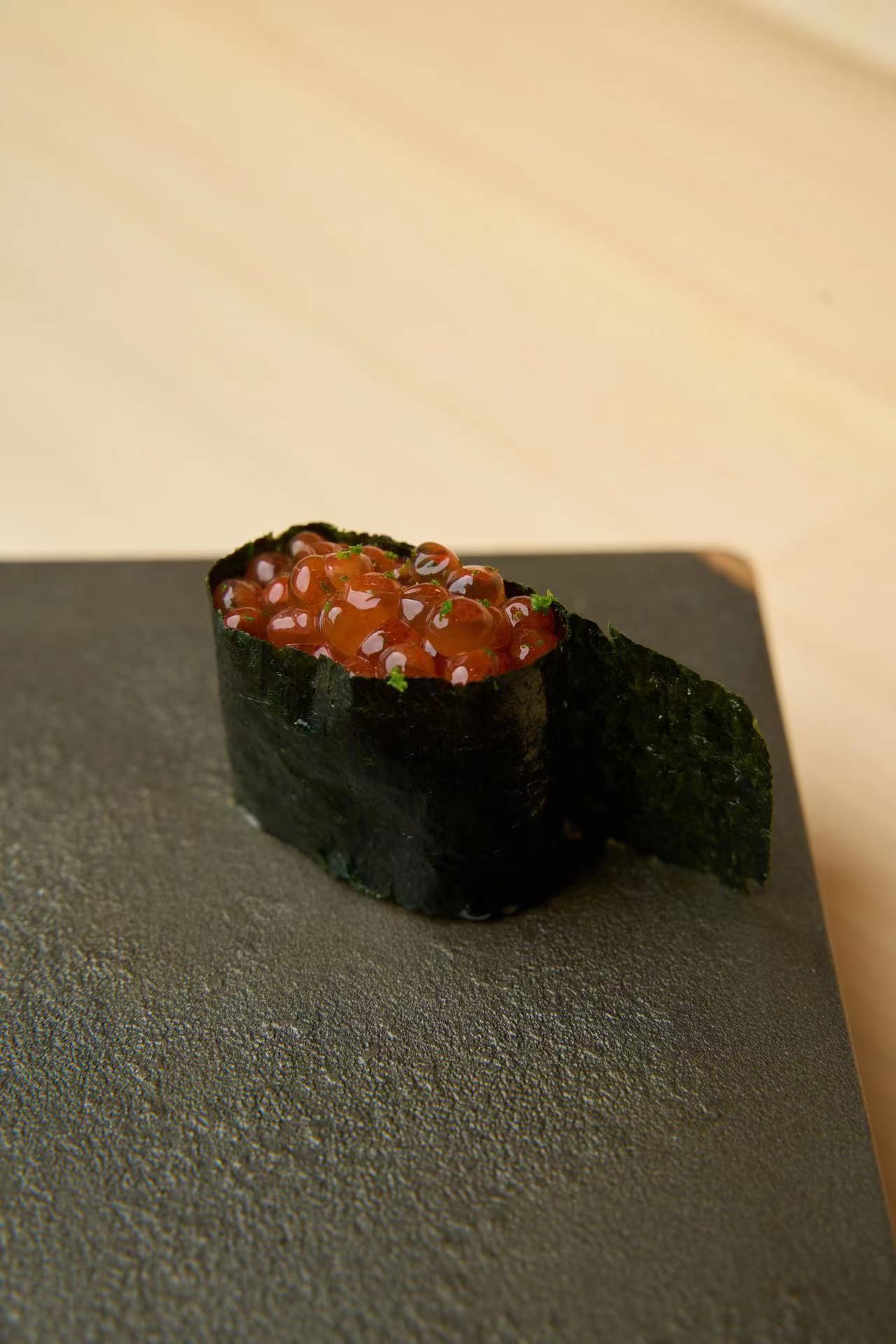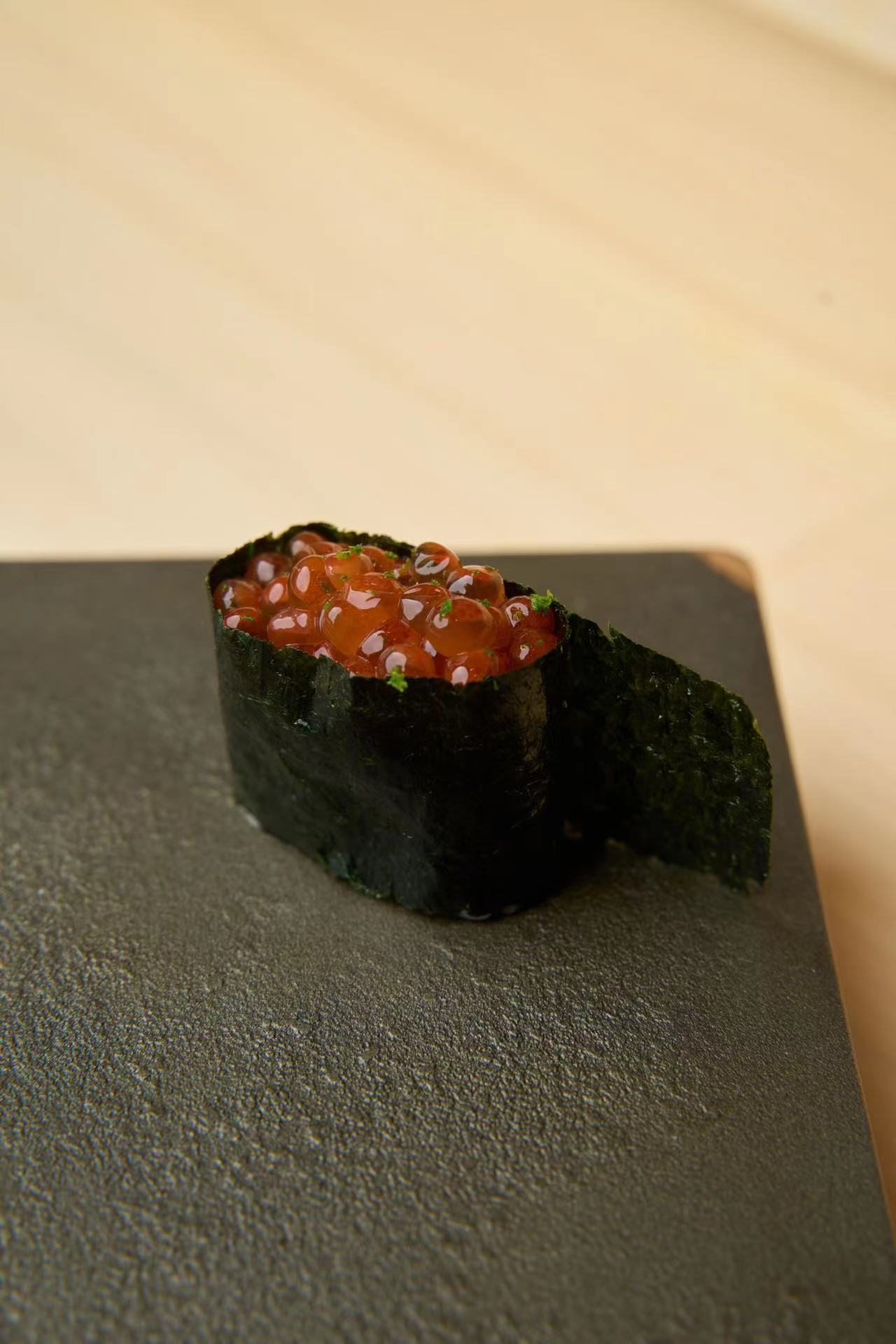 瓢瓜卷 Kanpyo Roll
作為自200多年前的江戶時代以來日本最傳統的壽司之一,其主要原料"瓢瓜",也是日本料理中最常見的食材。瓢卷本身是看似簡單的幹制葫蘆條,實則製作過程繁瑣。主廚通過去皮、曬乾、煮沸、擠壓、醃制等工序,掌握鹽醋的比例和醃制時間,平衡不同口感的醋飯和海苔,清新爽口。將此道作為收尾菜品,起清口作用。
As the most traditional Edomae-sushi over 200 years ago, kanpyo roll uses one of the most common ingredients in Japanese cuisine – dried gourd. It is a simple dish but still requires labor-intensive preparation. Through the processes of peeling, drying, boiling, squeezing and pickling, the kanpyo presents a balanced ratio of salt and vinegar paired with textured sushi rice and seaweed for a crisp, refreshing ending. This is served as a finishing dish to clean the palate.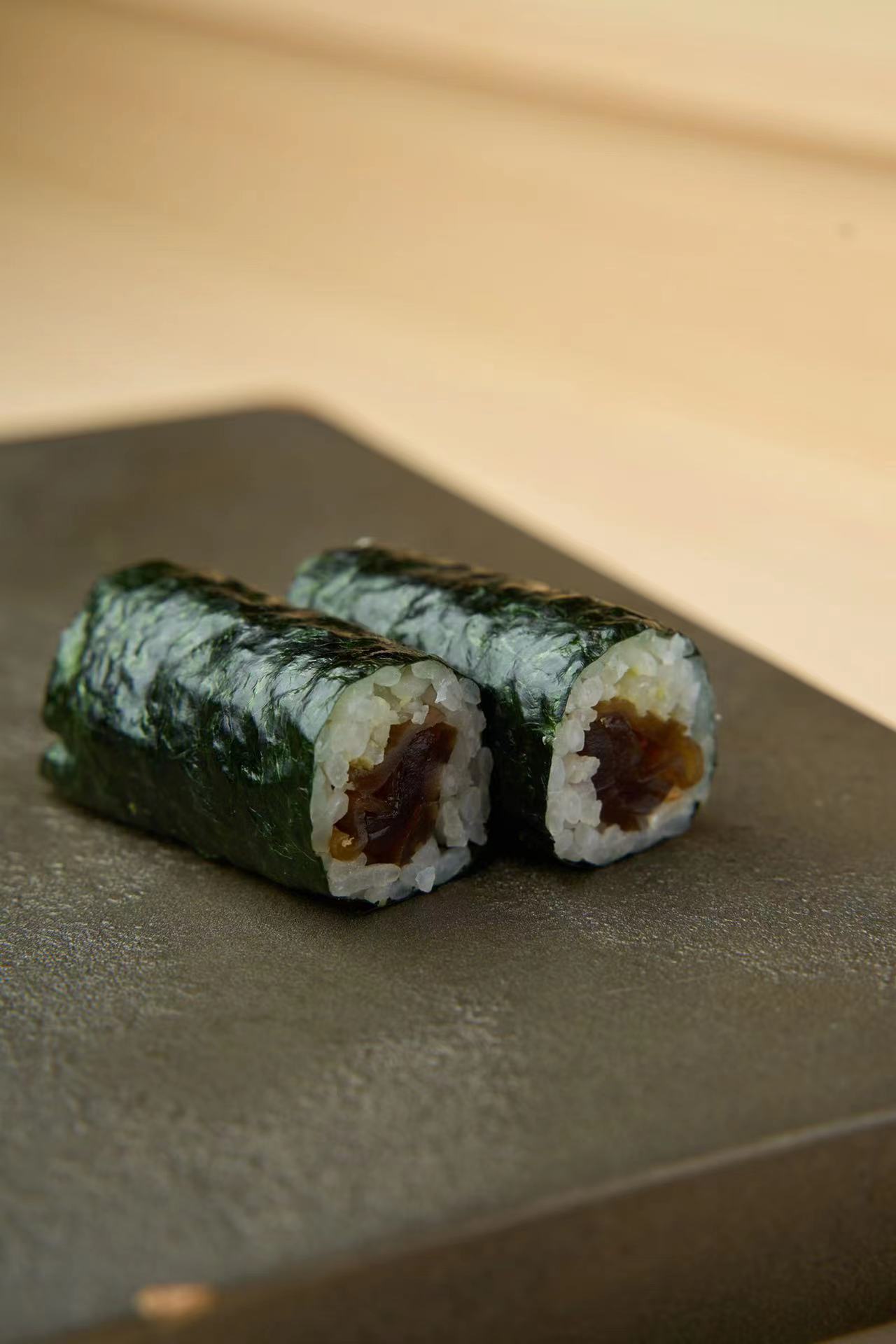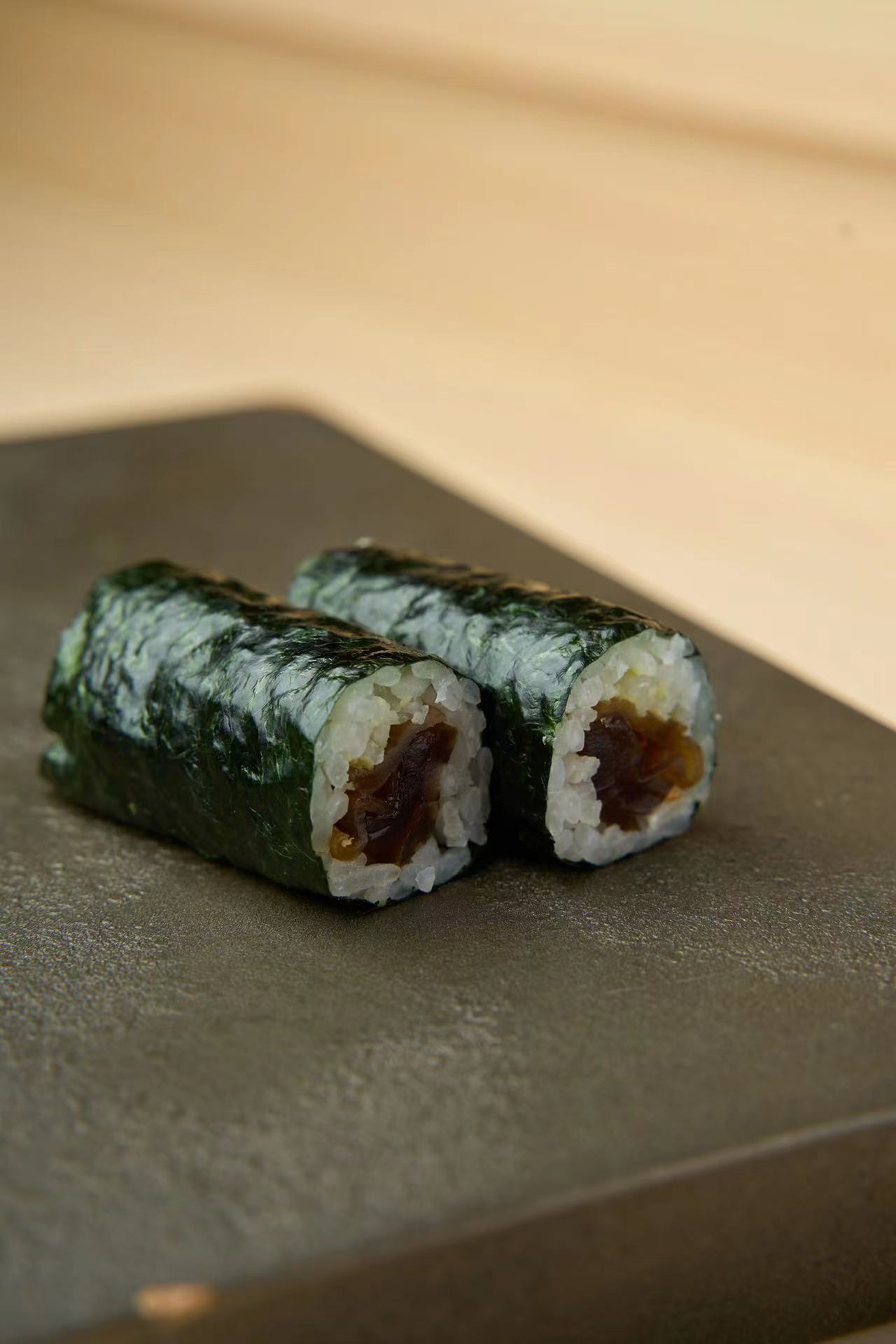 主廚藤本健一
Kenichi Fujimoto
注重細節,避免過於熟成,追求柔軟的肉質和味道。使用老式電飯煲製作優質壽司飯,煤氣火烹飪增加米飯香甜的味道。客人可以在板前座位觀看壽司飯的製作過程,當他將醋與熟米混合時,可以感受到強烈的醋味和米飯香味一併迸發。
Special attention is paid to avoid overcooking and preserving the tenderness of the ingredients. The rice is cooked in an old-fashioned rice cooker and with open fire to give it an extra sweet scent. Guests can watch the preparation process at the bar counter and feel the intense fragrance bursting out as he gently mixes sushi vinegar with cooked rice.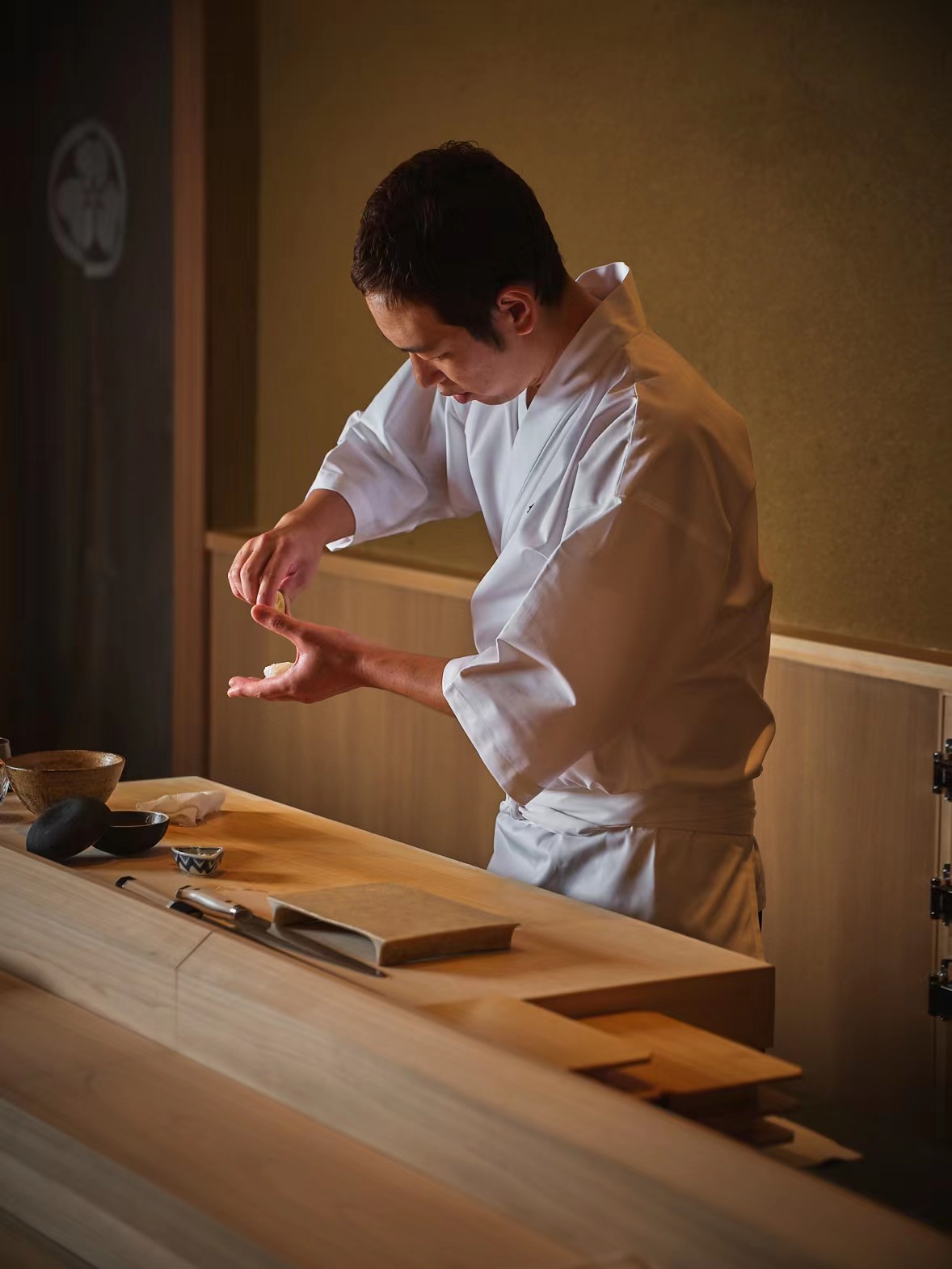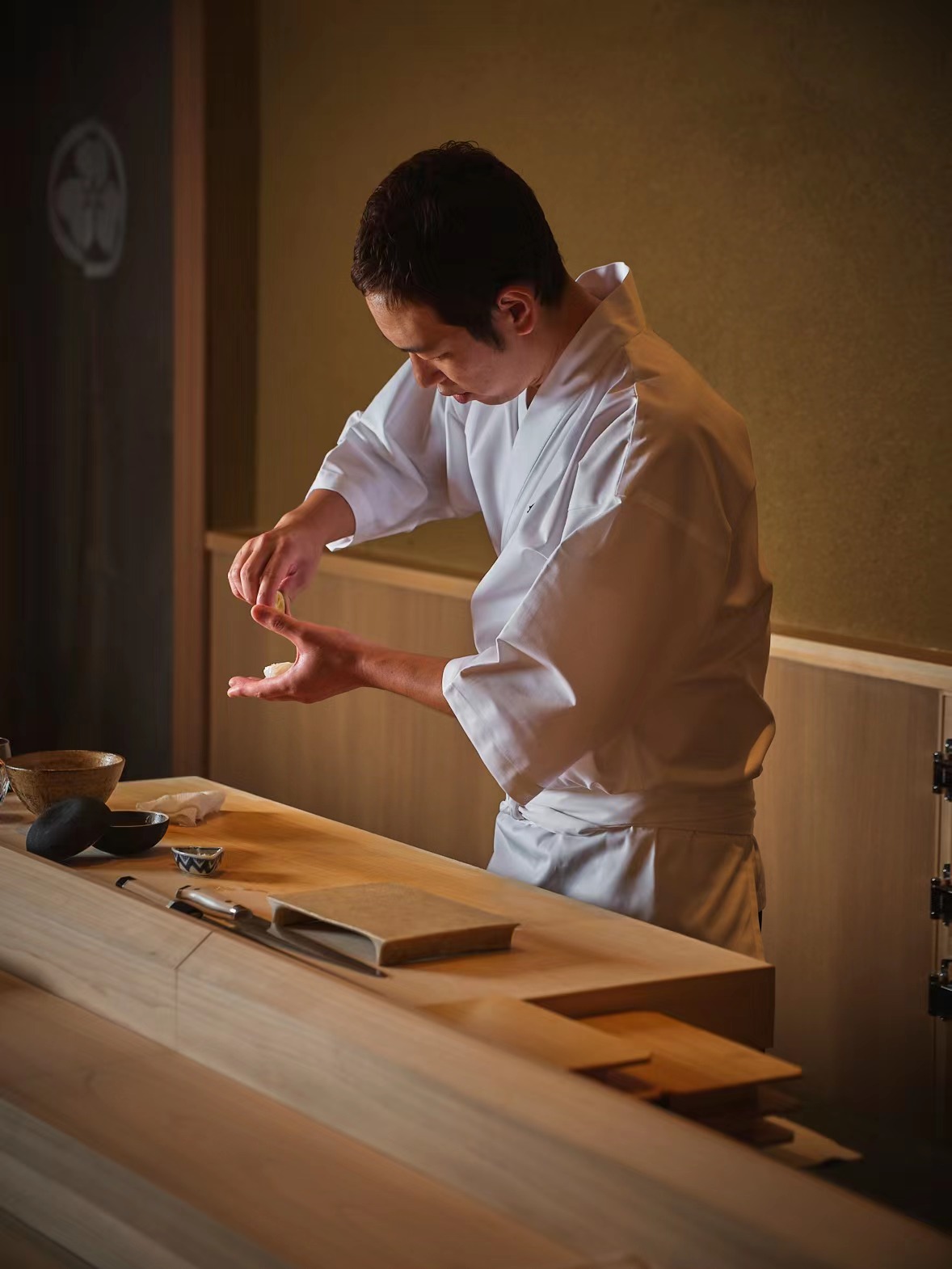 「客人對我的印象大多都是風趣幽默並且開朗的,但其實我也有非常嚴苛的一面。在廚房裡我對於食物的把控和品質的追求從來不會鬆懈,這樣的工作態度也是我的師父身上學到的。堅持早上六點半起床,斟酌菜單,不斷精進改良細節是我每天都需要思考的事情。下午一點左右到餐廳與團隊討論工作安排到晚上十一點半左右工作結束回家,結束我的一天。可能對於現在年輕人來說,這是乏味且繁瑣的事情,以至於壽司師傅這個行業已經有越來越少的年輕人會涉足。但是沉下心來,把最簡單的事情做好,本身就不是一件容易的事情。這也是年輕一代所缺少的,我希望可以將這樣的精神傳承下去,極簡便是極佳。」
"Most of my guests think of me as funny and cheerful, but I can be very strict especially when it comes to quality control in the kitchen. I learned this ethos from my mentor. Getting up at 6.30am, thinking about how to improve the menu and refining the details is what I do every day. I go to the restaurant at around 1pm to discuss the daily work with my team and go home at around 11.30pm to finish my day. It may seem monotonous to young people nowadays, so much so that fewer and fewer young chefs are getting involved in the sushi profession. But it is not easy to do even the simplest things well. What I hope to pass on to the younger generation is that simplicity is the best."

地址 Address
香港閣麟街48號6樓
6/F FOCO, NO.48 Cochrane Street, Central, Hong Kong
營業時間 Opening Time
週一至週六 (週三、週天店休)
Mon-Sat (closed on Wednesdays and Sundays )
15:00-23:00
郵箱 Email
sushifujimotohk@gmail.com
歡迎以電子郵件形式進行座位預訂
Please give us an email account to make a reservation.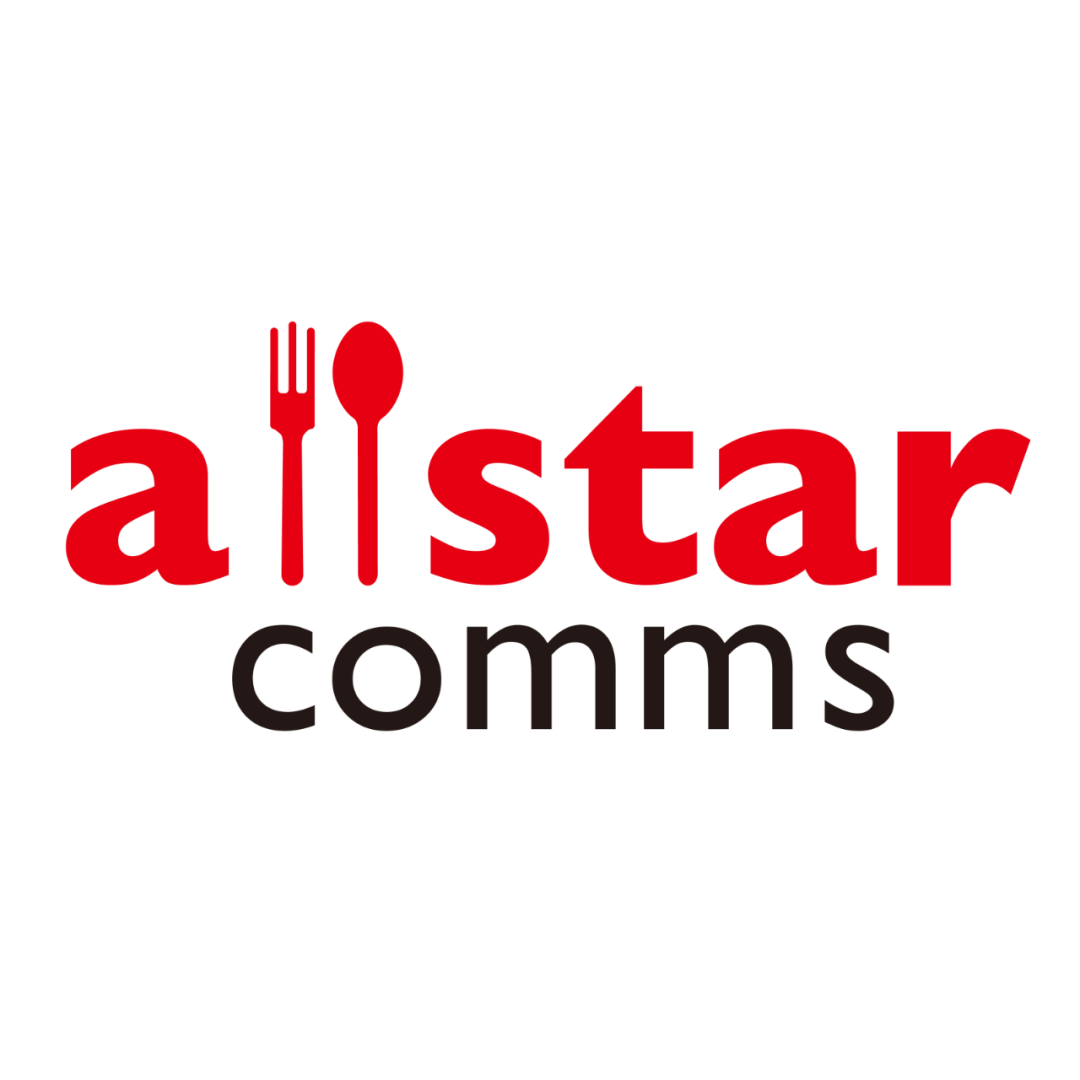 如有任何品牌顧問需求
請聯繫上海食達文化傳播有限公司:
品牌傳播顧問 Gloria Mo
gloriamo@allstarcomms.com