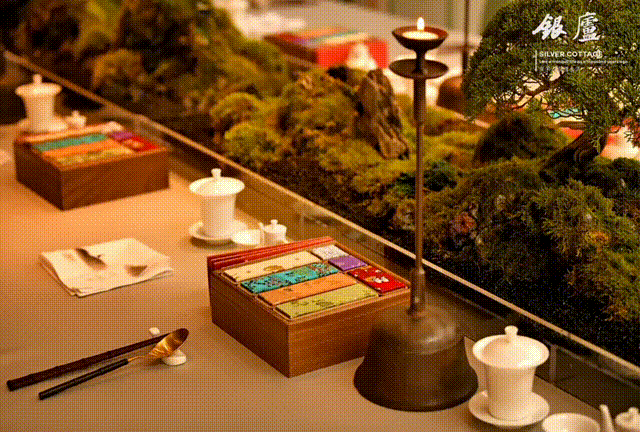 宋,一个以繁华闻名的朝代,是华夏民族文化欣欣向荣的鼎盛时期,从文化到生活场景,所有的美学都被演绎到了极致。宋人具备创新,敢于突破精神,以及勇于挣脱传统束缚的霸气。在包容开放的城市氛围推动下,宋朝生活的丰富多姿远超乎当代想象,宴席风情尤为盛行,无论从宫廷宴会到民间权臣举办的盛宴,都是极尽奢靡。
Song, a dynasty renowned for its prosperity, was the heyday of the Chinese nation's cultural exuberance, where all aesthetics, from culture to living scenes, were interpreted to the extreme. The Song people were endowed with a daring spirit for breaking with tradition. Driven by an inclusive atmosphere and economic affluence, the Song populace engaged in a vibrant social and domestic life, enjoying a wide-array of entertainment places including tea houses, restaurants, and perhaps the most prevalent – organized banquets, from court banquets to feasts held by powerful local officials. They can be vastly luxurious and expensive to host.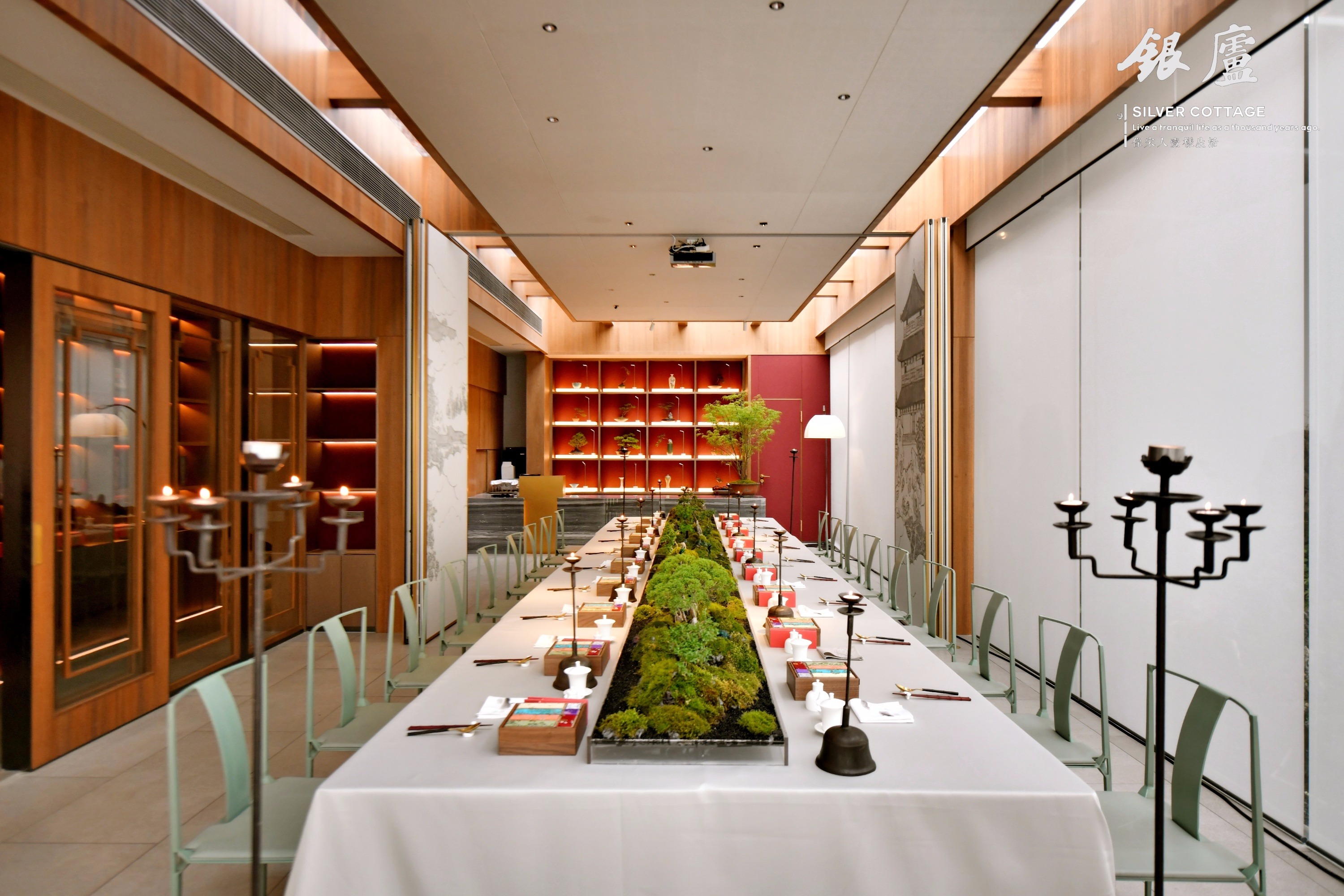 川菜发源于古代巴蜀,而宋代是川菜越过巴蜀边境进入中原的时代,让川菜在浩瀚中国广为流传,宋朝游宴的风行更促进川菜的蓬勃发展。此外,中国四大发明中有三大发明都是出于宋朝,而其中对中菜最具关键性的影响就是发明铁锅,铁锅火侯能孕万物之气,当中亦包括料理。
The Song Dynasty marks an important notch for Sichuan cuisine because during that time Sichuanese food travelled to the Central Plain of China and since became a national popular cuisine. The popularity of banqueting during the Song Dynasty also contributed to the flourishing of Sichuan cuisine. Besides, three of the four great inventions of ancient China were made during the Song Dynasty, and that one of the most crucial influences on Chinese cuisine was the invention of the iron wok. It is believed that this simple utensil can give rise to qi, which connects and pervades everything in the world, including cooking.
宋·徽宗赵佶《文会图》记载宋人宴席场景
麓湖雅集 银廬风雅宋宴
汲取自《西园雅集》此一历史上经典的文人相聚盛典,美食美酒佐以各项文化艺术活动,坐落于麓湖之上的银廬致力最大化重现宋风雅韵,打造出一个蕴意雅致怡情的栖息地。进入餐厅,步入眼帘的便是标志性的宋代生活场景画面,刺绣、抚琴、焚香、插花等「点茶、焚香、插花、挂画」四艺环绕,宾客更可亲身换上宋代服装,身临其境,亲自体验文人墨客的雅致格调和宋风之美。
Nestling on a secluded island overlooking the serene Luhu Lake, Silver Cottage draws on the classic scenes from Xi Yuan Ya Ji (or西园雅集图, 'Xi Yuan elegant gathering of eminent scholars') and aura of Song Dynasty daintiness to offer an exquisite experience with culinary delights and leisure activities. Upon entering the restaurant, guests will be welcomed by typical daily scenarios of the Song Dynasty, including broidering, guzheng-playing, tea-making, incense-burning, flower-arranging and indoor decor paintings. Guests will also be provided with Song Dynasty costumes to get a taste of the ancient lifestyle, experiencing rich culinary culture and Song-style elegance.
餐桌上的佳肴是宴席的灵魂,银廬顺应古时"春生,夏长,秋收,冬藏"的养生之道,对于菜品设计极为考究,除请益宋代历史专家和川菜大师外,每道菜都以宋词的理念为背景,并收纳应季食材于每个时令的行囊中,重视原材料,借鉴宋代宴席高超繁复的料理技法,在多种形态,配料,和风味的流转中,体现源远流长的宋式古法川菜。
Dishes are at the core of everything. Sow in spring to grow in summer, reap in autumn and stock up for winter. The wisdom imparted by this ancient Chinese proverb is a good starting point for understanding Silver Cottage's approach to its dishes: valuing food's body-nourishing properties and honouring the concept of seasonality. In designing the menu, Silver Cottage sought advice from Sichuan cuisine masters and historians specializing in the Song Dynasty, basing each of its dishes on a Song ci poetry. Drawing on the sophistication and techniques of Song-style banquets, Silver Cottage embodies the timeless traditional Sichuan cuisine in a variety of presentations, ingredients and flavours.
1
罗帷映月
Moon Curtain
宋朝诗人贺铸于《失调名》写道"罗帷映月,玉研生冰", 宋代以吃冻食为尊贵象征。此道菜品以以十四代清酒浸鹅肝、冻花蟹、甜虾为主、搭配春笋和秘制酱汁,沁入花椒和山葵的清香,形成一种全新的味道,清爽无腻感,造型上外用米制半冰球包裹,蜡烛模拟月亮,写意诗意境界。
The Song Dynasty poet He Zhu once wrote 'the moon is reflected in the curtains and the ice is born in the jade'. Having cold dishes was indicative of prestige and high social status at that time. This dish mainly features Juyondai sake-soaked foie gras, chilled flower crab and sweet prawns, paired with spring bamboo shoots and house-special sauce with an infusion of peppercorn and wasabi spice, creating a brand-new experience that is bright and refreshing. It's shaped with a semi-ice ball made of rice and highlighted by candles to recreate the imagery of the moon.
2
蝴蝶竹荪汤
Butterfly Bamboo Fungus Soup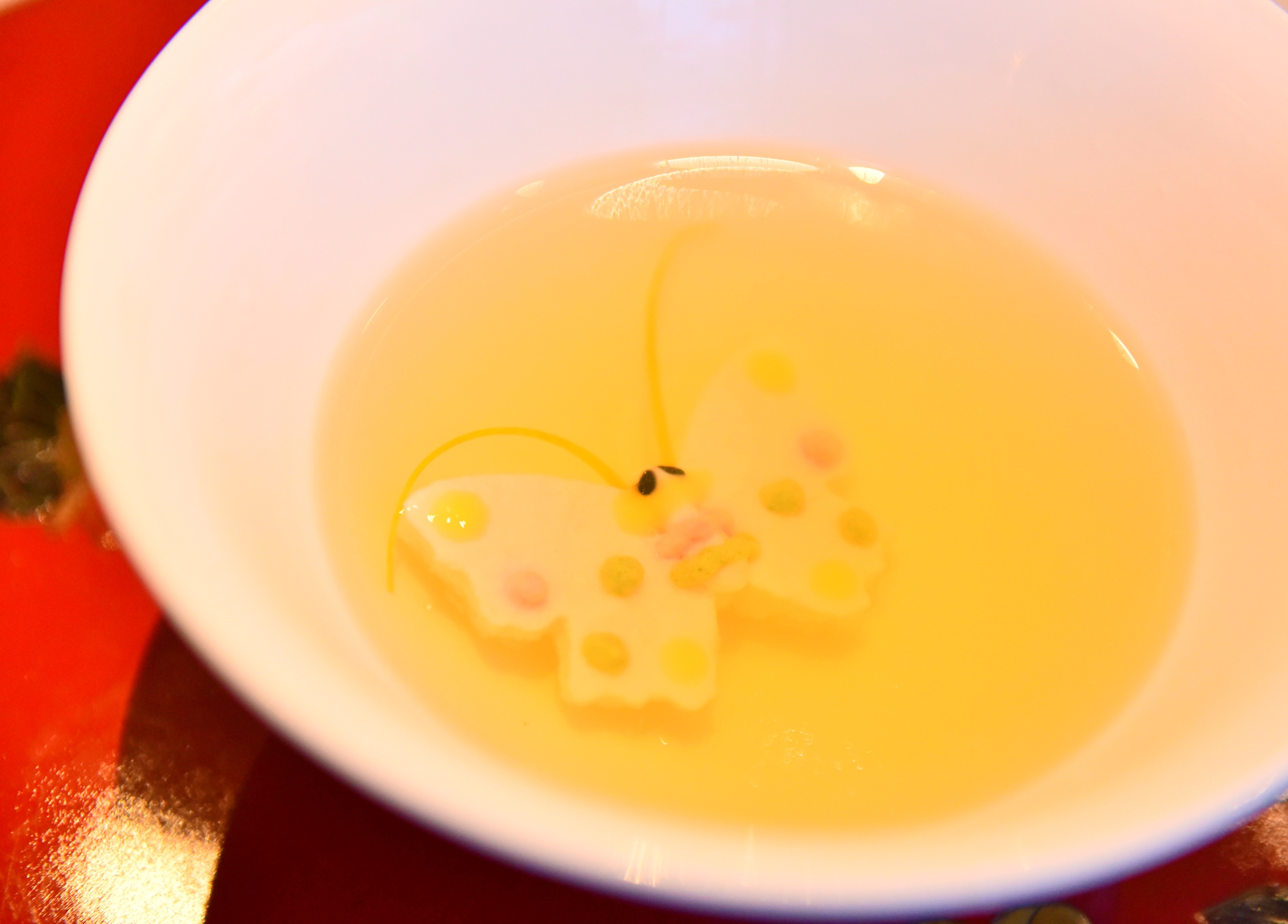 川菜江湖里的武林秘籍,以美为名的便是这道蝴蝶竹荪汤,由川菜大师张中尤大师亲授作法,将这道近乎失传的菜式重现。以精良细致的鸡茸技法制作而成的蝴蝶栩栩如生,蔬菜汁沾染形成五彩蝶衣,就连蝴蝶触须粗细都讲究,再放入醇厚高汤中,舞蝶翩翩于碗中。
Known for being a secret recipe among the versatile culinary world of Sichuan cuisine, the Butterfly Bamboo Fungus Soup here served at Sliver Cottage is passed on by master Zhang Zhongyou himself, who is a renowned Confucian chef. As a widely famed fare that's seldomly seen in restaurants, the dish is accomplished by a vivid butterfly made from chicken breast velvet with its cute, dotted wings using vegetable juice for colour; even the butterfly's tentacles are handled with great care. Placed in a rich broth, this dish is an elevated poetic denotation just as dragonflies dipping the surface of the water.
3
梅花汤饼
Plum Noodle Soup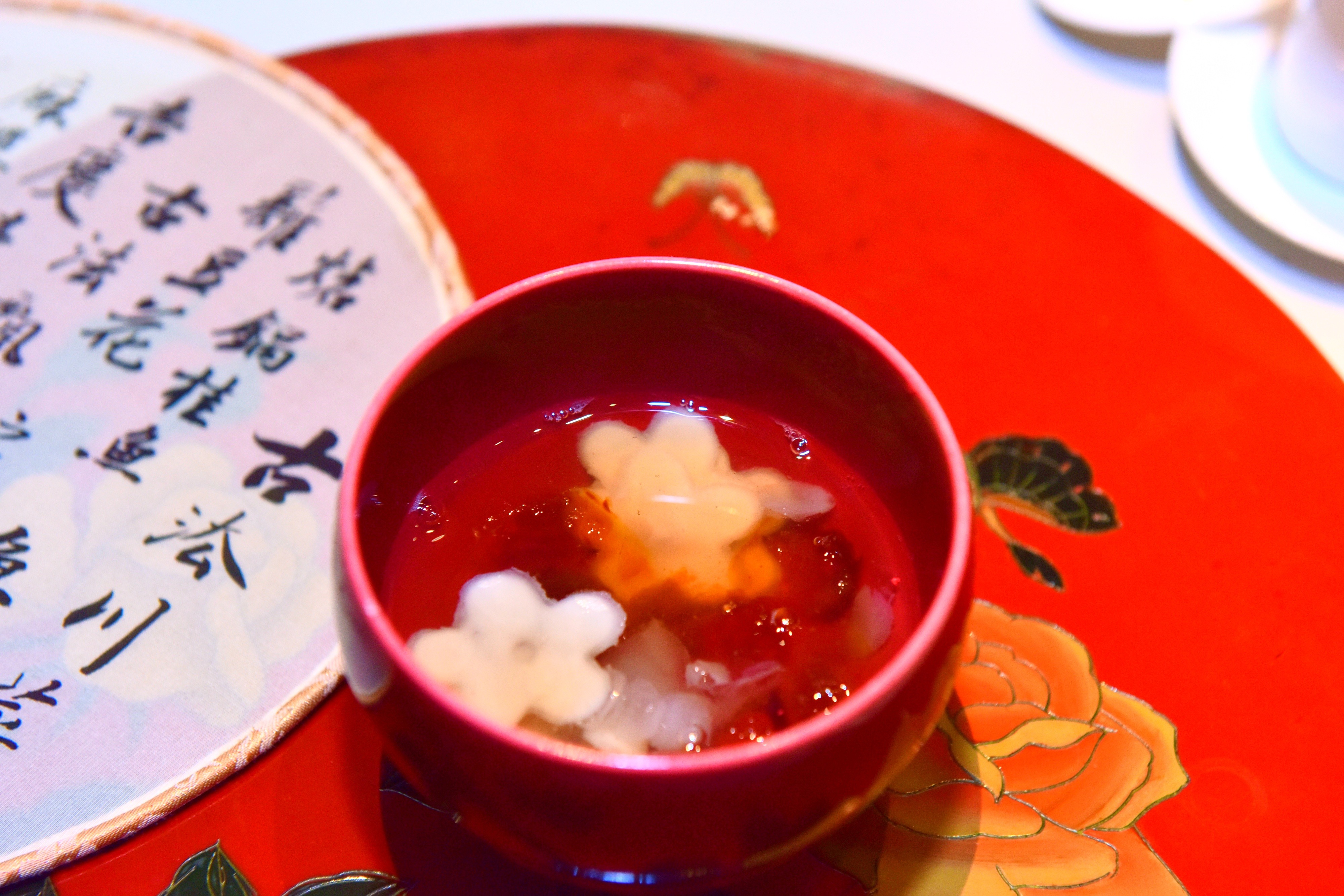 梅花汤饼出自宋代经典食谱《山家清供》。古代作法为摘取大寒时的梅花,以白梅切末,取檀香煎成汤汁,做成一朵一朵的梅花形状薄片,投入鸡汤中煮熟,沁出清香,这是宋代文青中比较常见的文人食。由于季节限制,银廬改为摘取玫瑰花入菜,复制整套过程,由面点大师亲授制作技法,向宋代美食致敬。
This is a classic soup dish from the recipe book Shan Jia Qing Gong of the Song Dynasty. White plum blossoms are hand-picked during the Great Cold (24th solar term), finely chopped and brought to broil in a sandalwood soup and mixed with flour to shape delicate plum blossoms, before cooked in chicken broth to bring out a unique fragrance portfolio. The result is a cuisine with an incredible elegance massively loved by the literati of the Song Dynasty. Due to seasonal restrictions, Silver Cottage replaces plum blossom with rose petal and replicates the whole process under instructions from a renowned noodle master, saluting Song-style elegance and delicacy.
4
芙蓉雪花鸡焯
Hibiscus Chicken Velvet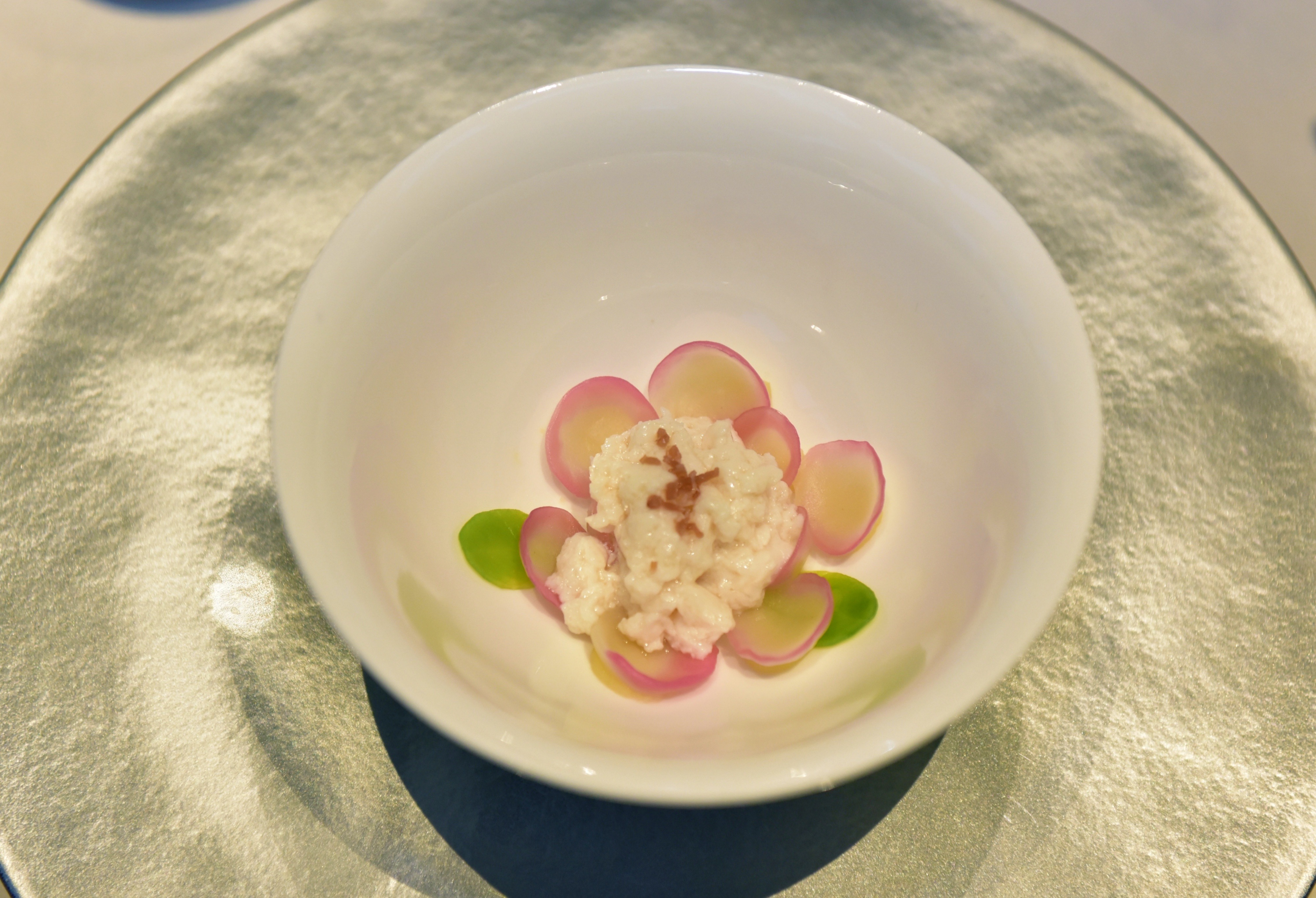 芙蓉雪花鸡焯糅合了川菜两大绝技,一是具有中国分子料理美誉的"雪花鸡焯",将完整鸡肉经过繁杂的作工,化成雪白似云朵的鸡淖;二是四川米制品,要上溯到一代宗师、面状元林家治先生,米制品是川菜中濒临失传的技艺,由林家治大师传给张中尤大师。银廬将这道老菜谱上雅致的意境,将米做成漂亮的花瓣,更为高雅。菜品整体呈现一朵娇艳绽放的"芙蓉"花,也是对成都市花的致敬,上方是形似雪花又似云朵的雪花鸡焯,绵密细腻,入口软滑,花瓣以米制品垫底,荤素相应成趣。
The Hibiscus Chicken Velvet sees two great skills of Sichuan cuisine marry one another – molecular gastronomy Mashed Chicken (雪花鸡淖, literally snowflake chicken), where chicken meat is finely mashed into cloud-like velvet, and Sichuan rice product, which can be traced back to a celebrated noodle master Mr. Lin Jiazhi. Rice products is a regional cooking technique near the brink of loss and was passed on by master Lin to master Zhang Zhongyou. Silver Cottage has put an elegant twist on this ancient recipe by making the rice into cute 'flower petals' to add complexity. Saluting the city flower of Chengdu, the dish presents a delicate blooming 'hibiscus flower' made by finely mashed chicken velvet that are almost soft as clouds and light as snowflakes. The velvety, delicate, and smooth mouthfeel of the chicken is paired with petals made from rice products cushioned underneath. A classic Sichuan dish that interestingly and deliciously combines meat and vegetables.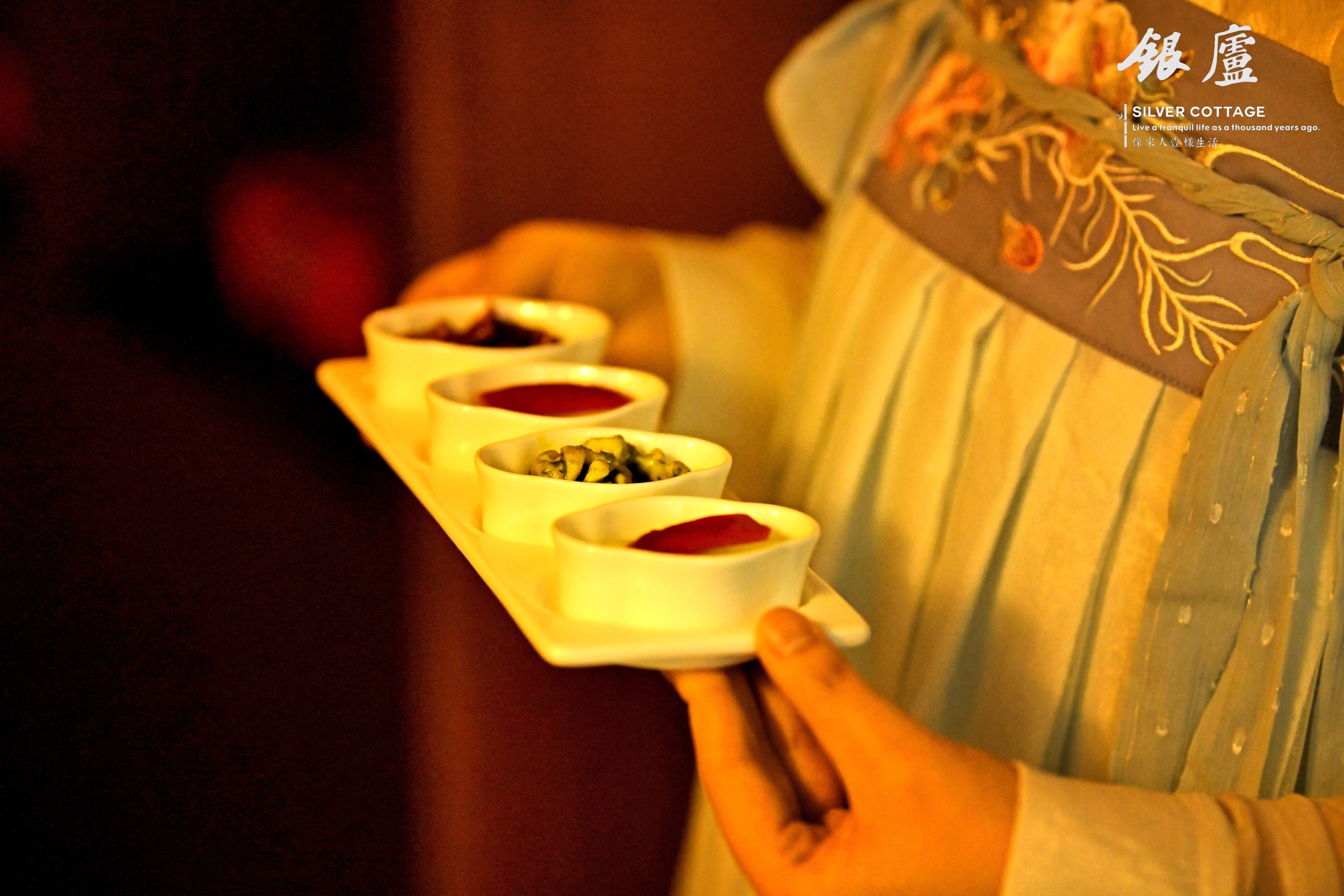 银廬在餐具器皿上亦用尽功夫,主理人周子铃女士与蜀山窑的主人李青老师耗时两年量身设计定制,选用宋代小众白瓷,调整骨粉比例,提高通透度,让色泽更温润,设计上用线条来表现宋代之美。整个用餐过程中搭配清酒,持古代酒器,寻思宋代生活,体味宋代意韵。
Tableware is tailormade to specifically recreate the atmosphere of a Song Dynasty feast. The owner Zhou Ziling partners with Li Qing, the founder of Shushan Kiln, to perfect ceramics pattern design and manufacture, spending two years to eventually decide on using a relatively less mainstream ware during the Song Dynasty – white porcelain. By adjusting ceramic powder compositions, they were able to increase the translucent beauty and the austere, ivory-white and warm-glazed vessel surface. Li uses line patterns in his design to showcase the beauty of the Song Dynasty. What's more, guests will be served sake in ancient drinking vessels to complete the dining experience. Life in the Song Dynasty is perhaps something like this.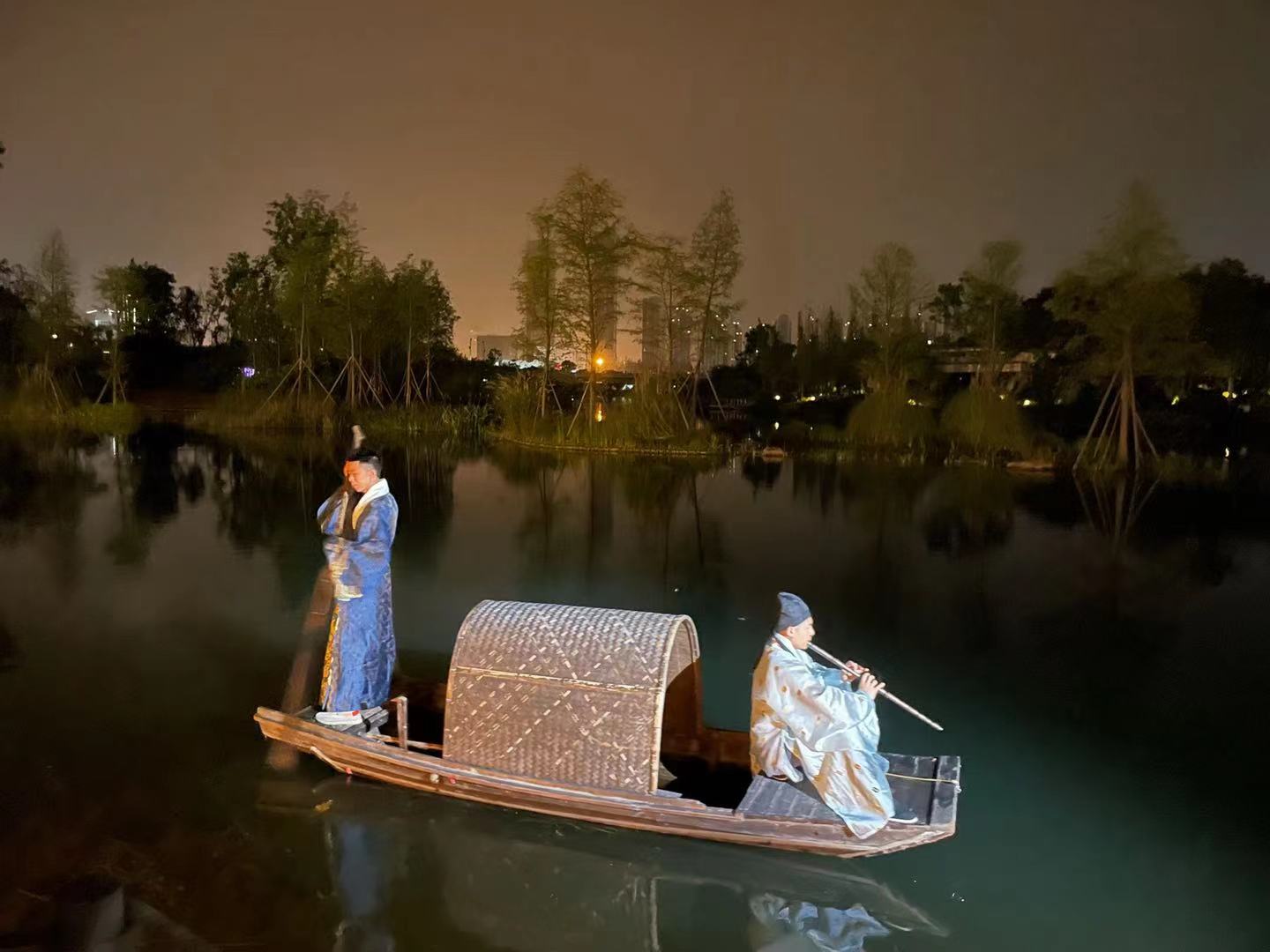 令人如痴醉的宴席,在声声入耳的古琴演奏以及动人箫声中缓缓落幕,宋代美学生活情怀,仍在继续……
The enchanting banquet draws a poetic end with the flowing sound of the guzheng and the bamboo flute, but the pursuit of a highly aestheticized way of life continues here.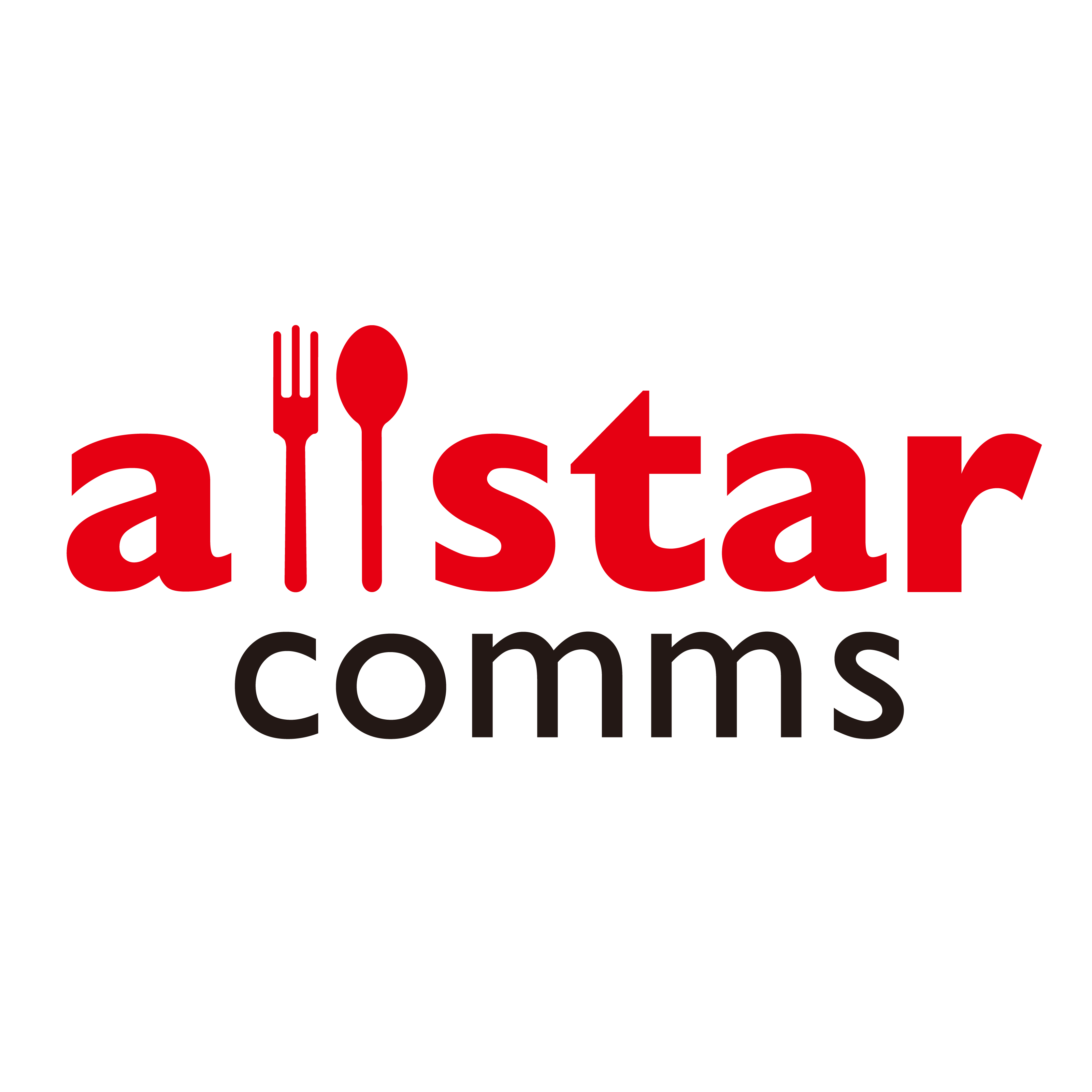 如有任何公关需求
请联系上海食达文化传播有限公司:
公关副总监 Lucy Lee,
lucylee@allstarcomms.com
公关专员 Daniel Zhu,
danielzhu@allstarcomms.com
For further media/PR inquiry,
please contact Allstar Communications Ltd.,
Associate Public Relations Director / Lucy Lee, lucylee@allstarcomms.com
PR Executive /Daniel Zhu, danielzhu@allstarcomms.com